Sketching Class in the Park 
What better way to inspire students than to have them experience the real thing? Bangkok is where the authentic meets the modern, with a broad range of design from the outside to the inside of buildings, and Raffles takes advantage of this by using it as a model for future work.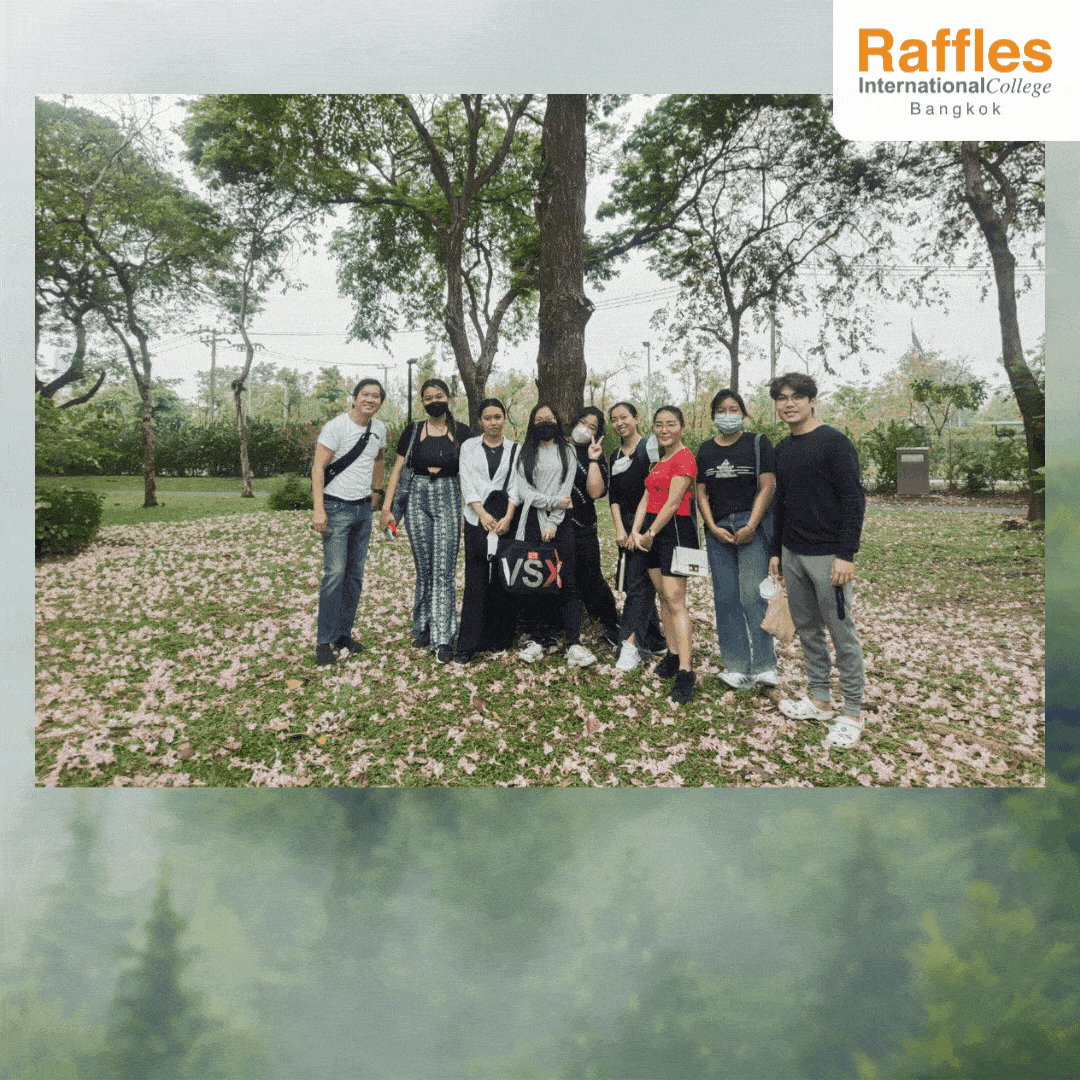 Ned Ronsairo's Interior Design class. He took the students on a field trip to Benjakitti Forest Park for a sketching class where the students get to learn how to transfer what they saw into papers and use their free-hand drawing skills that they learn from the class into actual practice. Students gain knowledge and confidence in their ability to visualize through these hands-on sketching exercises, which also aid in the development of perception and execution abilities. Free-hand drawing is a talent that is required for an interior designer as Before moving on to more advanced techniques or media, interior designers must first master this foundational subject. Raffles also thinks that knowledge and imagination extend beyond the four walls of a traditional classroom.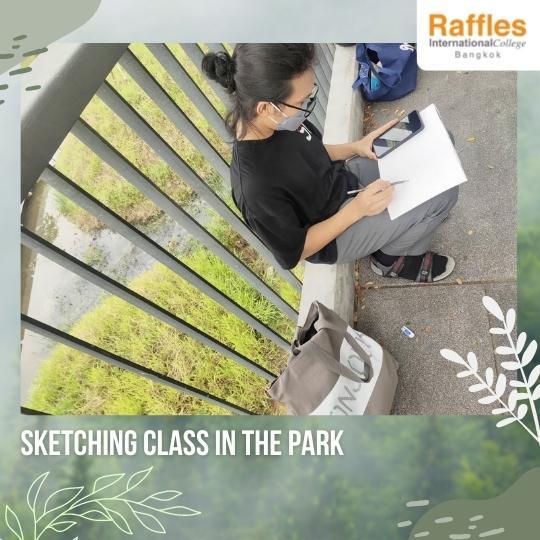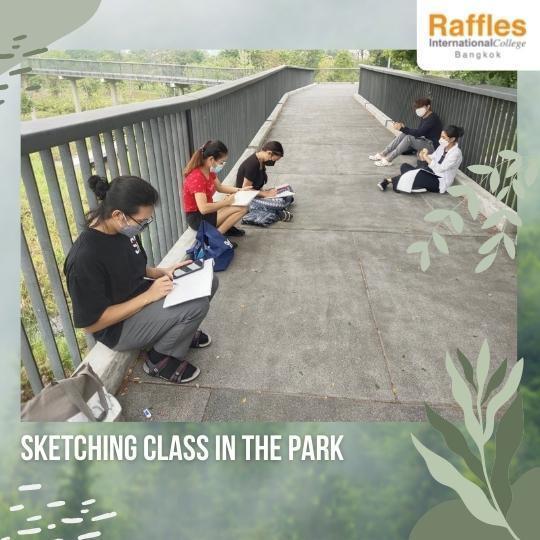 Benjakitti Forest Park was extended from the old Benjakitti Park is located next to the Queen Sirikit National Convention Center. The region now occupied by Benjakitti Forest Park was formerly part of Thailand's tabaco industry.This new extension is more than twice the size of the previous one, and it features swamps, ponds, and skywalks to make it feel more natural. This forest park project will create a new ecosystem that will improve the city's quality of life. It has been made to support a biological community that relies on an intricate network of water channels to grow trees and shrubbery, as well as provide habitat for a variety of animal species.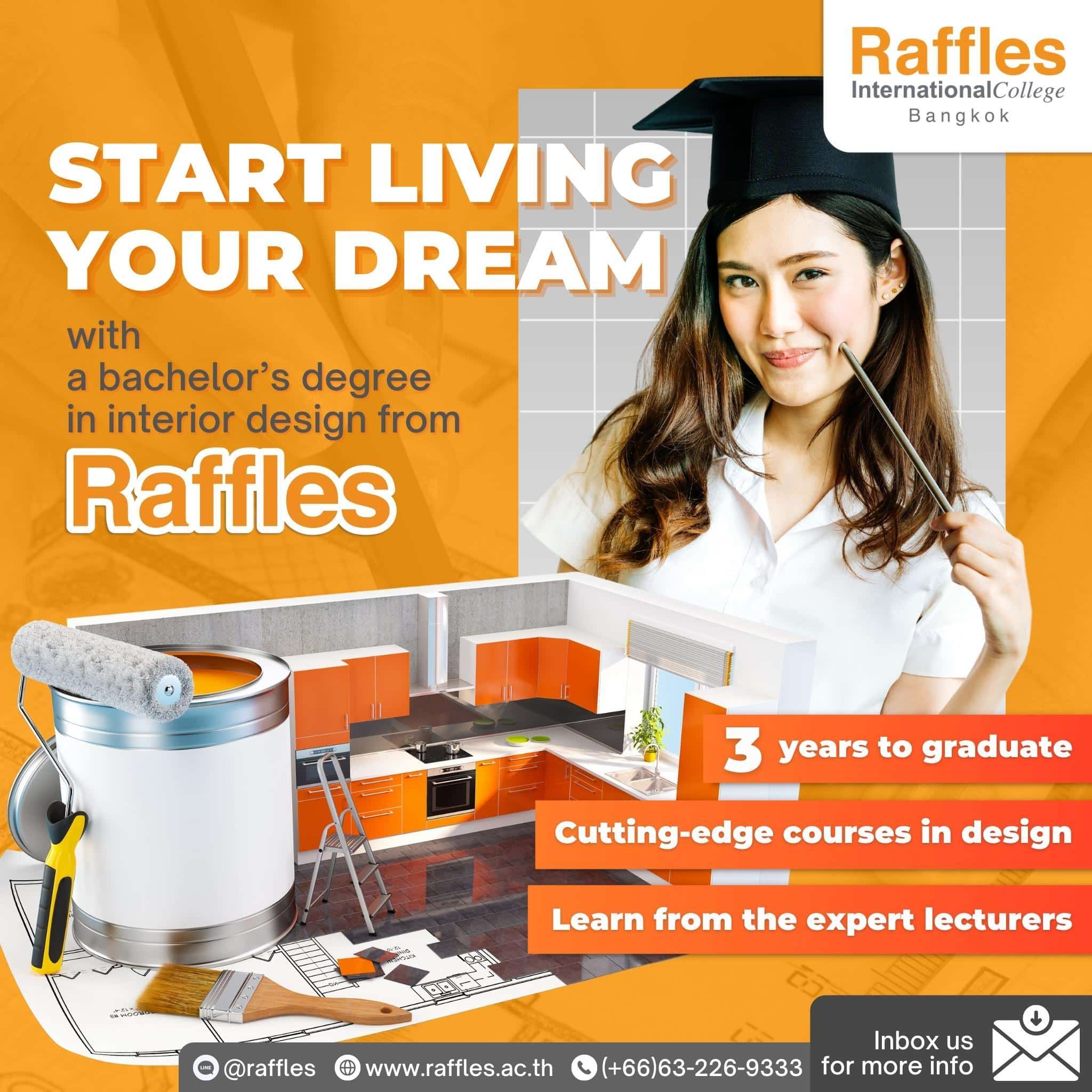 Interior design programme at Raffles only takes 3 years to graduate. Students will graduate at a quicker than anybody else, providing you with a competitive advantage. The interior design programme provides students with the creative and technical information and abilities they need to pursue a career in the interior design business as a professional designer. Inside the built environment, it involves the study of both Interior Architecture and Interior Design, with a particular emphasis on the human interface within specific places. Designing for space, problem-solving in a creative way, communication skills, knowledge of building materials and construction, computer-aided drawing, and the history of design are all important aspects of the course. Students will be challenged to propose design solutions to a diverse range of complicated real-world space problems throughout the course.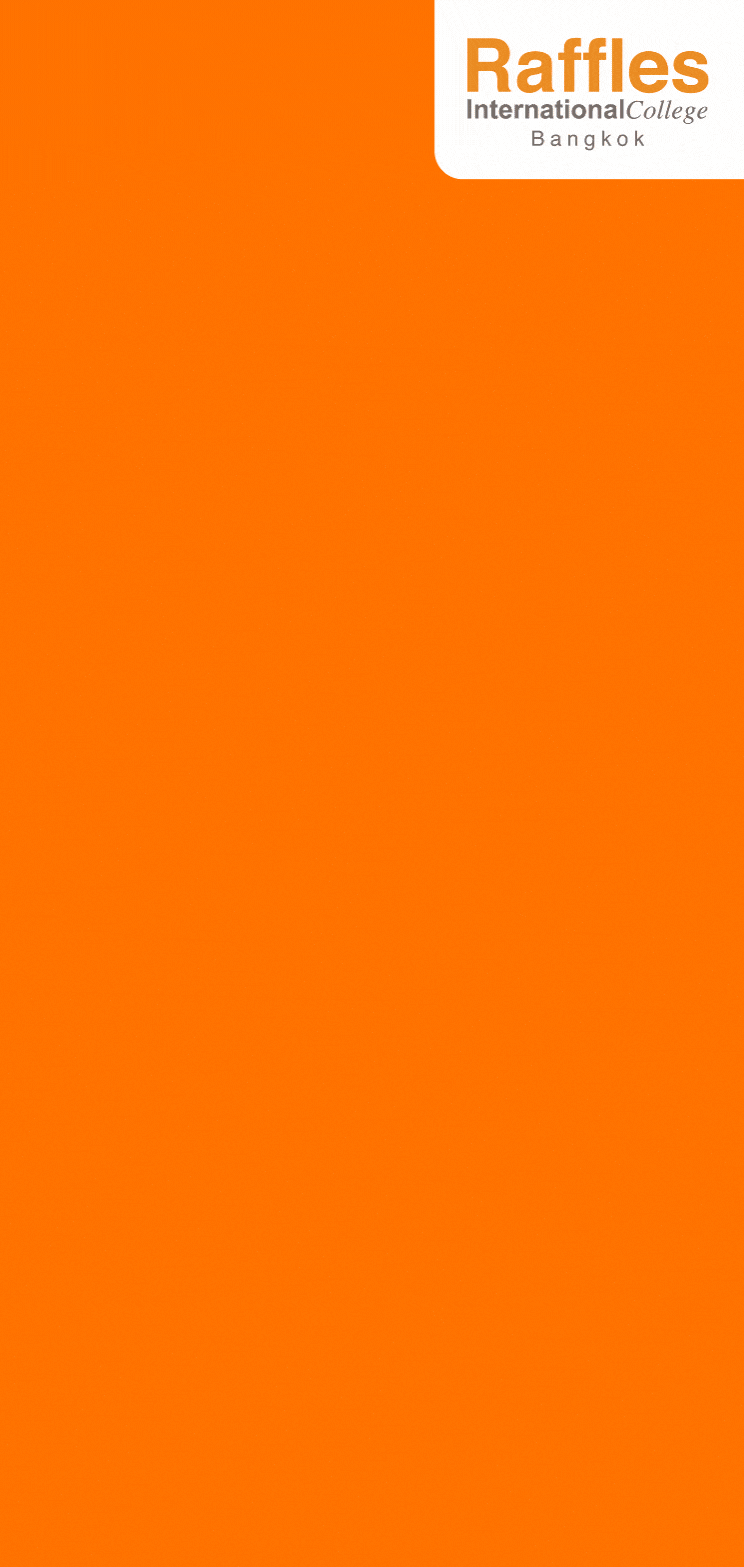 Bangkok is now Krung Thep Maha Nakhon
The Office of the Royal Society (ORST) has announced that Thailand's capital, Bangkok, will be renamed Krung Thep Maha Nakhon. The name Bangkok, on the other hand, is still recognized. 
The new official name, Krung Thep Maha Nakhon, will not take effect until a committee responsible for reviewing all draft bills has approved it. The cabinet also requested that the panel consider the Foreign Affairs Ministry's additional comments. 
After the announcement of the name change drew public criticism, the Office of the Royal Society posted a message on its Facebook page saying that both names, Krung Thep Maha Nakhon and Bangkok, could be used. 
Ratchda Dhanadirek, a government deputy spokeswoman, said on Wednesday that the capital's name had not changed. Only the Thai name Krung Thep Maha Nakhon would be used as the official name of the province. She explained on her Facebook page that the name Bangkok would still be recognized in parenthesis. 
While the rest of the world refers to it as Bangkok, Thais refer to it as Krung Thep Maha Nakhon, and its full name is "Krung Thep Maha Nakhon Amon Rattanakosin Mahinthara Ayuthaya Mahadilok Phop Noppharat Ratchathani Burirom Udomratchaniwet Mahasathan Amon Piman Awatan Sathit Sakkathattiya Witsanukam Prasit" which is the world's longest capital city name.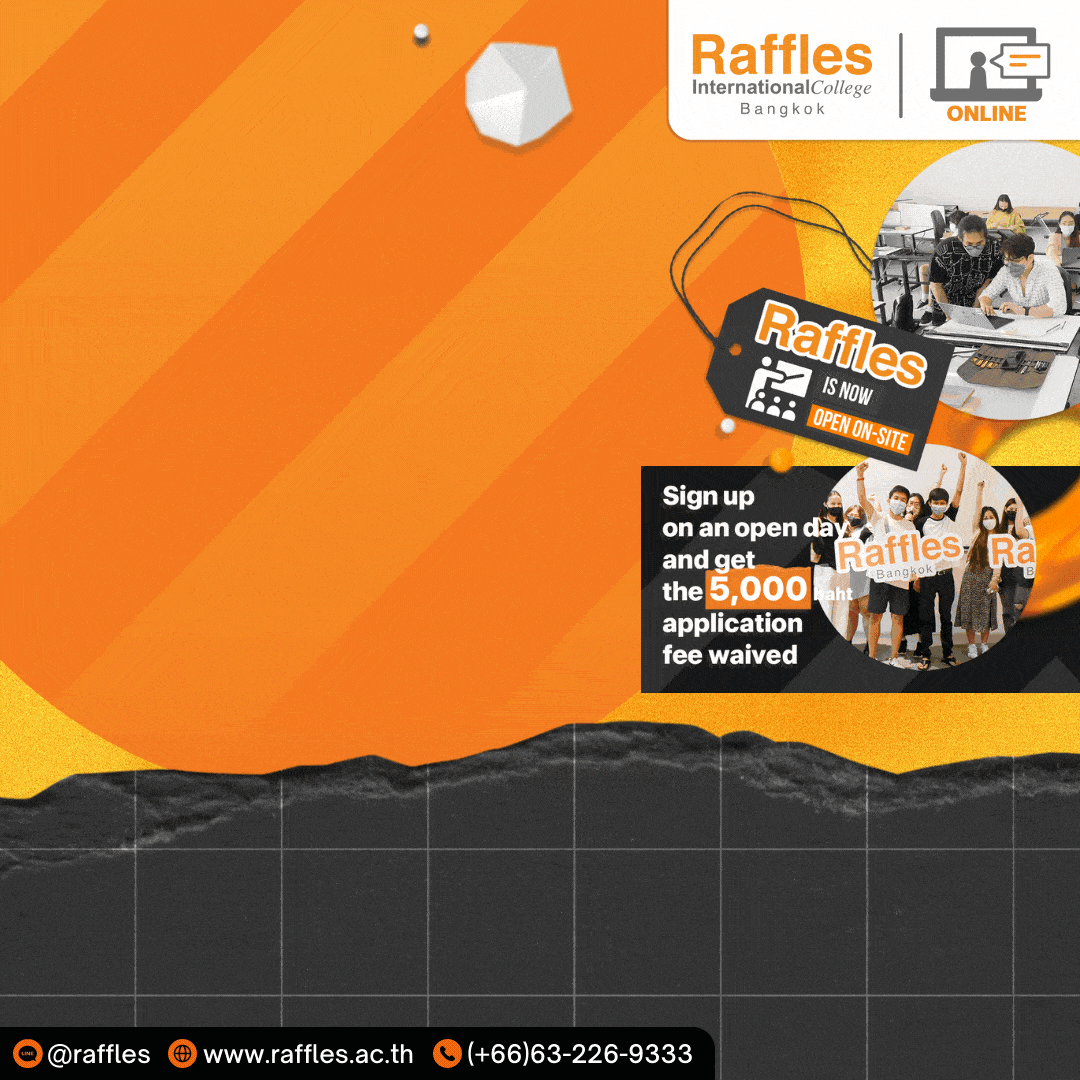 5 Tips for Raffles Virtual Open Day
Visiting the colleges in which you're interested is an important part of deciding which one is best for you. Whether because you're in the middle of a pandemic or you live in another country, doing so online can be very beneficial. Here are some suggestions for making the most of your virtual visiting day.
To begin, you can register for Virtual Open Day, an online information session scheduled for Saturday, March 5, 2022 at 1pm (Bangkok Time).
01 Visit our website for further information.

Knowing the basics of the college beforehand will enable you to make more high-level inquiries about things that aren't readily apparent on the website. Please take a look around our site. Examine the admissions page for information on the application process, deadlines, tuition, and other requirements.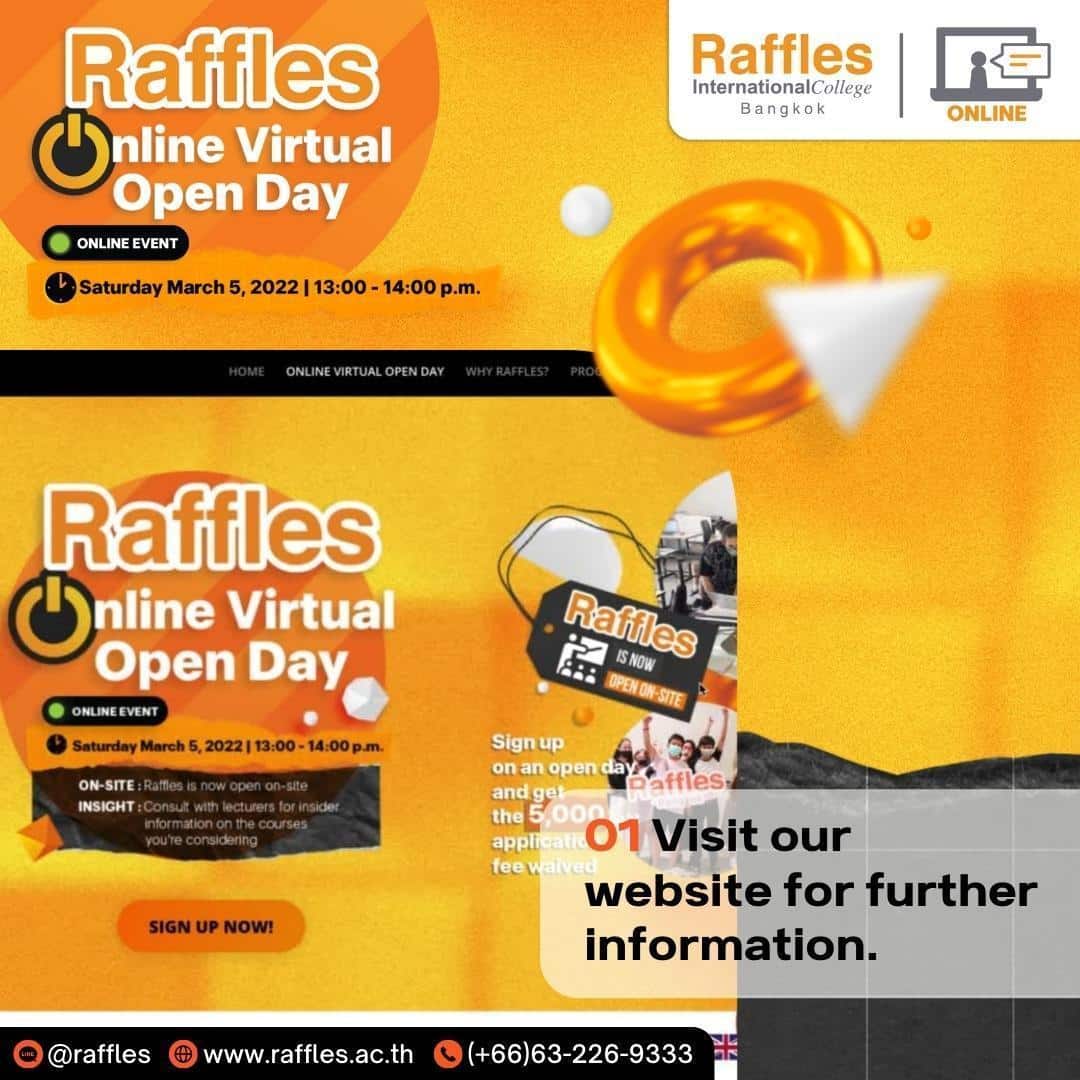 02 Take a look at our social networks.

You can get real-time information about us by looking at our social media profiles. You can hear about future events, see the latest news, and watch videos featuring interviews with faculty, staff, and students. The following are links to our Facebook, Instagram, and YouTube accounts.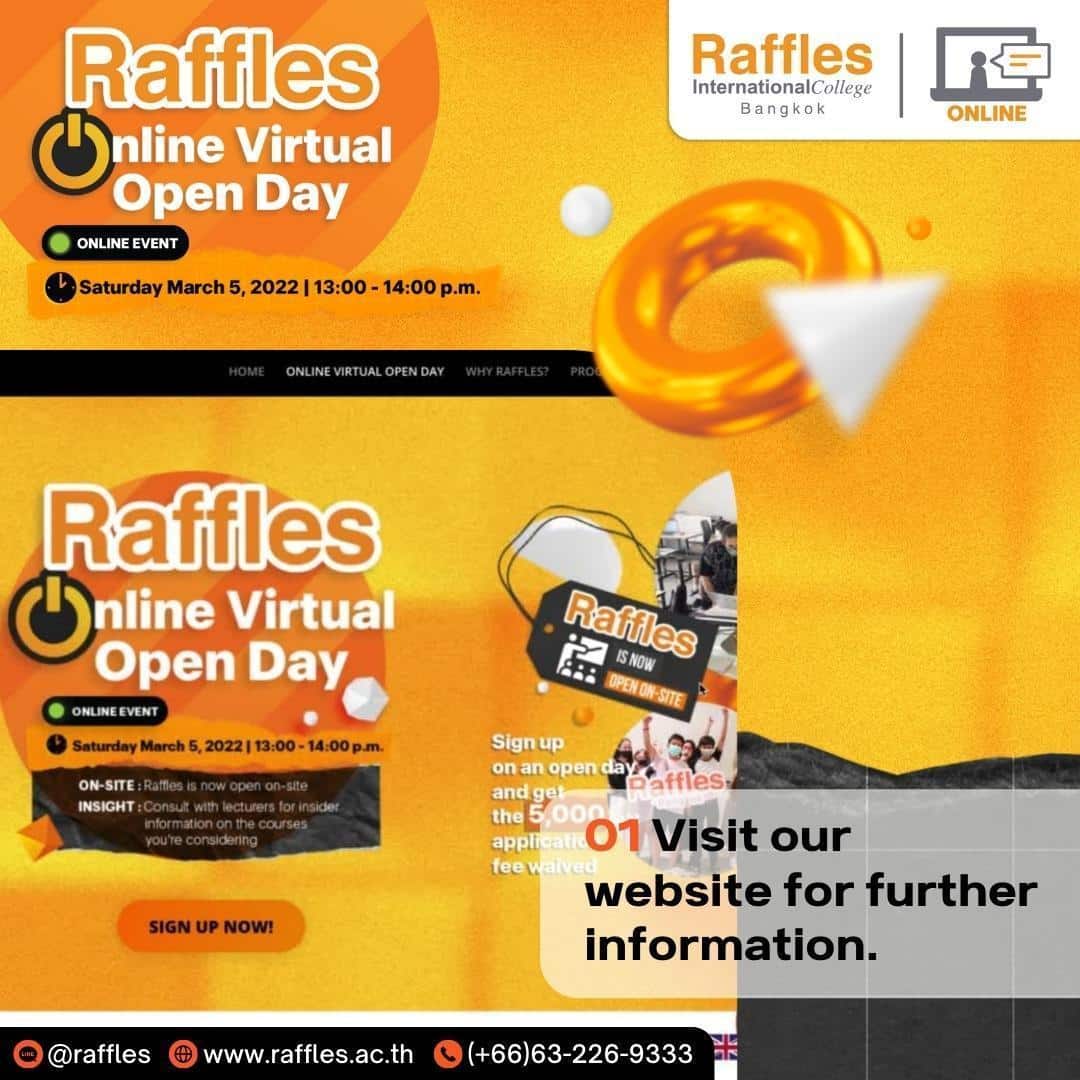 03 Make a list of questions you want to ask. 

While many of the basics will be covered during your virtual information session, you might want to gather more detailed information by performing some research. You may start with academics. Find out what programs are available. Then, check out what it's like to be on campus. What is the campus' location? Once you've mastered these basics, you'll be ready to ask more detailed questions during the Q&A section of your virtual information session.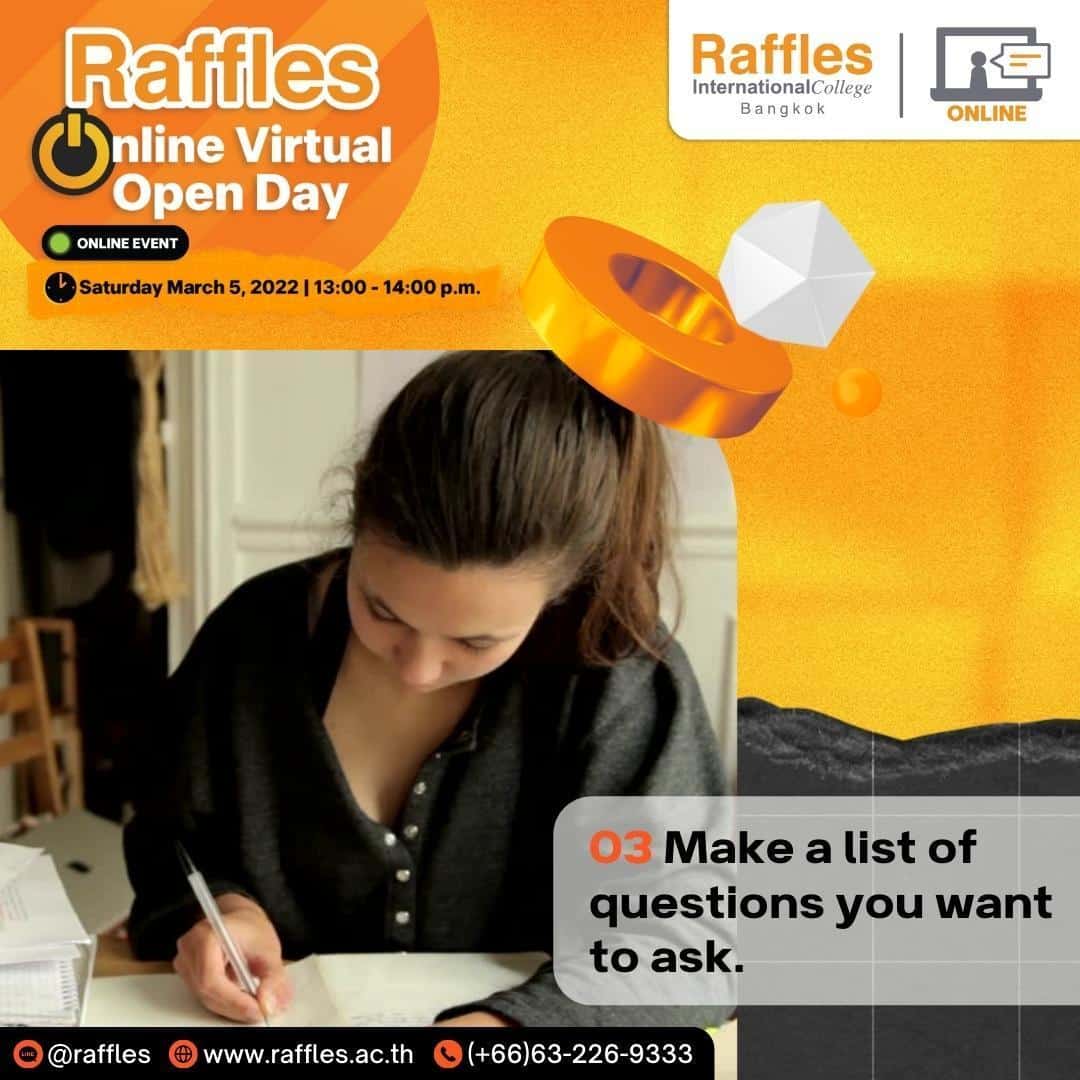 04 Speak with a lecturer in your chosen field or major.

On the day of the session, we will have four speakers, including an Academic Lead, a Programme Director for Fashion Design, a Programme Director for Business, and a Fashion Design Lecturer, as well as a team of educational consultants available to assist you via the chat box.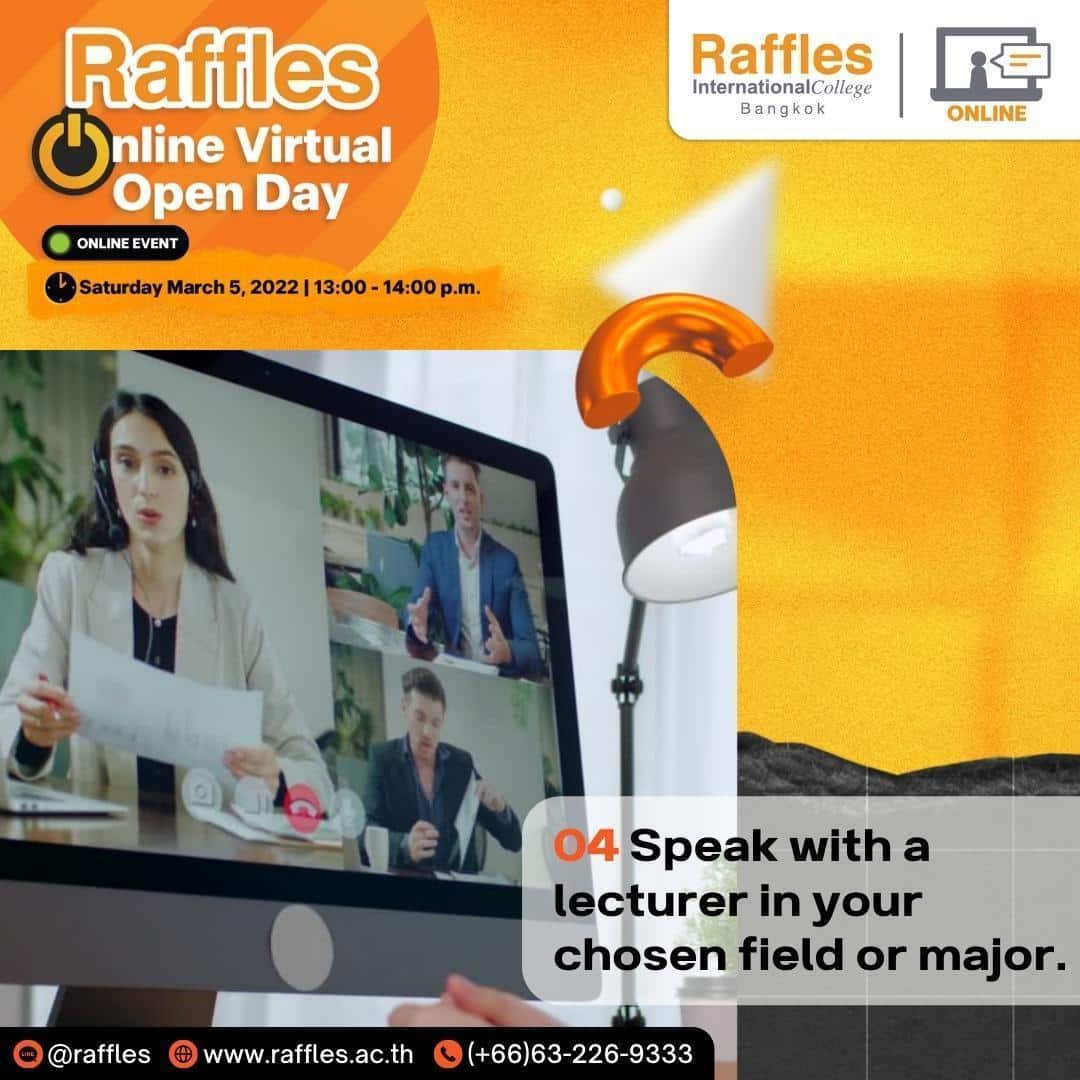 05 Consider why you would attend Raffles at the end of your virtual tour.

It is really fine to be upset that you won't be able to attend an actual college right now because you're living abroad. Parts of that experience can't be recreated. Whether virtual or not, this process is still yours. It's a good time to reflect on who you are and where you'd thrive if you could live anyplace, and it's also a good time to prioritize your needs. Make sure it's comfortable for you, and remember that we're here to help. If you have any queries, contact our educational consultants, and sign up for Raffles' Weekly Bulletin.