Raffles Online Virtual Open Day

Let's join Raffles Online Virtual Open Day on Sunday September 5 , 2021 at 13:00 – 14 : 00 p.m. For anyone who is interested in studying for Bachelor's degree in international programmes here is your chance to learn about design and business programmes at Raffles. You will get to meet our lecturers from Raffles. At the end of the open day there will be games that you can win prizes! Sign up now for free! and we will be sending a link to join the open day via Webinar to your email.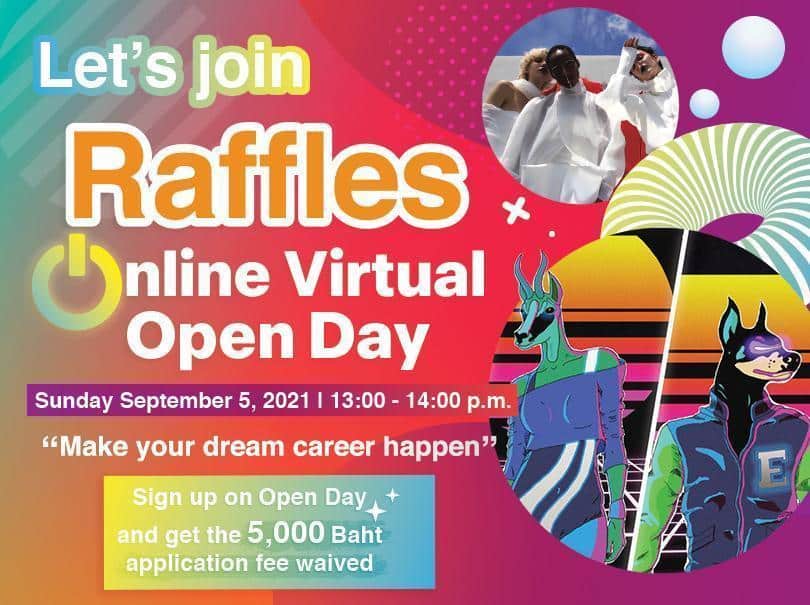 The youngest chancellor in the world,
chancellor of Raffles International College Bangkok

Here is the interview from Mr. Panupong Pitaksang who is now the youngest chancellor in the world. He became the chancellor at the age of 31. Let's hear his story and his vision for Raffles International College.
His story has been featured in many news website which you can check out here: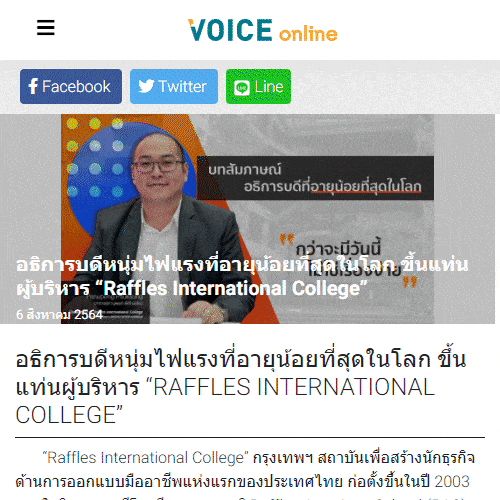 7 Elements of Interior Design

Source: https://www.homesandgardens.com/news/7-elements-of-design 
Space, line, shape, light, color, texture, and pattern are among the seven design elements that can help you balance an interior plan so that it is both visually beautiful and useful. Design is an art as well as a science. Working on each element of each design can improve the best functionality of a room, make up for defects, and create an interior that is pleasing to the eye, tactile and functional. 
Examine the following seven design elements feature to inspire you. 
The distance between and surrounding furniture and objects within a room is referred to as 'Space'. Getting the right balance in a room requires thoughtful use of both 'positive' and 'negative' space. 
Positive space refers to where the room's furnishings are placed, while negative space refers to the gaps in between. A good balance between the two is necessary for a room to feel well-designed. Negative space makes a room feel more spacious, larger, and possibly bigger, but too much negative space can make a room feel under-furnished and impersonal. On the other hand, a room with too much positive space can feel cramped and over-furnished. 
Lines can be created by structural elements as well as the room's furnishings, and they can be used to draw attention to a focal point. They can be dynamic, in addition to horizontal and vertical. 
Tables, for example, have horizontal lines that give an interior a sense of steadiness. They can also give the impression of more space in a room. Window and door frames contribute to the room's vertical lines. They're praised for generating a sense of openness and making a space appear larger. Choosing a tall piece of furniture, for example, might visually heighten the space by drawing the eye above. The horizontal and vertical lines must be balanced in any design concept. 
The shape of the room, as well as the objects within it, such as furniture, artwork, and decorative accessories, are all factors to consider. These shapes could be geometric, with precise lines and angles, or natural, with curving components in addition to the irregular shapes seen in nature. 
Natural shapes, in contrast to stronger geometrics, can provide softness to an interior, which is important with these designs. 
Natural daylight and artificial lighting are used in most interiors. While the quantity and quality of daylight may appear to be set, it is important to realize that it may be filtered by curtains. 
Ambient or background lighting, accent lighting that draws attention to objects, and task lighting that makes an office workstation bright enough for working are all examples of artificial light. 
You need the right color to set the ambiance of the room correctly. It is also used to make a room look larger, lighter, and more comfortable. The chosen color should complement perfectly with the decor of the room. 
The use of artificial or natural lighting also affects the qualities of a color, so successful use will require taking this into consideration before selecting. 
Texture is important not only because of how it feels, but also because of how it appears. Every object of a room design, from furniture to floorcoverings to fabrics and decorative accessories, plays a role in texture decision-making. The depth and appeal of the room plan is enhanced by mixing and contrasting textures. 
Pattern, like texture, gives interest and life to a room and can be found in an area rug, wallpaper, soft furnishings, and artwork. The pattern's style, whether floral, geometric, abstract, or any other, should match the scheme's overall style. 
Thailand's New Red Line Suburban Train
Thailand's newest train line is finally running after 14 years of construction. 
The Red Line, which opened to the public on Monday, August 2, runs through the western outskirts of Bangkok, connecting Rangsit in the north to Taling Chan in the southwest via 13 stations, including a stop at Thailand's new railway hub, Bang Sue Grand Station. The Red Line is providing free service as part of its trial runs from now until October. Fees will then begin at 12 Baht and rise to a maximum of 42 Baht. 
The route of the Red Line is currently divided into 2 main routes.  
The North Line's color code is dark red. Starting at Bang Sue Grand Station, go north along the Northern Railway and Vibhavadi Road to Rangsit terminal station. The 10 stations include Chatuchak, Wat Samian Nari, Bang Khen, Thung Song Hong, Lak Si, Kan Kheha Don Mueang, Lak Hok, and Rangsit Station. 
The West Line's color is light red. Begin from Bang Sue Grand Station and go west on the SRT's southern railway line, going through Bang Son and across the Chao Phraya River in North Bangkok to Taling Chan terminal station. In comparison to the North Line, there are only four stations: Bang Sue Grand Station, Bang Son, Bang Bamru, and Taling Chan.  
The interconnection of transportation services. 
There are three interchange stations: 'Bang Sue Grand Station' connects to the MRT Blue Line (Lak Song – Bang Sue – Tha Phra), 'Lak Si Station' connects to the Pink Line Monorail (Nonthaburi Government Center – Min Buri), which is currently under construction, and 'Bang Son Station,' which connects to the MRT Purple Line (Tao Poon-Khlong Bang Phai). 
The 'Don Mueang Station' also connects to Don Mueang Airport through a long skywalk crossing Vibhavadi-Rangsit Road into the Terminal 2 car park. 
There's more to it than the train and the airport. In terms of buses, it connects to every station, including those that previously lacked a bus connection. New bus routes, including BMTA buses, private buses, and even local buses, will be available.
It's unfortunate that the situation limits us from getting out as often as we'd like to try out the new trains, but once we get beyond this, we'll be able to do so. Exploring Bangkok and new areas will be a lot of fun and more convenient than before.