Raffles Fashion Design Alumna's Collection Featured in MOT Vietnam
In an article by Valentine Vu in the September/October 2022 issue of MOT Vietnam, Pornchanit Temrungsri, a Raffles fashion design alumna, is featured alongside her Hwanghu (Empress) collection.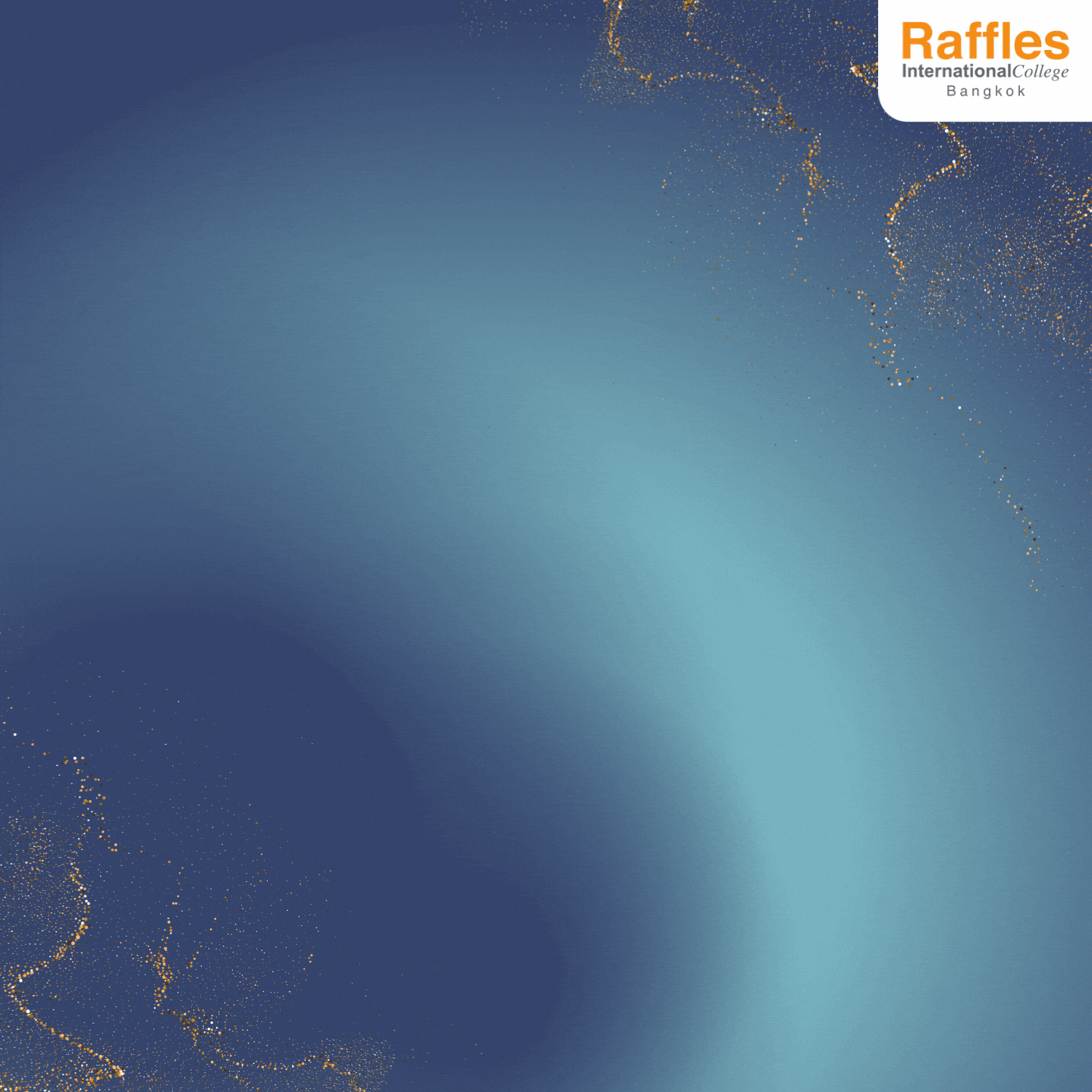 While Pornchanit lived in Thailand, Korean culture was already having an impact on the country's media and design. This collection was inspired by hanbok, a traditional Korean outfit. While making the collection, Ms. Pornchanit wanted to creatively reinterpret Korean culture rather than simply reproduce it in order to create more modern apparel. The inspiration for this collection also includes the designer's intention to embrace feminism via apparel. 
In the article, Valentine Vu, the academic lead of Raffles International College in Bangkok, Thailand, examines the impact of culture on fashion and uses K-Pop as an example of one such influence. Additionally, the piece explains the differences between High Culture and Pop Culture, both of which can be considered cultural products. Check it out in MOT Vietnam to learn more. 
Pavilion Designs by First-Year
Interior Design Students
On October 18th, 2022, we gathered images from Interior Design student presentations for their Pavilion Design project at Raffles International College in Bangkok.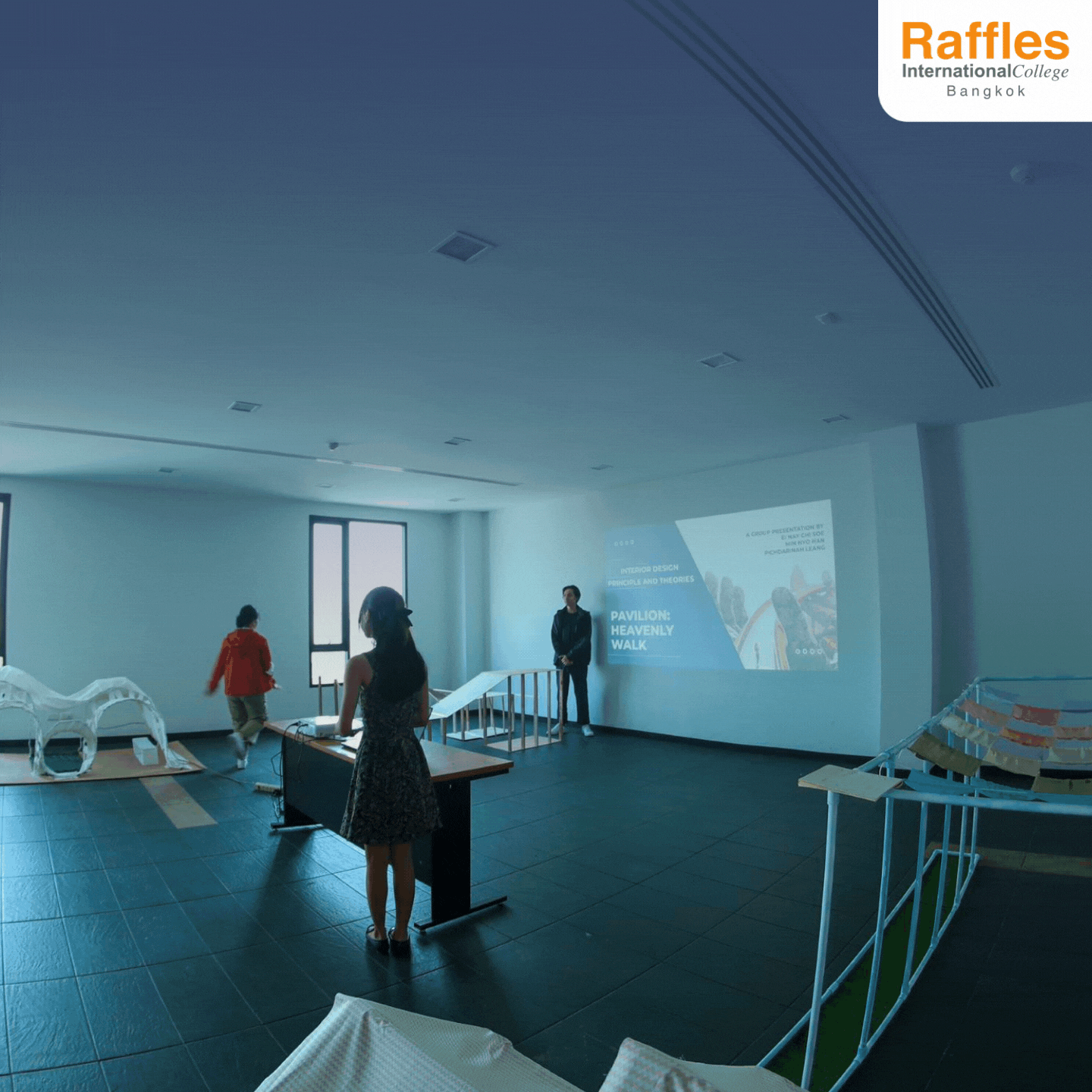 The Space Intervention – Pavilion project is part of the Interior Design Principles and Theory class taught by Gabriella Power. A pavilion is an open, flexible architectural space. It might change its form and function and be either temporary or permanent. A pavilion can serve a variety of purposes, including: shelter, seating, meeting space, cafe, theatre, or for lectures, events, exhibitions, sports, play, rest, and a whole lot more.  
The lecturer divided six groups of three students each into groups to build a 1:50 scale Pavilion model. The groups explained to the lecturer their idea, source of inspiration, concept development, function, and materials used. This project gives the students the information and abilities to engage in conceptualisation, problem-solving, and creative thinking. 
Students used skills they've been learning since their first term, such as architectural drafting, computer graphics, free-hand drawing, and more, to create an actual model for the first time. We are excited to see more from these rising interior designers.
For more information about enrolling in the Interior Design programme at Raffles International College in Bangkok, check out the detailed module on our website.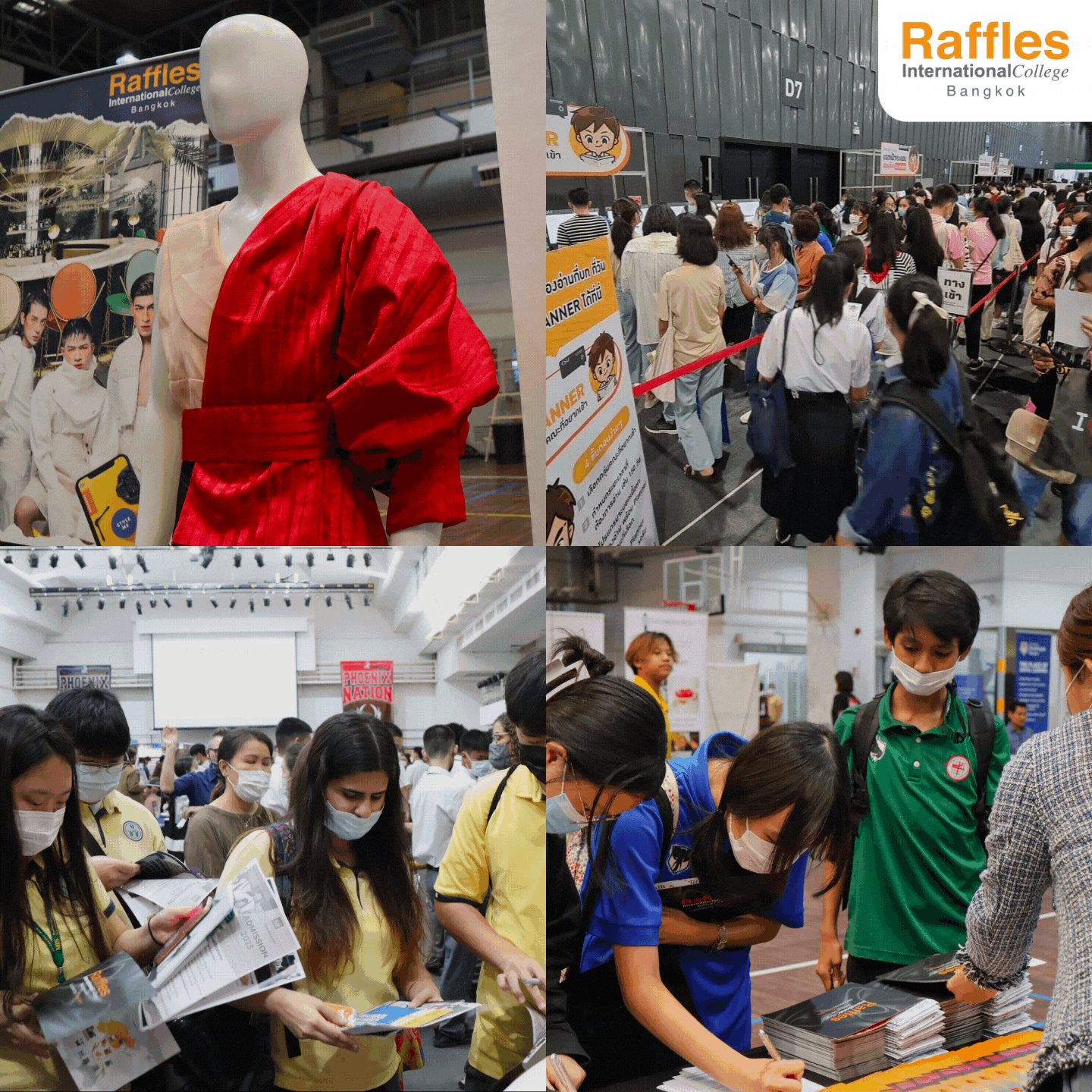 The team from Raffles International College Bangkok participated in recent education fairs in Bangkok to tell high school students about the programmes available here and to outline the admissions procedures. Here, we gathered pictures from those events. 
If you want to learn more about programmes at Raffles Bangkok, click here. For the admissions process and requirements, click here. If you want Raffles International College to attend an event at your school, email us. 
Ekamai

 International School

 
The internal education exhibition that Ekamai International School organised for its students gave them a fantastic opportunity to interact with Raffles representatives and discuss the programmes they want to enrol in. 
22 October 2022

 
Place : BITEC Bangna
The big education fair of the year, organized by Dek-D, the online education community. 
2 November 2022

 

 
Place :

 

Ruamrudee

 International School

 
Ruamrudee International School organized the RIS Thai College Fair, which brings more than 10 international institutes from around Thailand to meet RIS students and partner schools.
SPIP University Fair 2022

 
4 November 2022

 

 
Place :

Satit Prasarnmit International Programme
SPIP organises a University Fair for students to discover more about higher education. The University Fair helps students decide and develop their knowledge on where and which university they would like to attend.