Fashion, Arts, and Culture
Raffles Students' Trip to Europe
Learning from the past and designing for the future are important characteristics of being a good designer. A group of fashion design students from Raffles International College Bangkok travelled to Europe, where they discovered the origins of the region's influence not only on fashion, but also on art.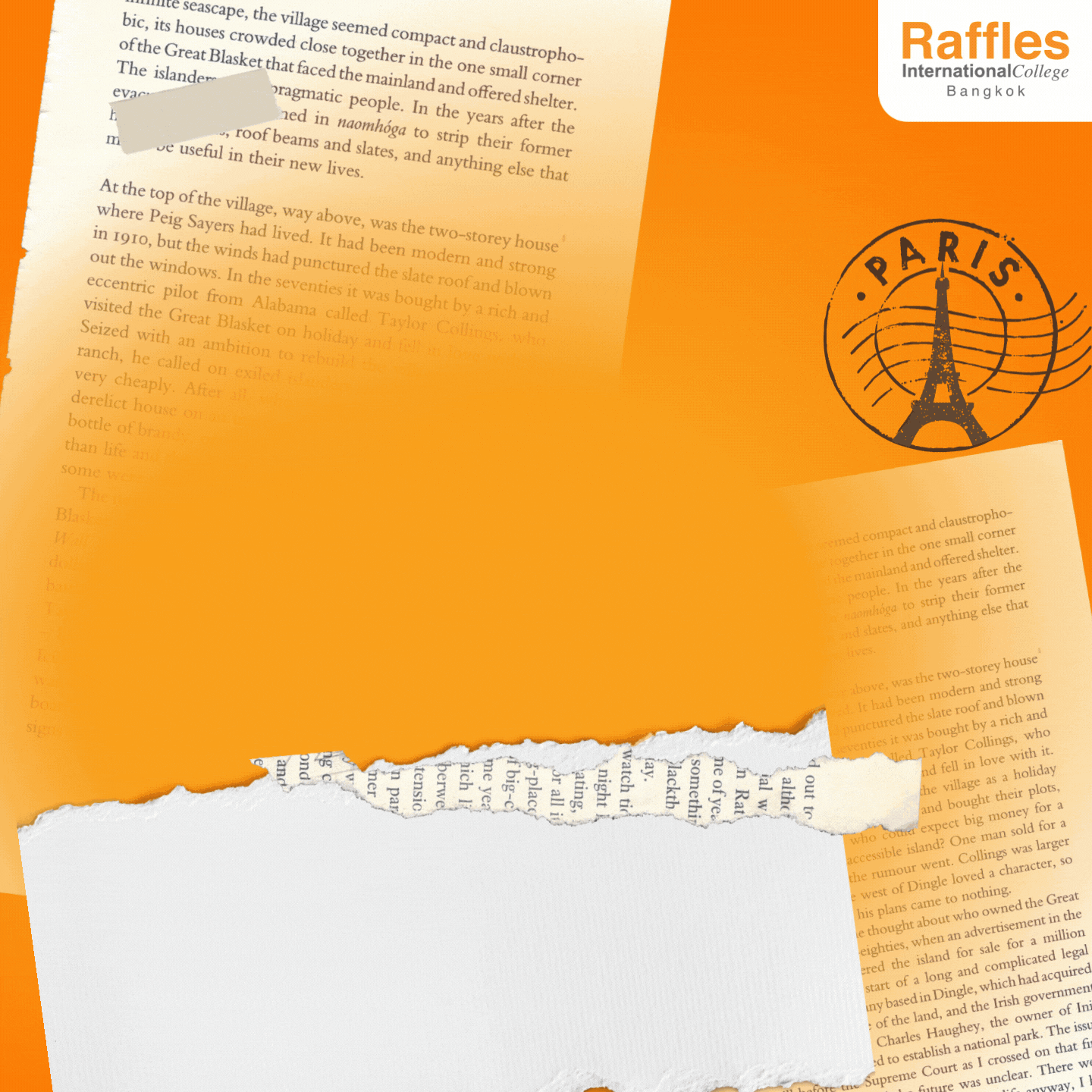 In October 2022, fashion design students went on a field trip to Paris in France and Florence and Rome in Italy with Miriam Varghese and Mike Vancoillie from the Fashion Design department. Raffles places a high value on learning outside of the classroom, which is why our lecturers assign high importance to field trips. "We want to give them an experience that is up close and personal and what better a place than Europe, a place that is rich in art and culture," Miriam said.    
Students had the opportunity to see exhibits by well-known designers like Christian Dior and Elsa Schiaparelli and fashion icons like Frida Kahlo. "We've had students inspired by Frida Kahlo and her art, so this is a good starting point for them to understand who she was and what she stood for," Miriam explained.  The avant-garde outfits by designers like Givenchy, Yohji Yamamoto or Richard Quinn showed how Frida Kahlo still inspires designers today. 
Another interesting exhibition that students visited was the famous Christian Dior exhibition, where students discovered the world of its founder and his iconic collection of more than 300 haute couture dresses from 1947 to the present. Students had the opportunity to see his finished works, but they also got to see an exhibit that showed his process, which is comparable to the design process that students follow. This allowed them to experience a sense of belonging in the fashion industry. The room with toiles especially resonated with the students, since they could see muslin prototypes of couture outfits up close.
Elsa Schiaparelli was a well-known fashion designer in the 1950s. Even though she has been dead for a half century, her designs are still alive in the fashion world. Students visited her exhibit, which featured over 200 of her fashion pieces and jewelry along with the new Schiaparelli House creative director Daniel Rosenberry's latest couture outfits and surrealist artwork that inspired the creations. They got to see what Lady Gaga, Beyonce, and Bella Hadid wore to red-carpet events. The dresses are tailored to their sizes and the displays matched the models' measurements, which made it extraordinary.
Students had the opportunity to learn about the art and culture of the cities that have a rich history and influence on many things around them, not only fashion. As Miriam stated earlier, this trip is not just about fashion. They visited many art museums in Paris such as Versailles, the Musée d'Orsay and the Louvre Museum, where they saw the famous Mona Lisa painting. 
When the group moved to Florence, Italy, they discovered a beautiful city filled with historical buildings. The Renaissance in Europe began in Florence. At that time, modern systems, the fields of banking and accounting, and architectural perspective were all introduced. Students went to the Uffizi Gallery, the Stibbert Museum, and the Ferragamo Museum, experiencing Renaissance art, shoe design and the influence of female Italian designers of the 60's.
"What we're trying to do here is not only enrich the students in fashion but also various forms of art. The student also was exposed to modern art by Olafur Eliasson at the Strozzi museum, where they learnt about light and color in a modern context. It is not only history of art, but also modern interpretations that can be inspirational," Miriam said.   
The group explored Vatican City and Rome to learn more about the rich culture there and find inspiration for their projects. Rome is a huge outdoor museum because there is history everywhere you go. Due to their great power, the Roman civilization conquered Egypt and the Middle East, thereby spreading their influence far and wide. The Roman influence on dress is seen even today and it is important to understand ancient history and its influence.   
"We had a wonderful group of students who were all keen to understand and learn more, and were doing their research to learn more." Miriam added. "It was a good experience for everybody, including us lecturers. Every time we go, we motivate the students. Seeing our eagerness, the students also get motivated, and it's good for us because we work on each other's energies and then, as a team, work better together."
5 TIPS FOR THE RAFFLES
ONLINE OPEN HOUSE
Visiting the colleges in which you're interested is an important part of deciding which one is best for you. Especially if you live in another country, doing so online can be very beneficial. Here are some suggestions for making the most of your virtual visiting day.  
To begin, you can register for the Online Open House, an online information session scheduled for Saturday, November 26th, 2022 at 1 p.m. (Bangkok Time).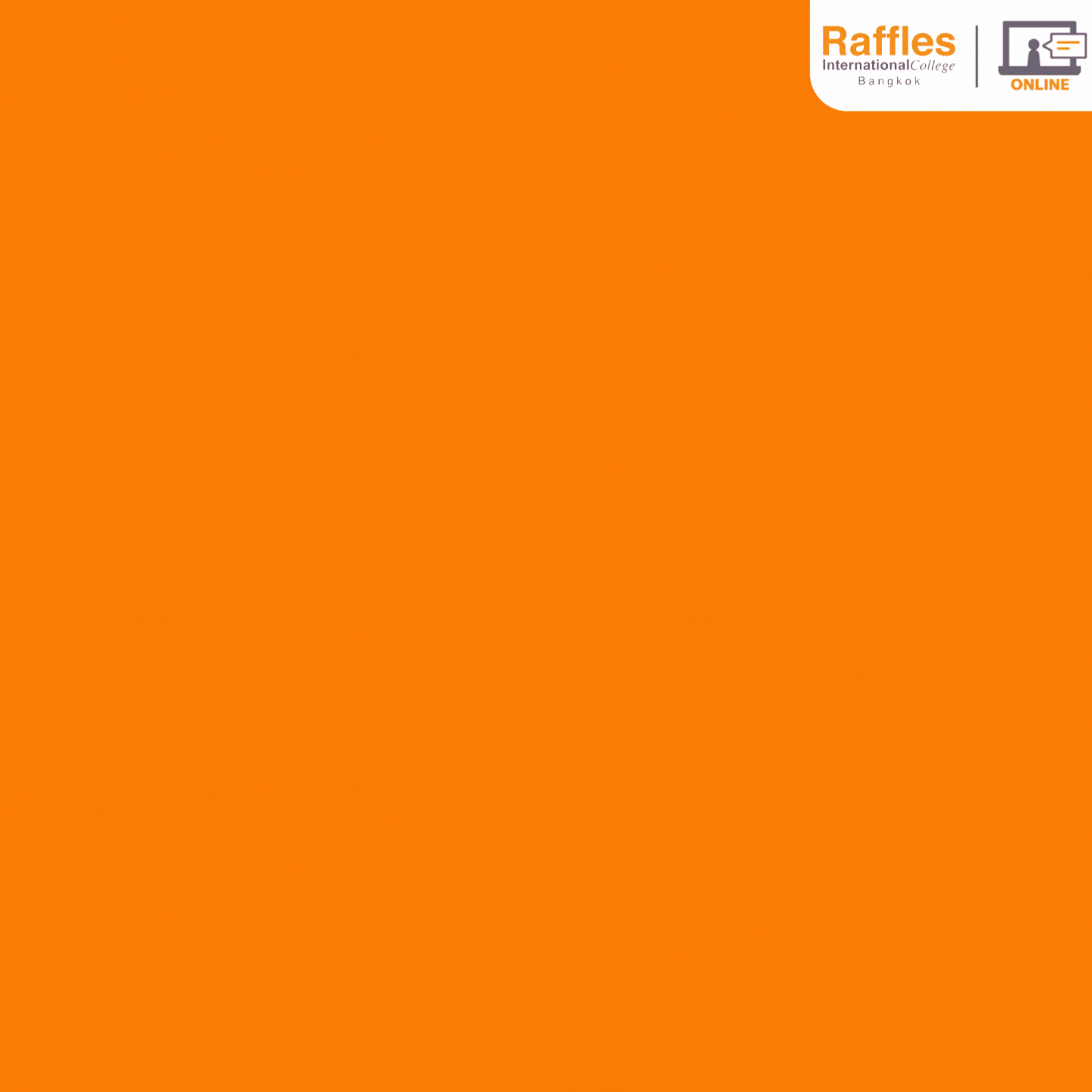 1. Visit our website for further information.
Knowing the basics of the college beforehand will enable you to make more high-level inquiries about things that aren't readily apparent on the website. Please take a look around our site. Examine the admissions page for information on the application process, deadlines, tuition, and other requirements.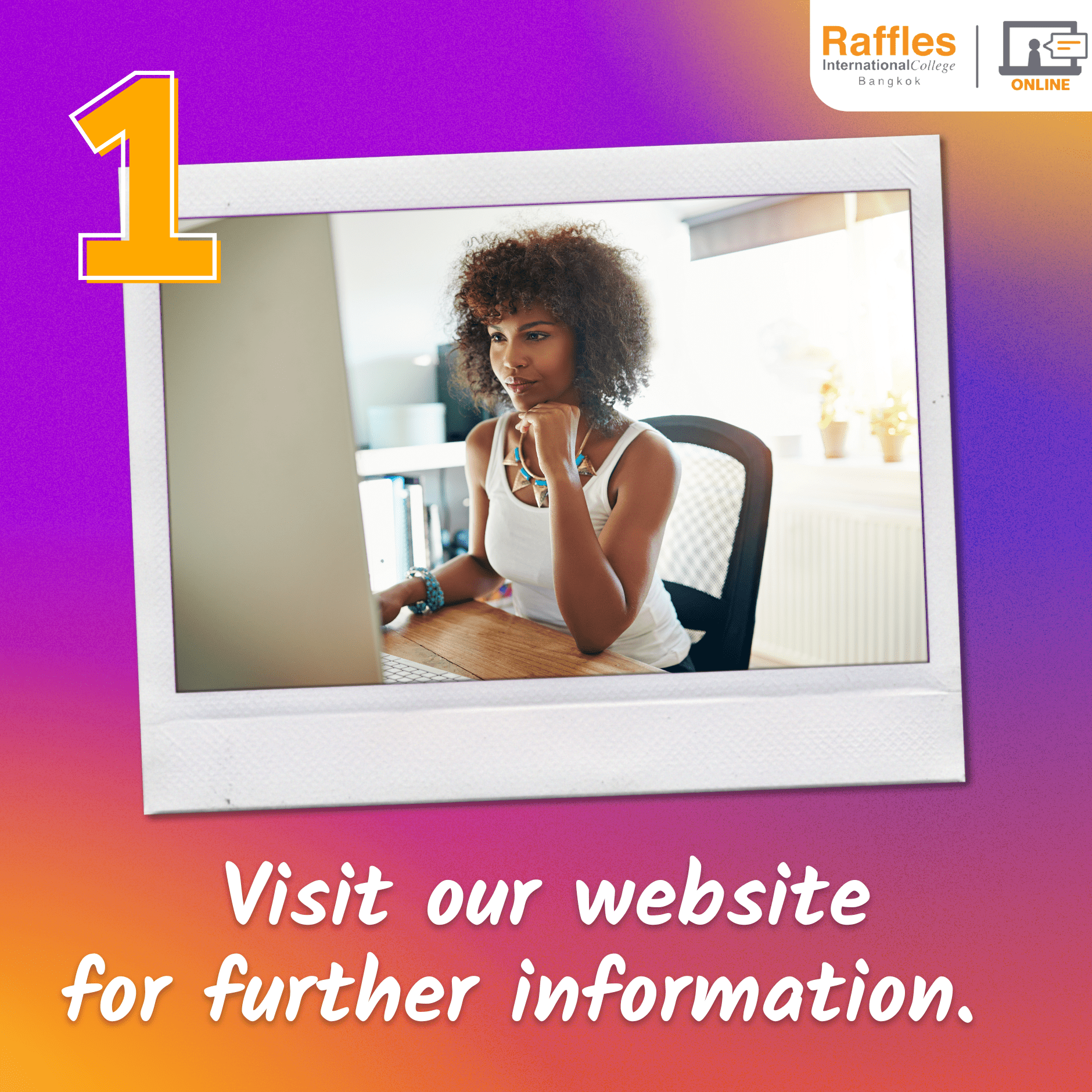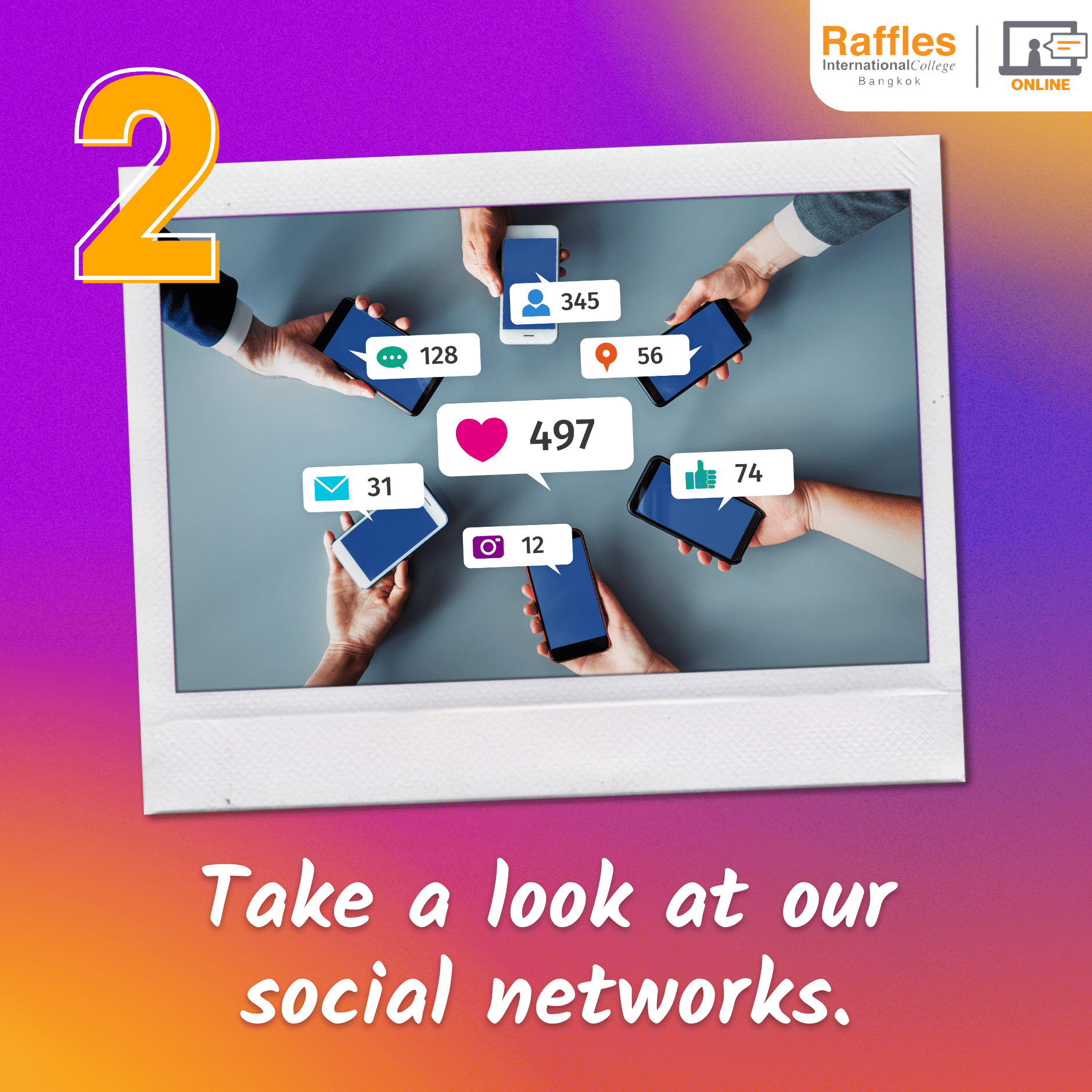 2. Take a look at our social networks. 
You can get real-time information about us by looking at our social media profiles. You can hear about future events, see the latest news, and watch videos featuring interviews with faculty, staff, and students. The following are links to our Facebook, Instagram, and YouTube accounts. 
3. Make a list of questions you want to ask.   
While many of the basics will be covered during your virtual information session, you might want to gather more detailed information by performing some research. You may start with academics. Find out what programs are available. Then, check out what it's like to be on campus. What is the campus' location? Once you've mastered these basics, you'll be ready to ask more detailed questions during the Q&A section of your virtual information session.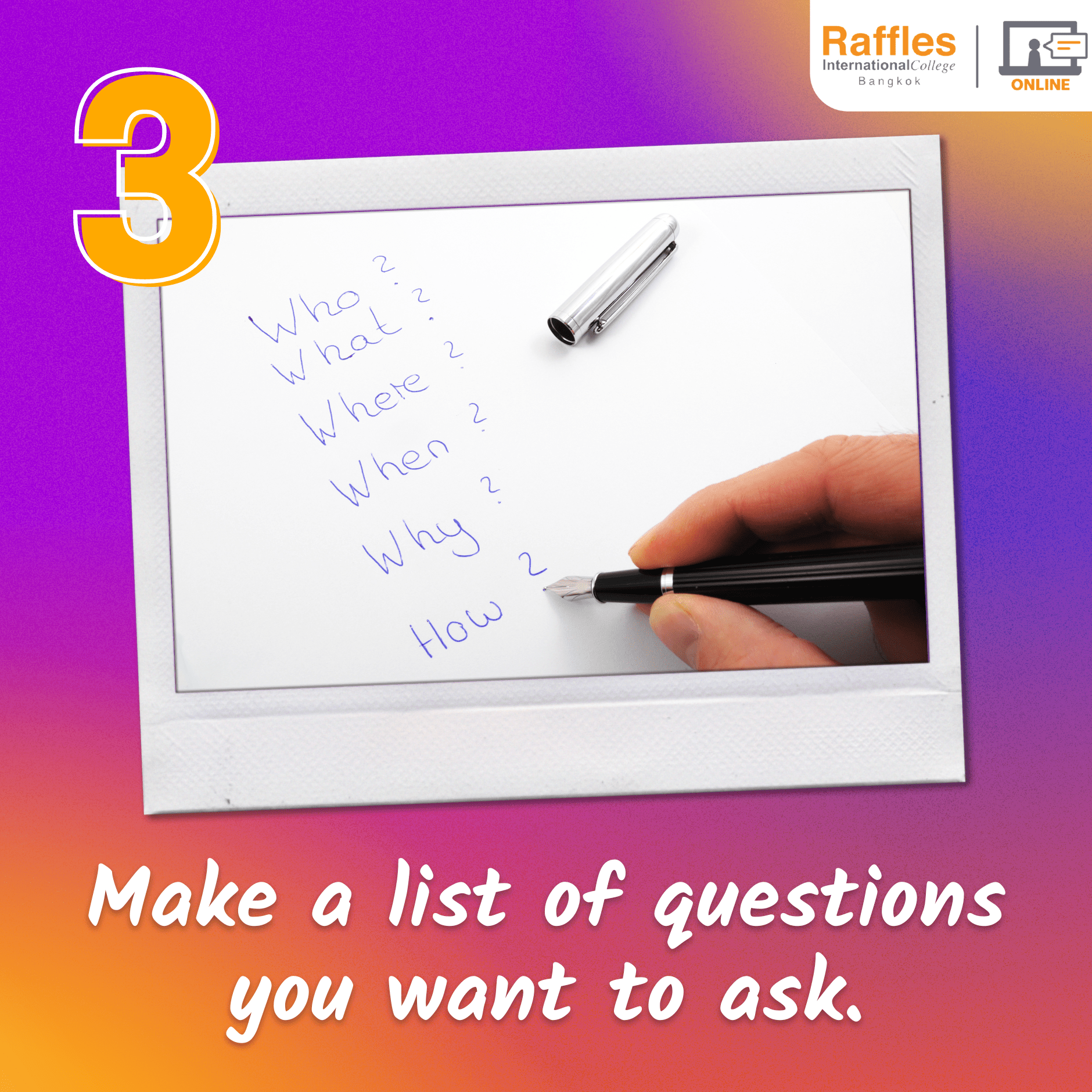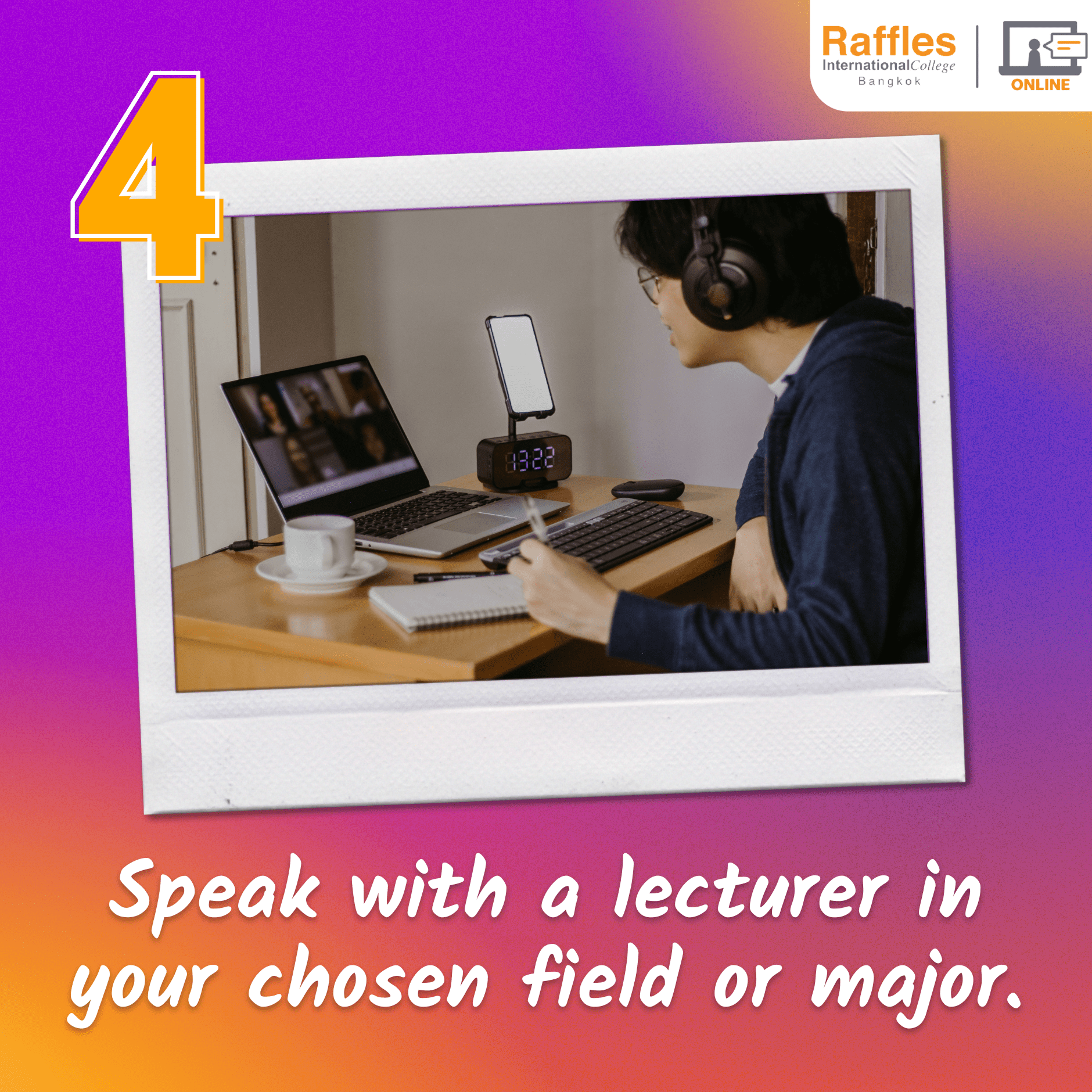 4. Speak with a lecturer in your chosen field or major.  
On the day of the session, we will have lectures from each programme and divide the participants into 3 groups including a fashion design and fashion marketing & management room, other design programmes room, and a business and psychology room, as well as a team of educational consultants available to assist you via the chat box. 
5. Consider why you would attend Raffles at the end of your virtual tour.    
It is fine to be upset that you won't be able to attend an actual college right now because you're living abroad. Parts of that experience can't be recreated. Whether virtual or not, this process is still yours. It's a good time to reflect on who you are and where you'd thrive if you could live anywhere, and it's also a good time to prioritize your needs. Make sure it's comfortable for you, and remember that we're here to help. If you have any queries, contact our educational consultants and sign up for Raffles News.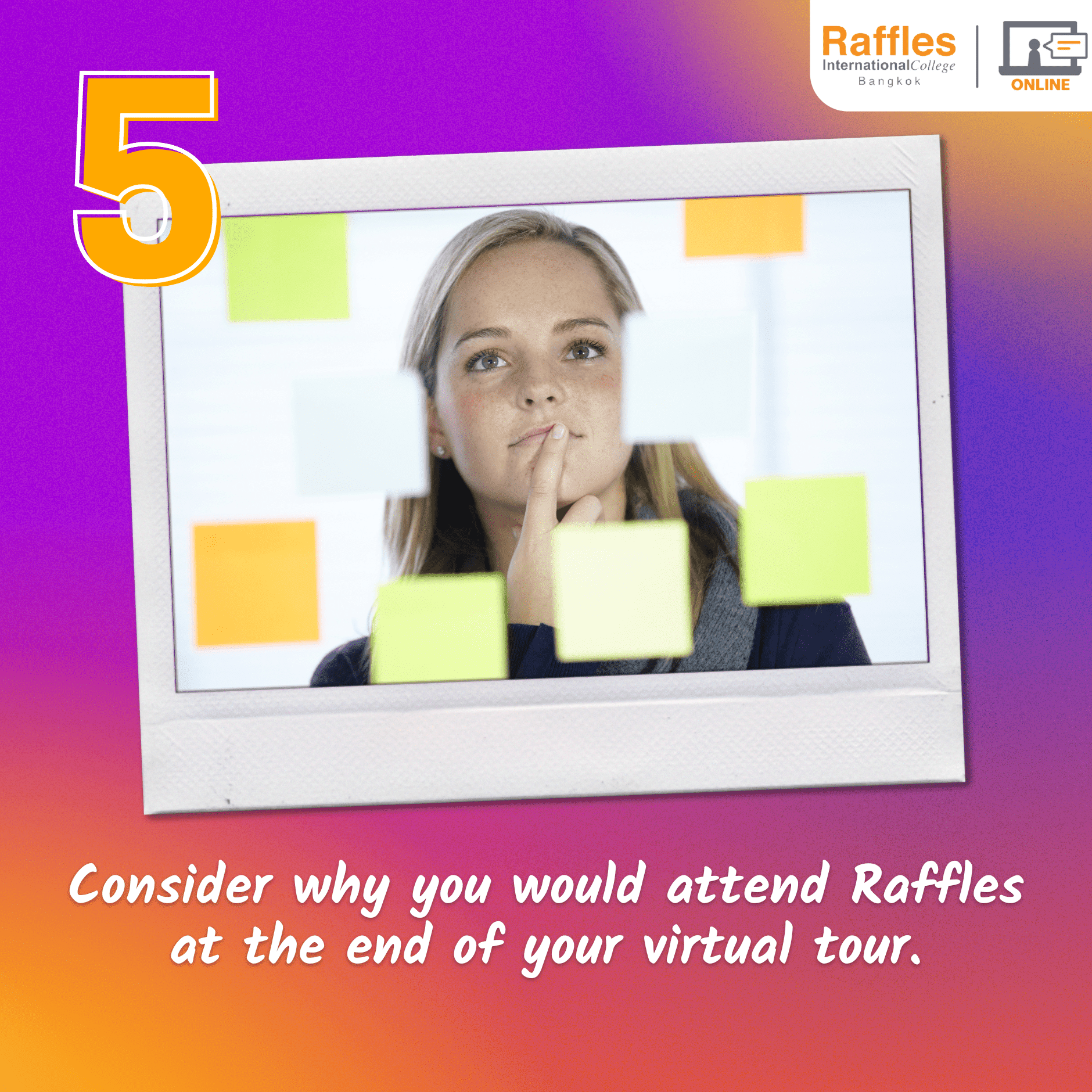 If you have not registered for the Online Open House, click here to register.
The Best Ingredients from Thailand Featured at APEC
Thailand will host APEC, the Asia-Pacific Economic Cooperation, in 2022, and the country expects to greatly benefit from the event's boost to service and tourism businesses, which are the main engines of the Thai economy. Food is a big part of these industries. 
All food will be served in accordance with the APEC 2022 theme, "Open. Connect. Balance."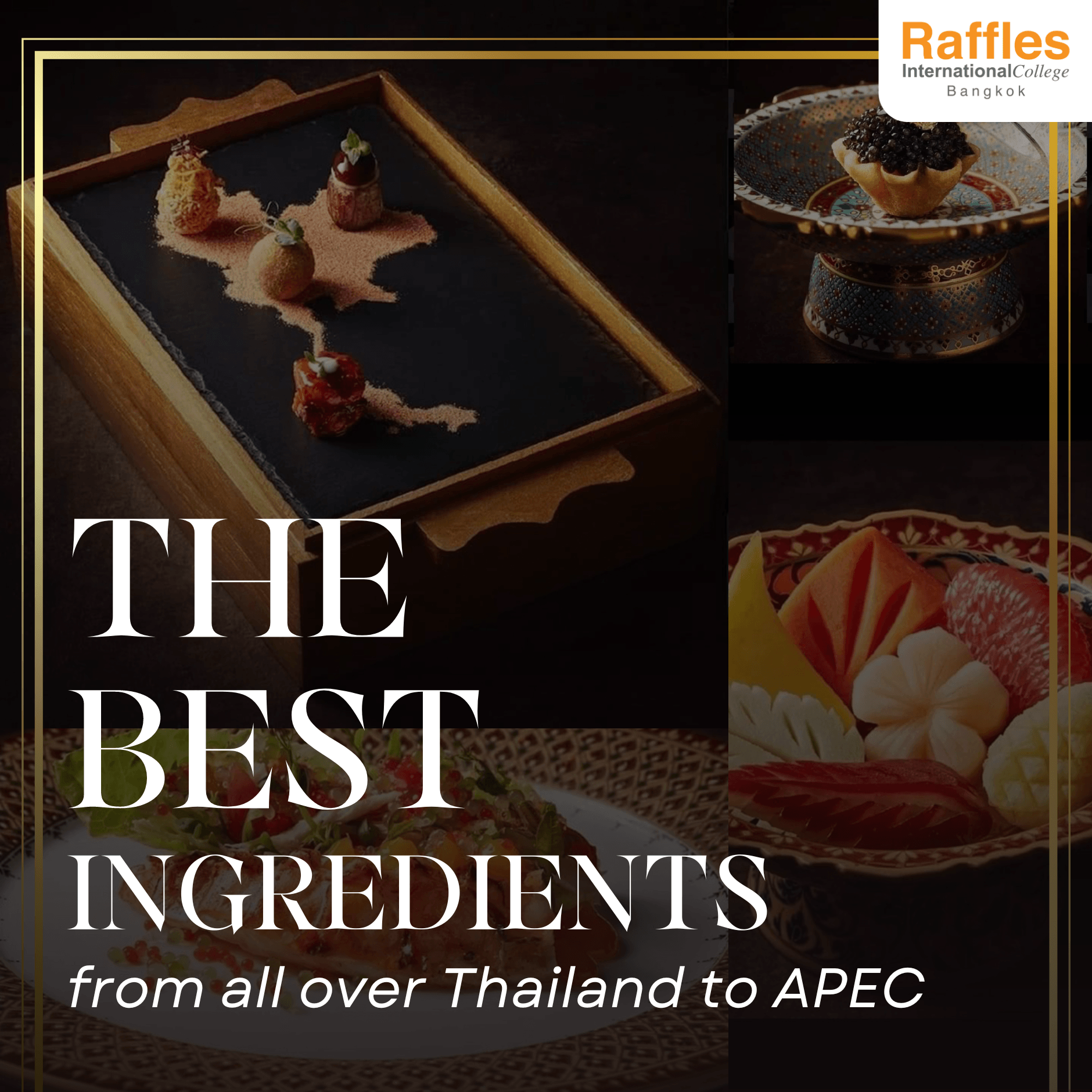 Open: Open your mind to Thai cuisine. Every dish is a meticulously designed fusion menu with a variety of colors, aromas, and textures which will ensure that these exquisitely presented dishes will delight APEC leaders, their spouses, and attendees.
Connect: Connect local Thais to the world. These menus are created by providing the best ingredients from the North, the Central, the Northeast, and the South of Thailand. Thai food is one of the most famous foods in the world and Thailand is known as the "World's Kitchen" because it is one of the leading food exporting countries. 
Balance: Create a balance between the world and people through the use of ingredients from the Royal Projects, community enterprises, and local farms. Encourage people and communities to be self-reliant. The goal is to raise the standard of living for Thai people and their families. Meanwhile, preserving the environment is part of the Sustainable Development Goals.
The 5 dishes that will be presented
to APEC leaders at the Gala Dinner are as follows:
Amuse-bouche: Golden Krathong with cream sauce and sturgeon roe from Doi Inthanon Royal project.
Appitizer: Presenting the best from four parts of Thailand; 
– The Central: Tom Yum Kung in croquette form 
– The Northeast: Charcoal-grilled wagyu beef served with spicy sauce 
– The South: Coconut milk BBQ chicken 
Salad: a salad of nine organic vegetables from across the country served with organic chicken, Phuket lobster, and Supanburi duck egg fermented with Petchaburi fleur de sel.
Main course: A "Royal Mussaman Curry" made from premium Sakon Nakhon beef, mixed vegetable ratatouille, organic grouper from Phuket, tom kha sauce, and mixed mushrooms is served alongside the dishes, along with 9 types of brown rice baked with lemon grass. 
Desserts: Thai taro custard and lotus seed with Thai fruit sauce, served with passion fruit honey sorbet and dara thong, Chiang Mai chocolate with Thai brandy and black galingale filling, Kanom Mali, a classic baked recipe with coconut filling, Lychee macaroons, and Pandanus pudding in coconut cream served with Fleur du Nord tea sourced from Nan province.