Unlock creativity with 3D Techniques class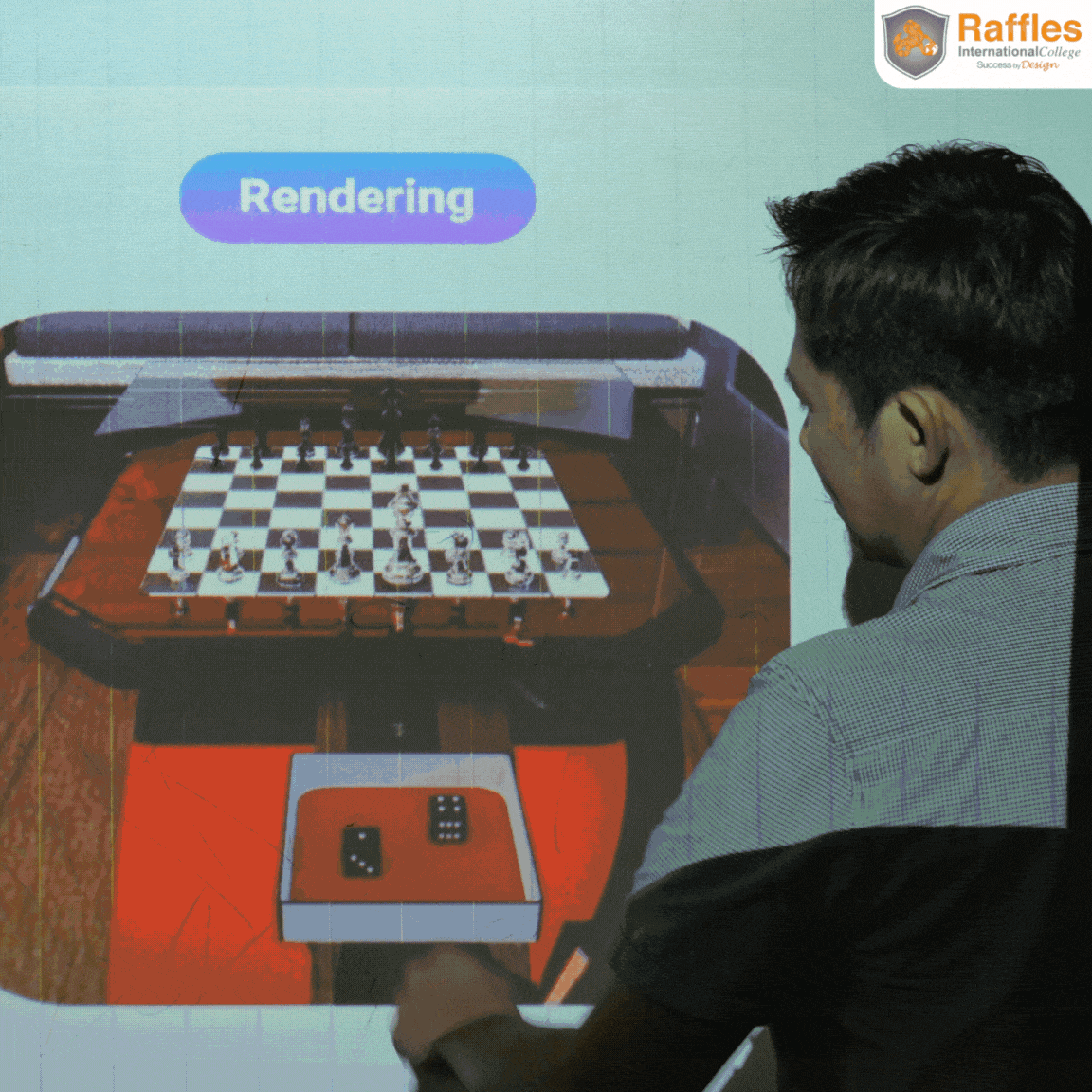 We are thrilled to announce that our graphic design students have just completed an impressive project using advanced 3D techniques. Through this project, they were able to design their dream rooms, showcasing their distinct styles and bringing their visions to life with the help of 3D software. 
Throughout the course of this project, the students have acquired a plethora of useful techniques. Through experimenting with various layouts and designs, they have learned about composition and creating visually attractive spaces. They have also gained knowledge about the importance of lighting in design and explored different lighting techniques to set the desired tone and ambiance in their rooms. Furthermore, the project has provided students with the opportunity to showcase their artistic abilities by creating unique objects that add character and charm to their designs. 
This project has really brought out the best in these students. Their creativity was sparked and they were able to create truly remarkable pieces of work, each with their own unique style. It's amazing to see how they were able to personalize their rooms and showcase their individuality through their art. They have definitely gained a fundamental understanding of art, and it's great to see them apply it in such a fantastic way. 
It's great to see students enjoying their learning experience while also gaining valuable skills. The 3D techniques class seems like a fantastic way for them to develop their artistic abilities and software expertise simultaneously. I have no doubt that with these skills combined, they will produce some truly impressive work. Can't wait to see what else they have in store! 
FMM students' fantastic accessories to elevate your style.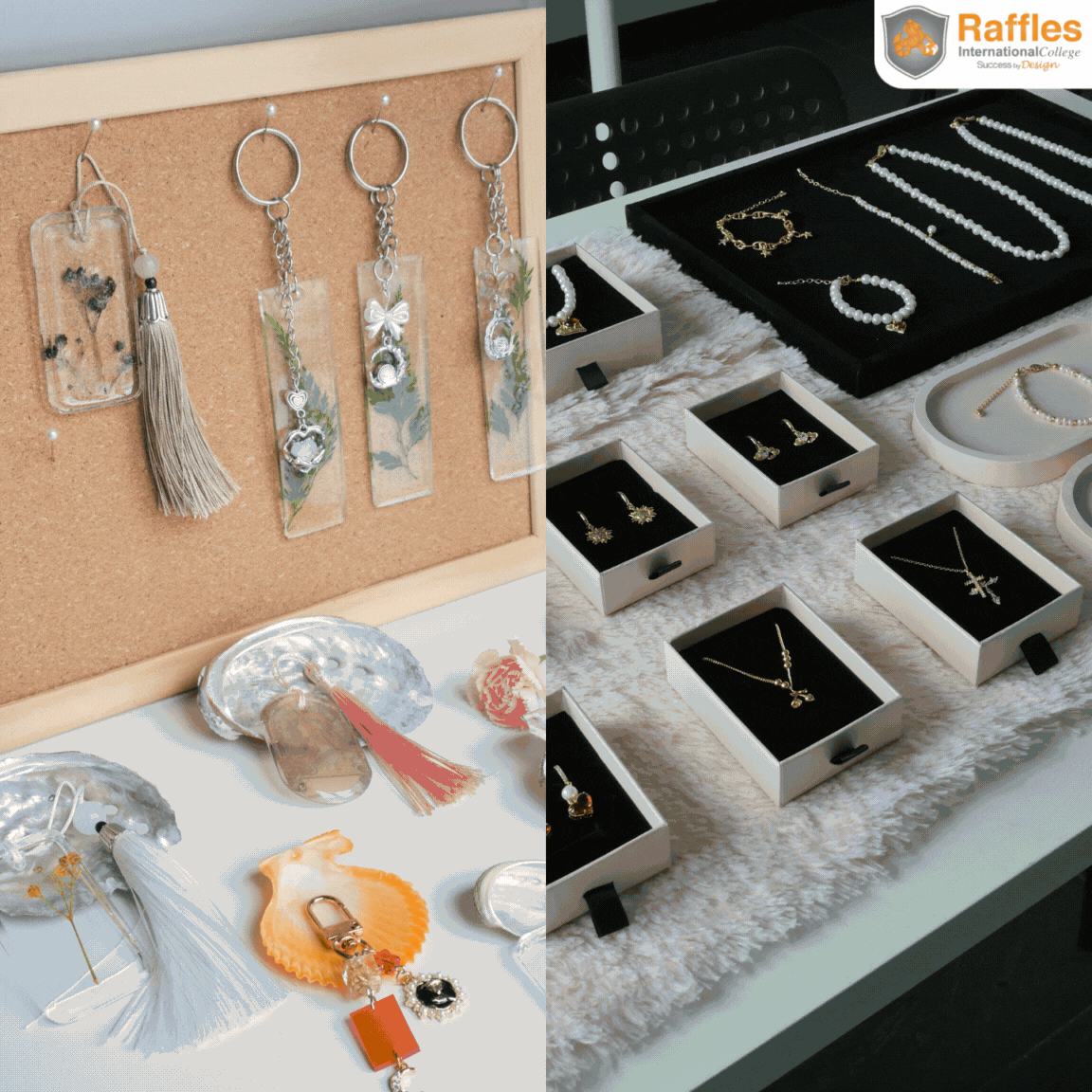 It's great to see students getting involved in such exciting and collaborative projects like "The Fashion Marketing Project 2" at Raffles International College Bangkok. Mary Ei Phyu, Yoon Mee Mee Moe, and the rest of the Fashion Marketing and Management students should be proud of their hard work and fantastic fashion products. Conducting thorough research and business analysis when it comes to the fashion industry is of utmost importance, and this project was a great opportunity for our students to do just that. 
Students in this project were tasked with designing and selling a product that was both beautiful and practical. They were encouraged to consider the business principles involved in creating a successful product. Ms. Mary Ei Phyu designed elegant accessories made of 100% freshwater pearls and 18k gold-plated bronze. Her products were both beautiful and practical, showcasing her creativity and skill. Ms. Yoon Mee Mee Moe created artistic resin bookmarks and key chains that were unique and interesting. Both students demonstrated their creativity and skill through their products, and their designs were a testament to their hard work and dedication.
Additionally, it was crucial for students to conduct extensive research on their target audience, sales strategies, production costs, and storefront management to ensure the success of their products in the market. Once the research was completed, students presented their findings to their lecturers, which was a valuable learning experience for them.
"The Fashion Marketing Project 2" was a great learning experience for students. They got hands-on experience creating and selling products in the fashion marketing industry, while also learning valuable business skills. It's fantastic to see the artistic and business value of the project! Overall, it was an incredible experience that our students will always cherish.
College tour at Satit Prasarnmit Demonstration School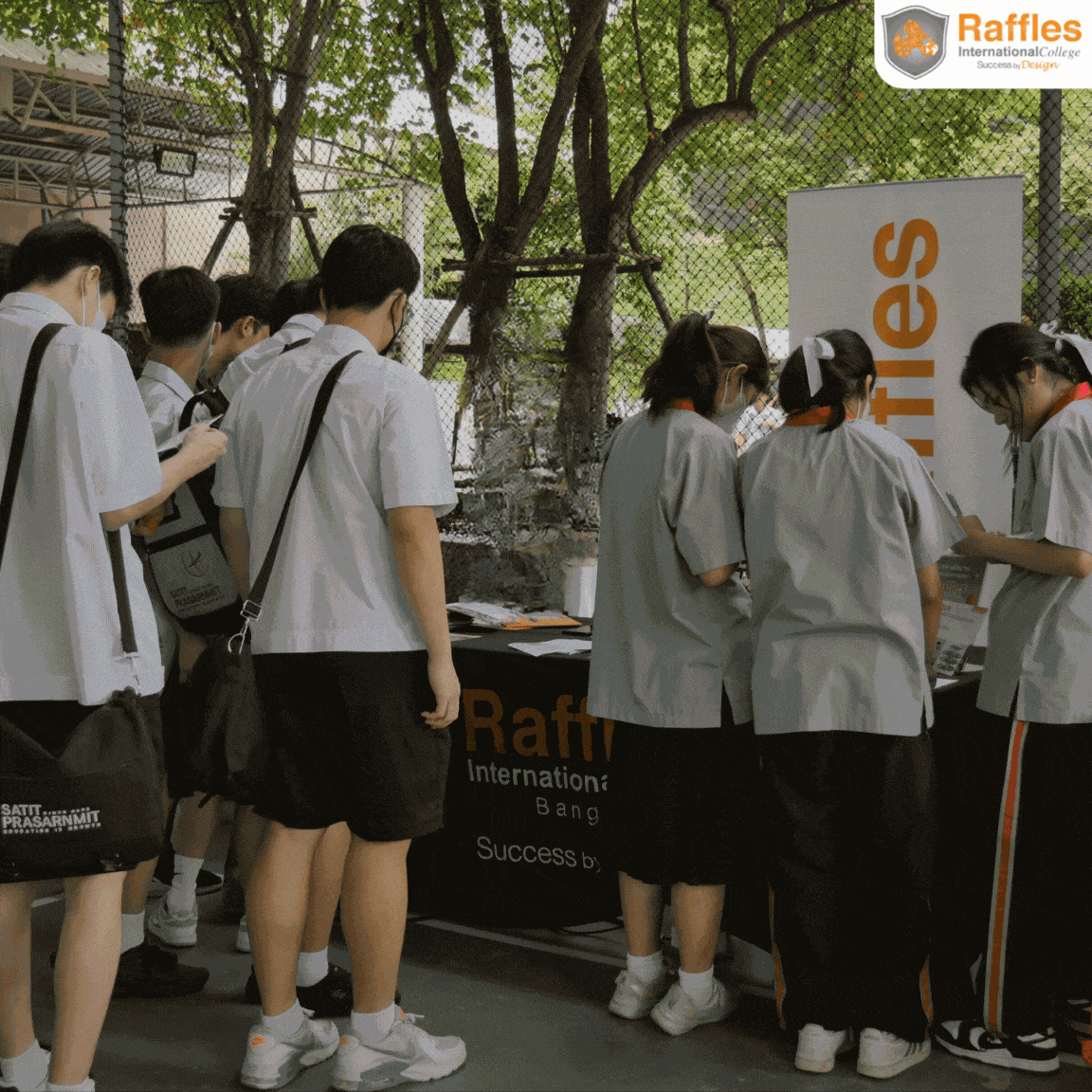 Raffles International College Bangkok recently participated in the TCAS 67 event at Satit Prasarnmit Demonstration School, present were also several other international colleges and local universities, and we were grateful for the warm welcome we received from the students who attended the event. It was a pleasure to be a part of such a wonderful gathering. 
Our team from Raffles had a booth set up at Satit Prasarnmit, where we interacted with students who showed interest in our college. We provided freebies like folder and some scholastic materials to those students who wanted to learn more about us. The event was a fantastic opportunity to highlight all the unique features of our college and the many opportunities available to students who choose to study at Raffles. 
We were thrilled to see such a positive response from the students at Satit Prasarnmit Demonstration School. It was truly a memorable experience that allowed us to connect with some wonderful individuals. We are eager to continue building relationships with the students and staff faculty of Satit Prasarnmit and look forward to future opportunities. 
Thank you for the wonderful event! We would like to express our sincere appreciation to the organizers and the students who attended. It was truly a fantastic experience, and we hope to see many of the students at Raffles International College Bangkok in the future