Pitching Residential Design Projects
to Industry Professionals
2022 On August 18, 2022, Wynn Arunrugstichai, Interior Design programme director, brought a group of first-year interior design students to Double V Space studio to pitch their first residential design project. After their pitch, students received feedback from Nattha "Jules" Soontornvinate, the founder and design director of luxury interior design firm Double V Space, and Bradley Chuensomsong, the Founder of DESIGN QI, who famously participated in MasterChef Thailand Season 5 and made it to the Top 4.
"This is the first warm-up project for these design students. They are doing a residential project. This is like baptising them from students to designers so that they understand what real designers are facing in terms of presentation," Wynn said.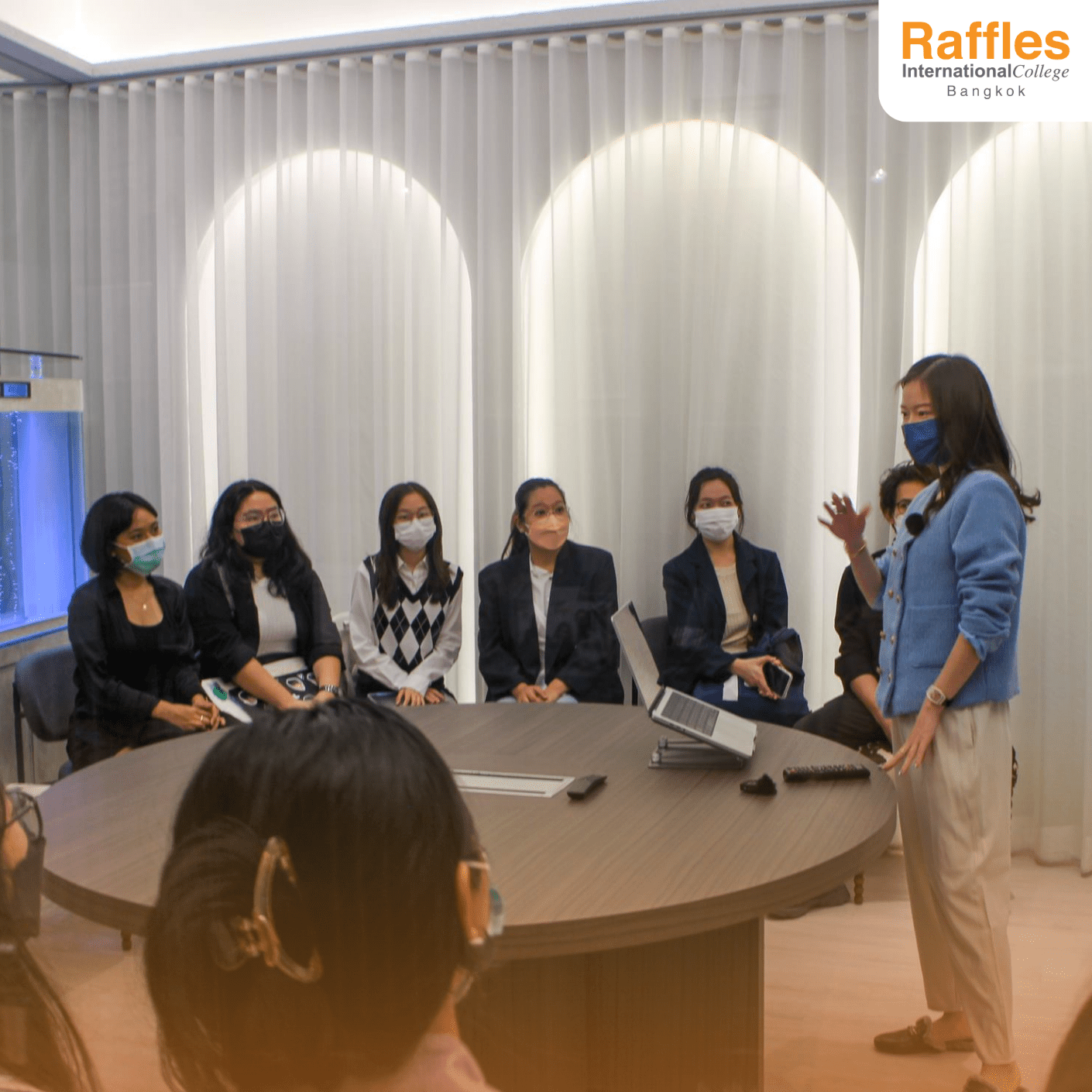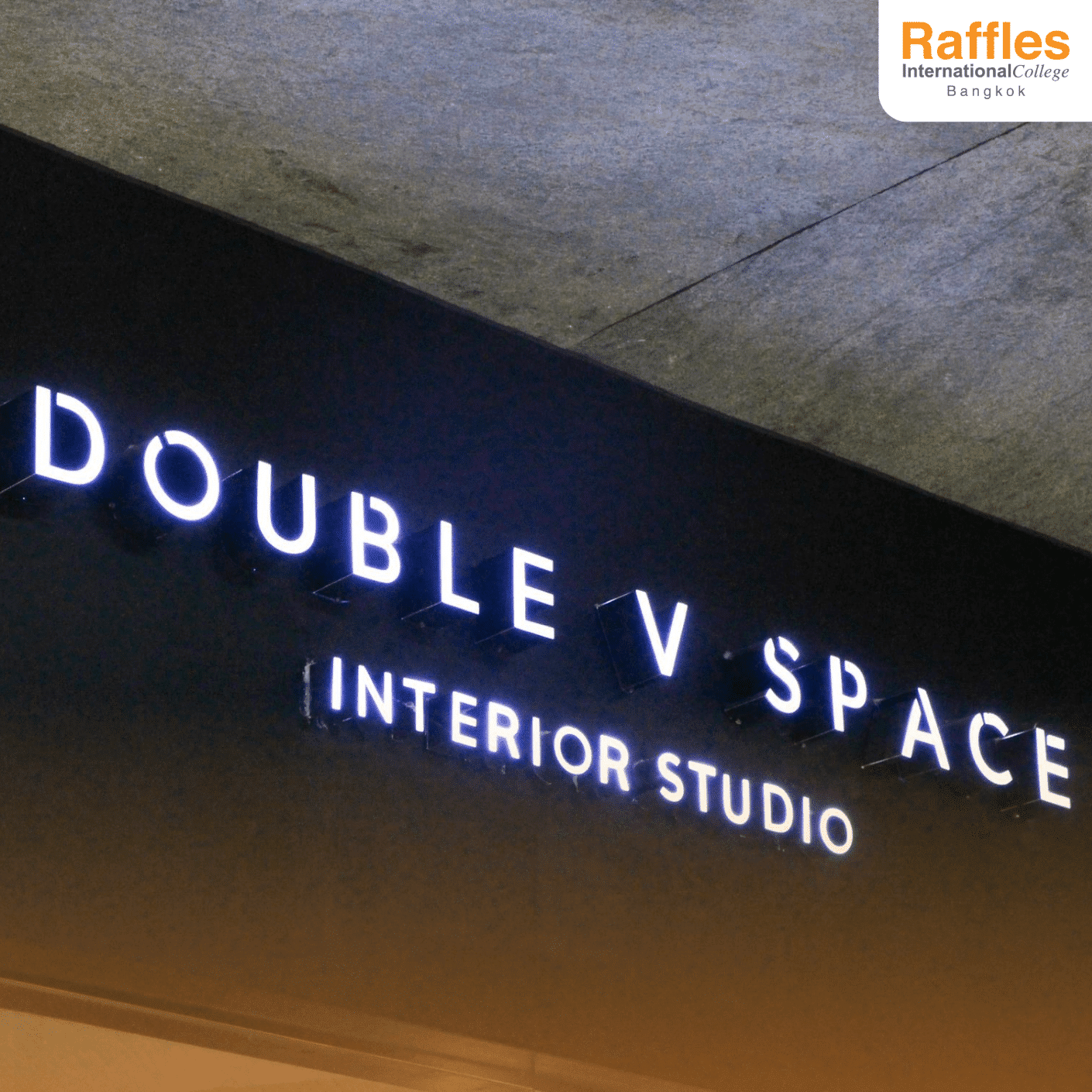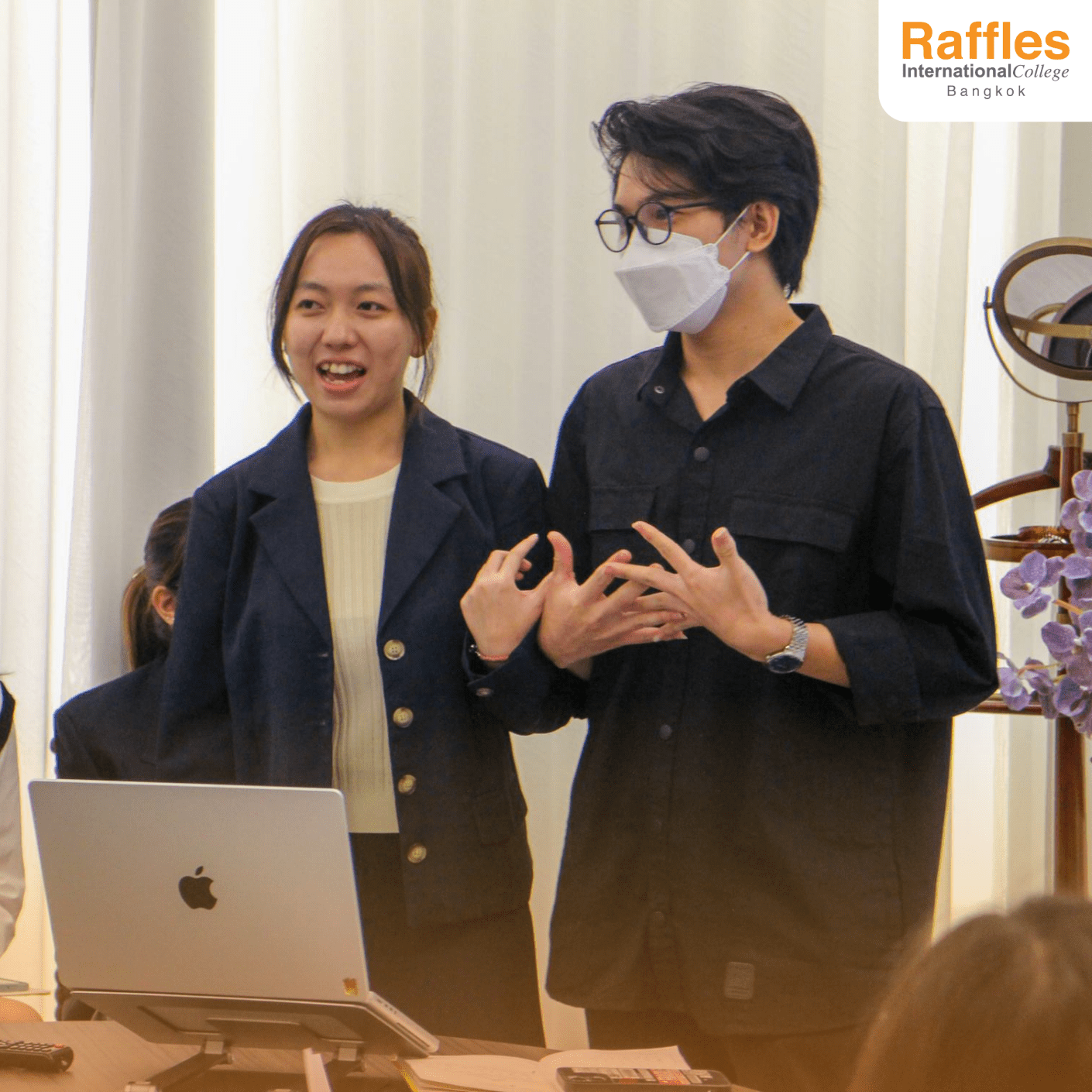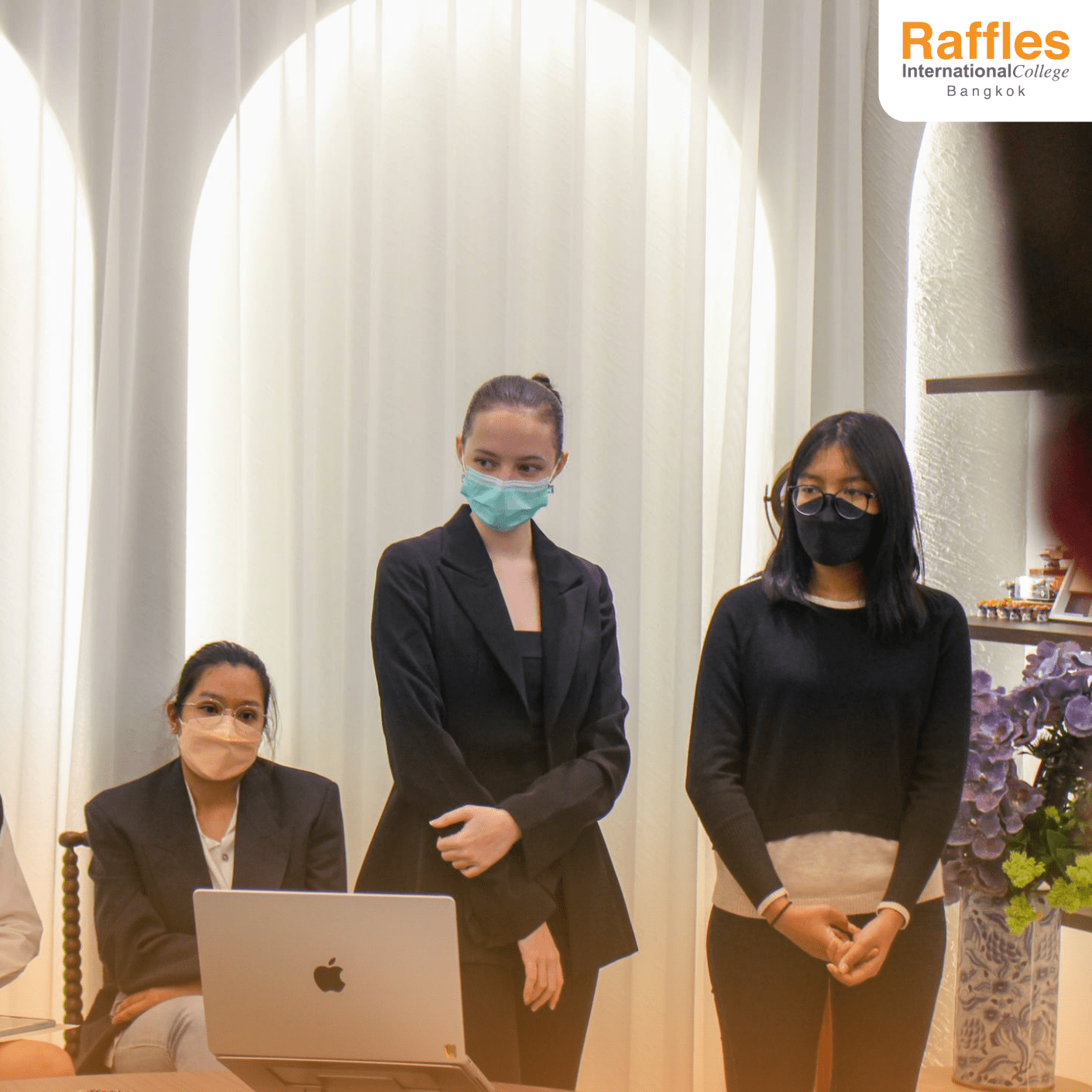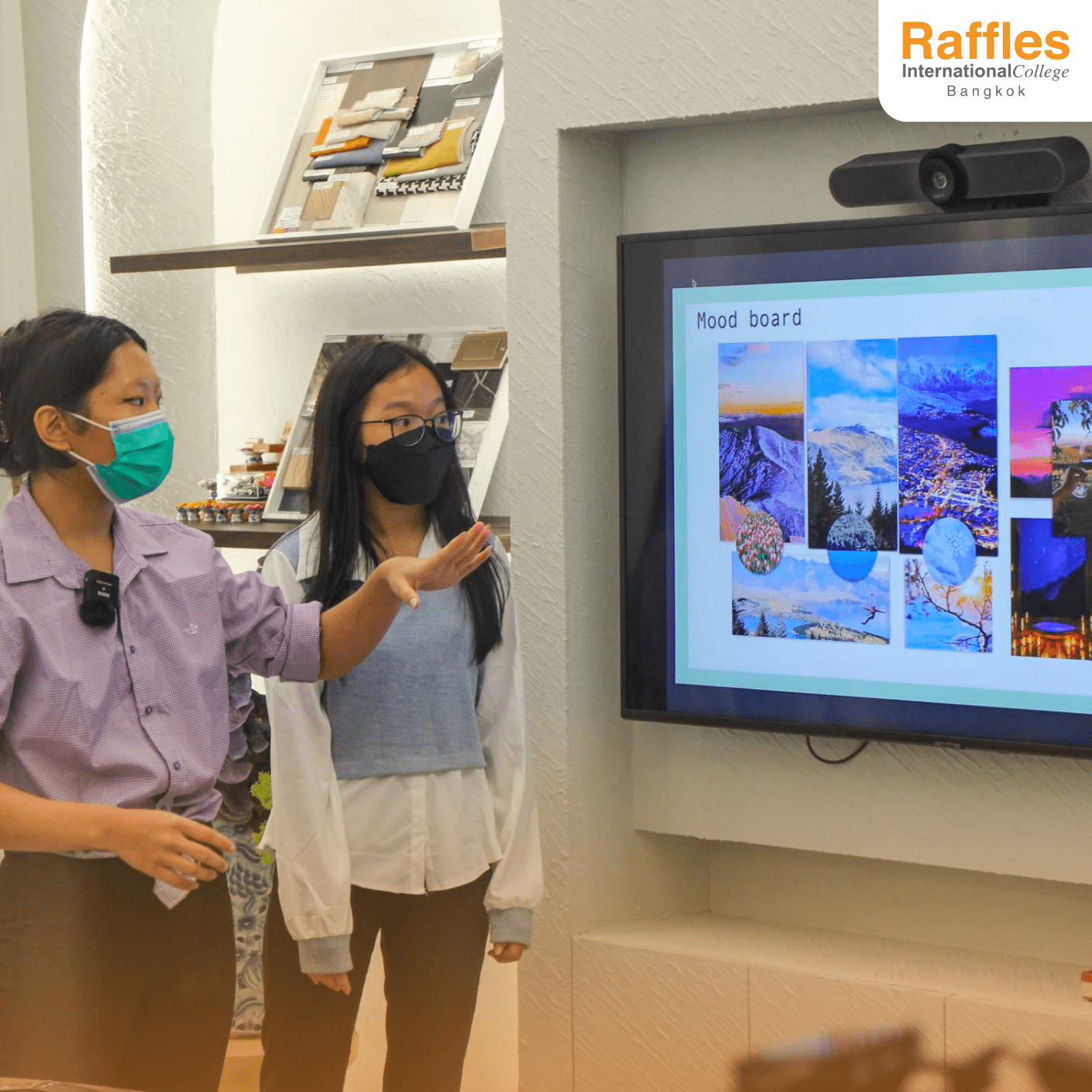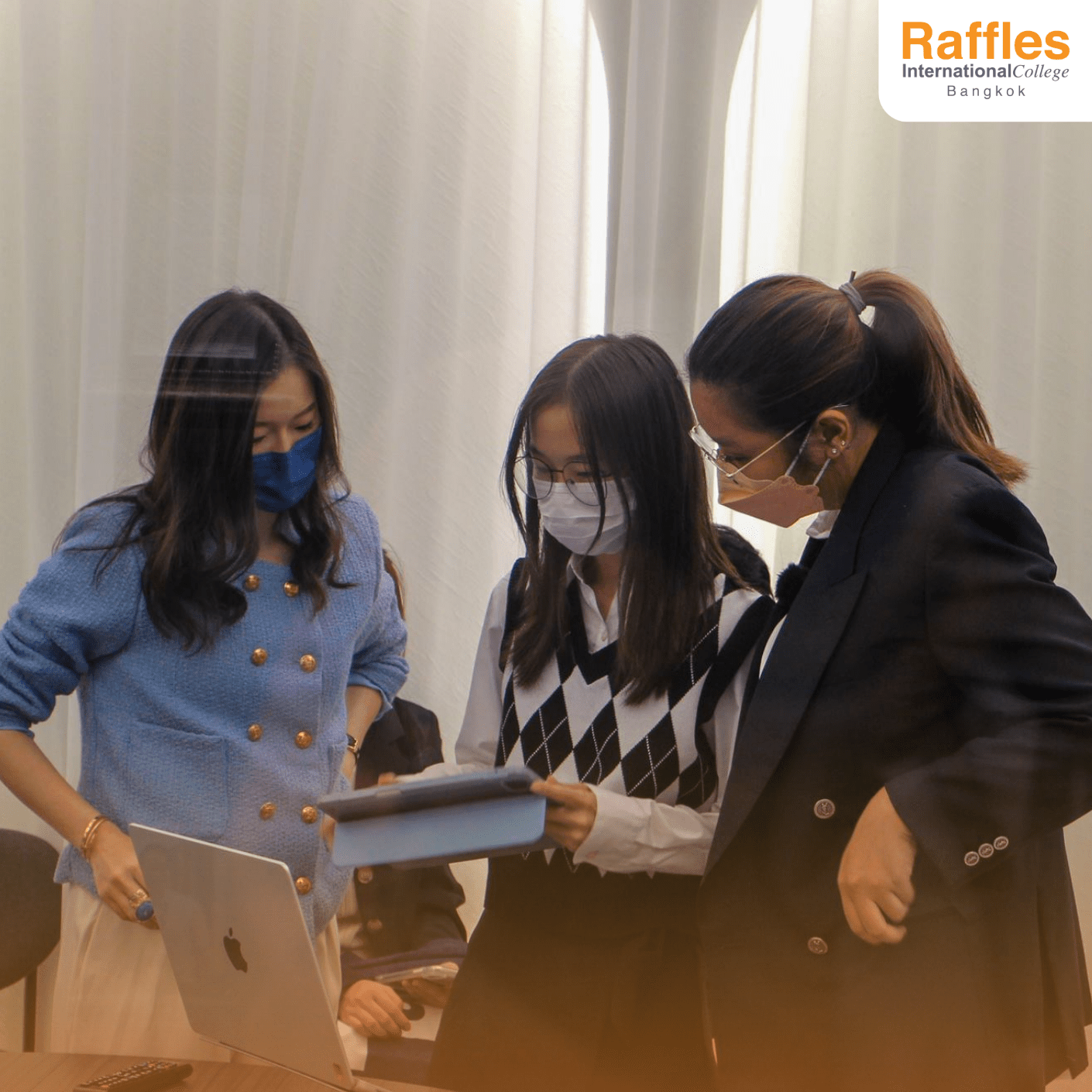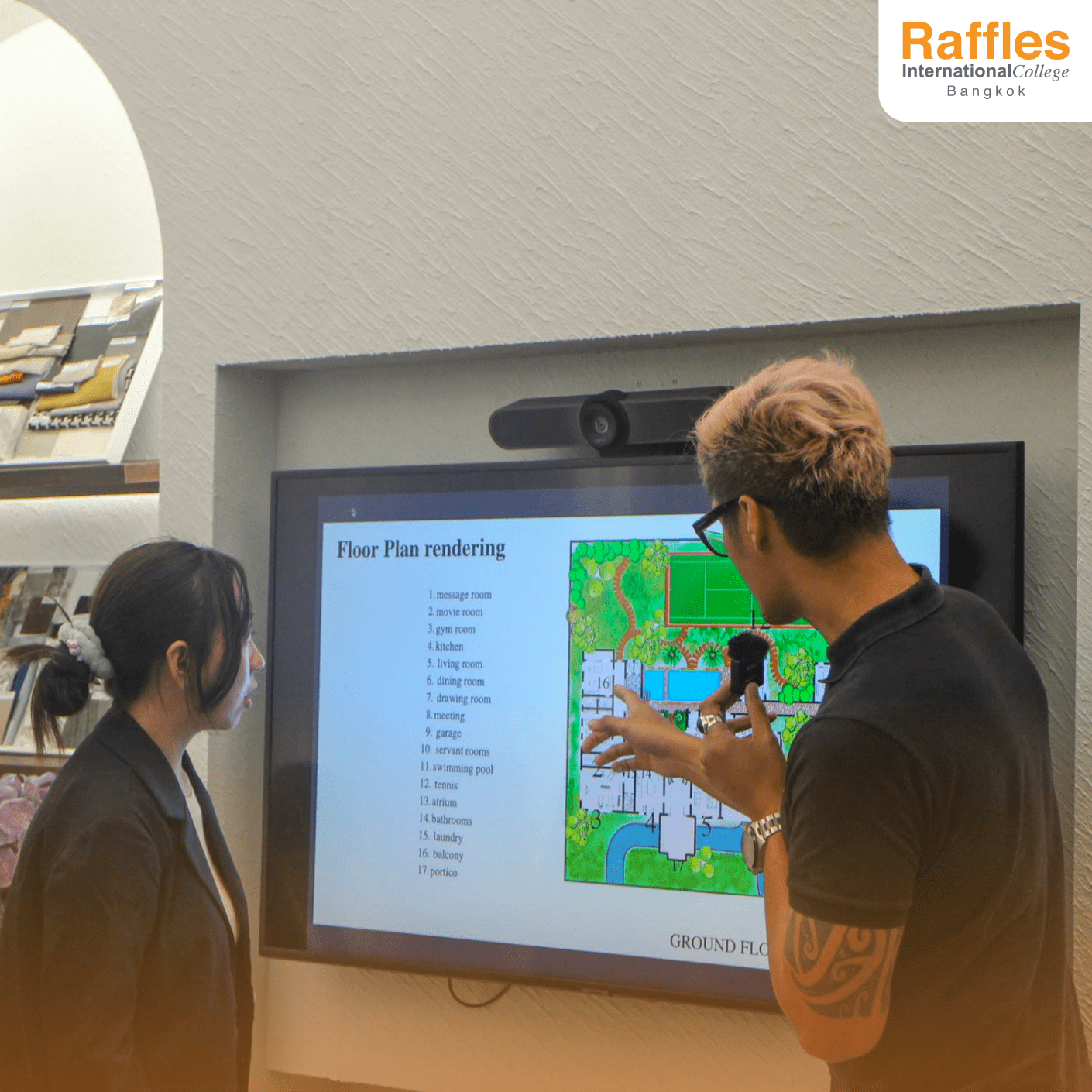 For the first-year students, it might be a little bit too soon to do a perfect pitch for clients, as they have little experience in both designing and presenting. Nevertheless, Wynn argues that "the sooner they are exposed to reality, the more they can handle it."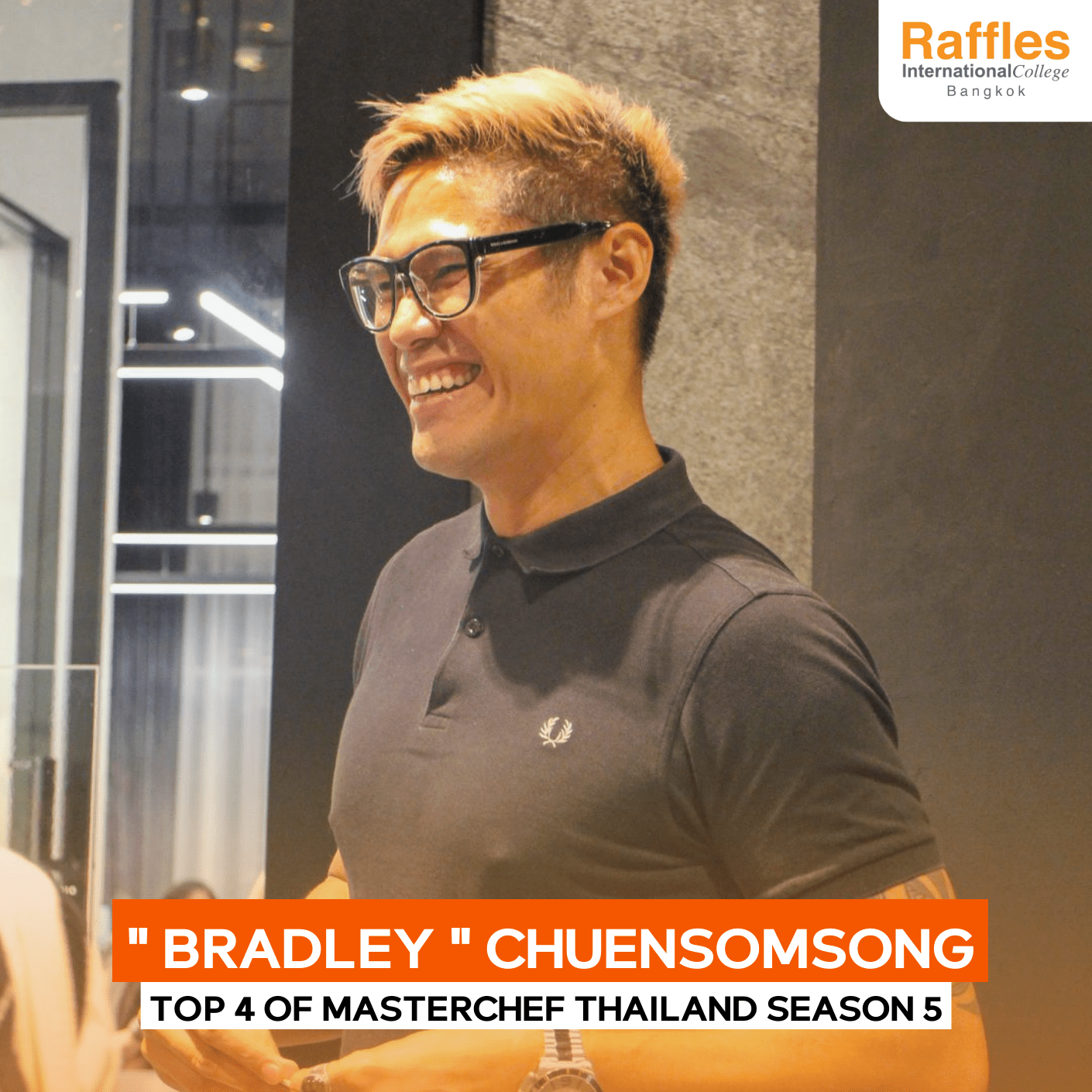 On the other hand, Jules was surprised by the quality of some of the students' pitches. "I am very surprised about some of the groups. Is it first-year students' work? I even commented to them that they could come to work with me now. What a good test they have!" Jules told us. She commented as an interior designer and also as an alumna of Raffles. She gave useful comments to every student. "I feel that every time I give a comment to any group, it will be useful to other groups as well. I think what I criticise today will be useful for them in the future. I hope everyone will benefit more or less," Jules said.
The presenting students received comments from professional designers Jules and Bradley, which will be useful for them in developing their careers in interior design in the future. Bradley said, "Don't ever get discouraged when you fail at something. You always have to keep on stepping up to the game and learning the basics. " Many students were critiqued on their pitches, which might have upset them, but Bradley cheered them on at the end. He encouraged the students to focus on themselves and be themselves. "No matter what you do, your character is always interesting. Your point of view is always interesting. So, keep up the good work," he added.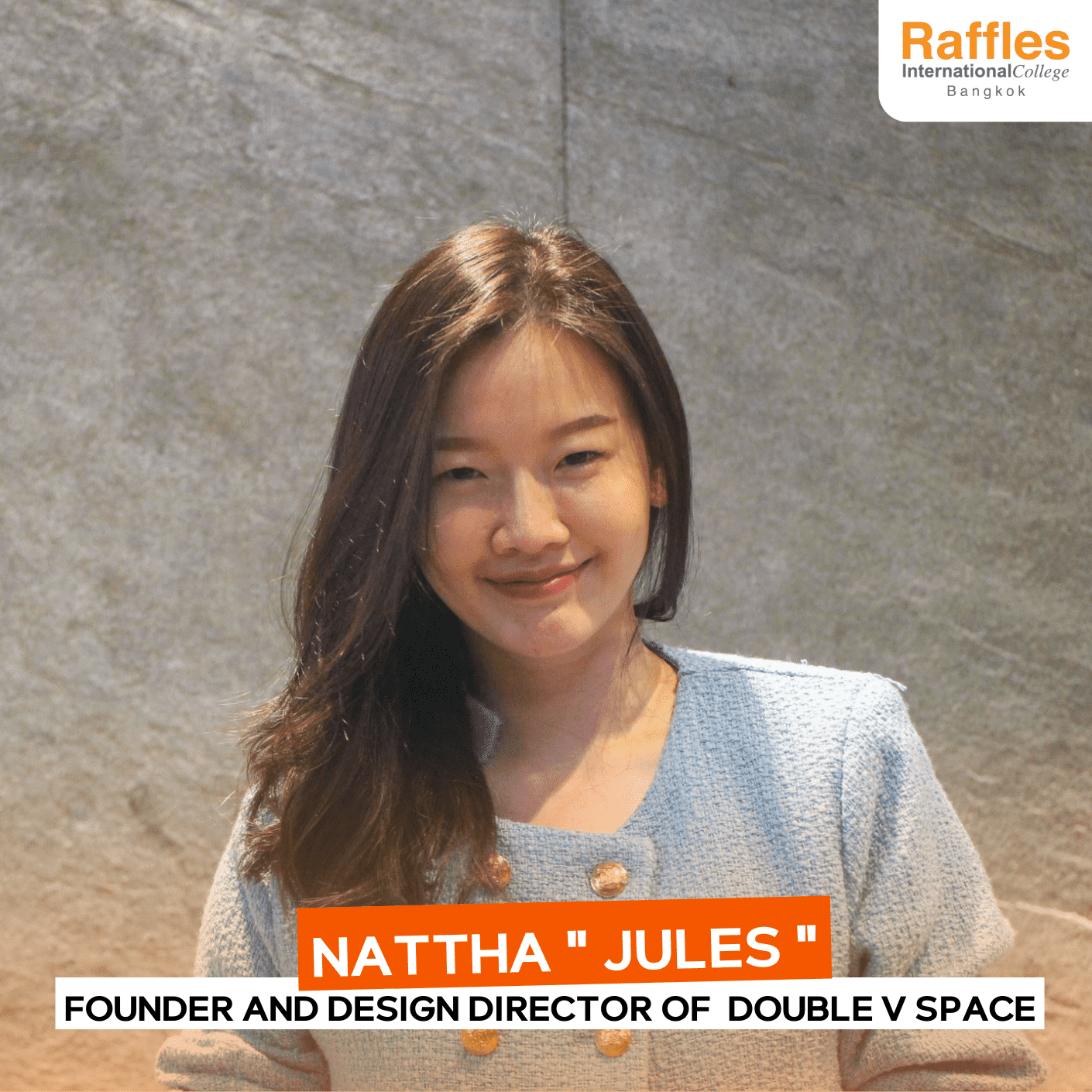 It is a good learning experience for students to receive criticism from people who work in the real industry. This is their first time doing this pitch, so while we understand the fear that they're facing, it's all done in a controlled environment. Wynn concluded the day by saying that "they're still getting good people to look after them. They have a professional designer to give them comments. So, this is a good experience for them."
The interior design programme at Raffles equips students with the creative and technical knowledge and abilities necessary to succeed as professionals in the industry. It includes the study of interior architecture as well as interior design in the context of the built environment, with an emphasis on how people interact with specific places. The focus is on space planning, original problem-solving, effective communication, understanding of building materials and construction, computer-aided drafting, and design history. Students are required to offer creative answers to a wide range of challenging real-world space problems.
Questions Raised During
The Open House Live Q&A Session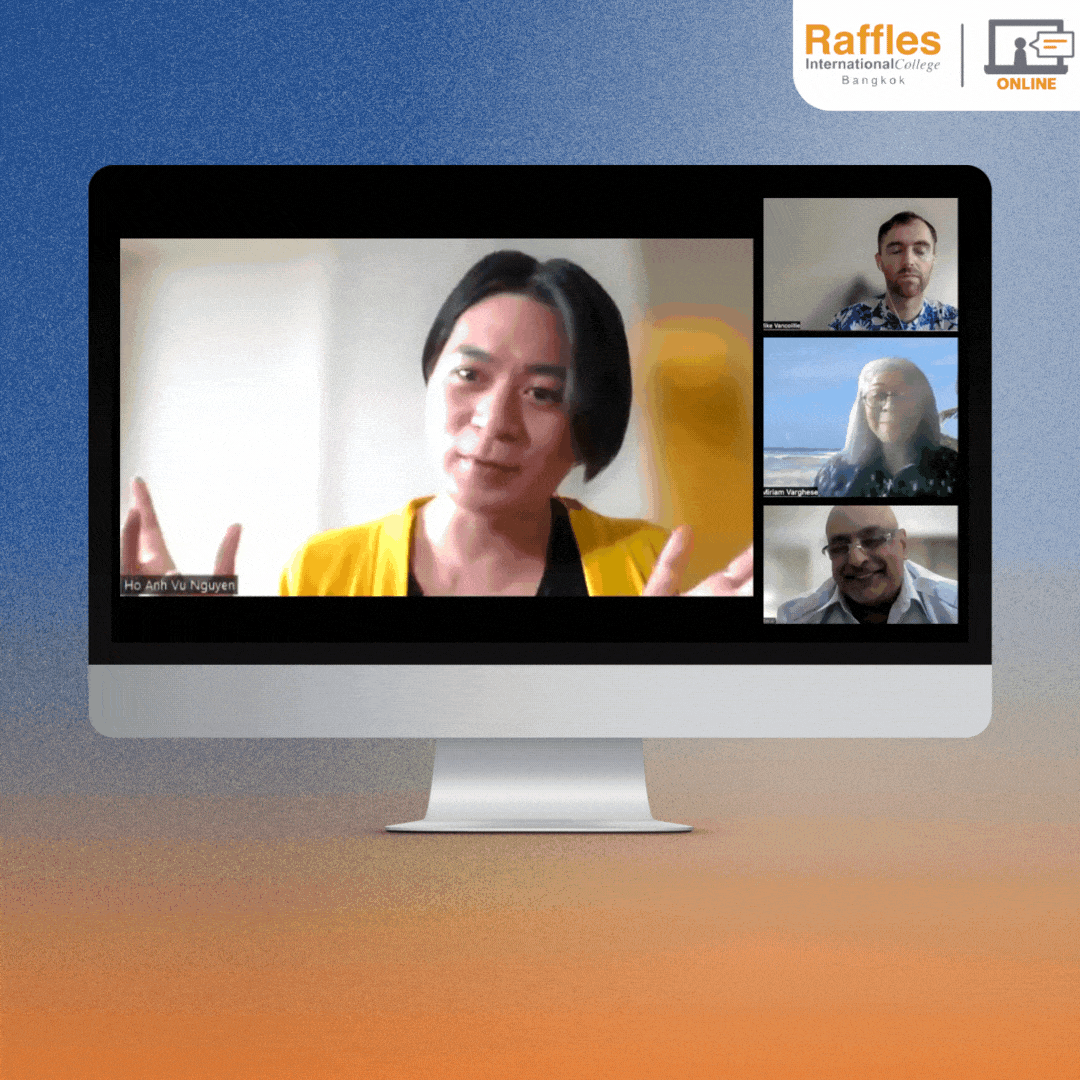 The live Q&A session that takes place during Raffles' Online Virtual Open House is a valuable opportunity to speak directly to lecturers about the programmes they teach. To ensure that you get the most out of this activity, we advise you to prepare beforehand.
Our lecturers are eager to answer your questions during this live Q&A session. We've provided you with a list of questions that were asked during the previous Open House in June as an example. 
What qualifications does a student need to apply
to fashion design? / Mehm Sann Lynn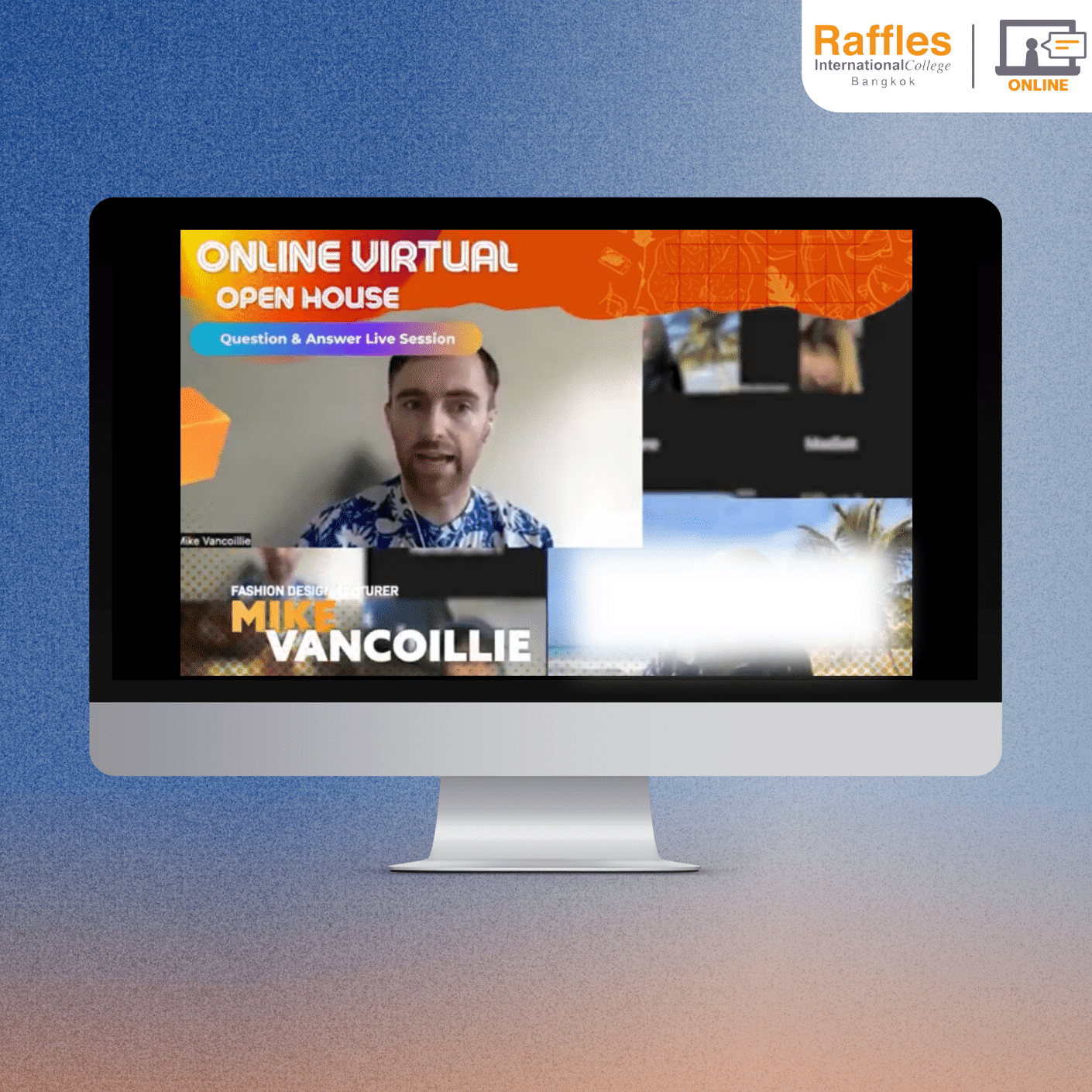 Mike: We require you to finish your high school. Other than that, we will teach you the basics. What you need is a bit of passion and some idea of where you want to take it. In the first three months of our curriculum, you will learn how to create a garment, how to use a sewing machine, and how to draw. 
Our curriculum is really made for the idea that you don't have any skills yet and we teach them to you. It's quite intense, but it's very rewarding. In a short time, you learn a lot of skills that make it possible for you to be a fashion designer.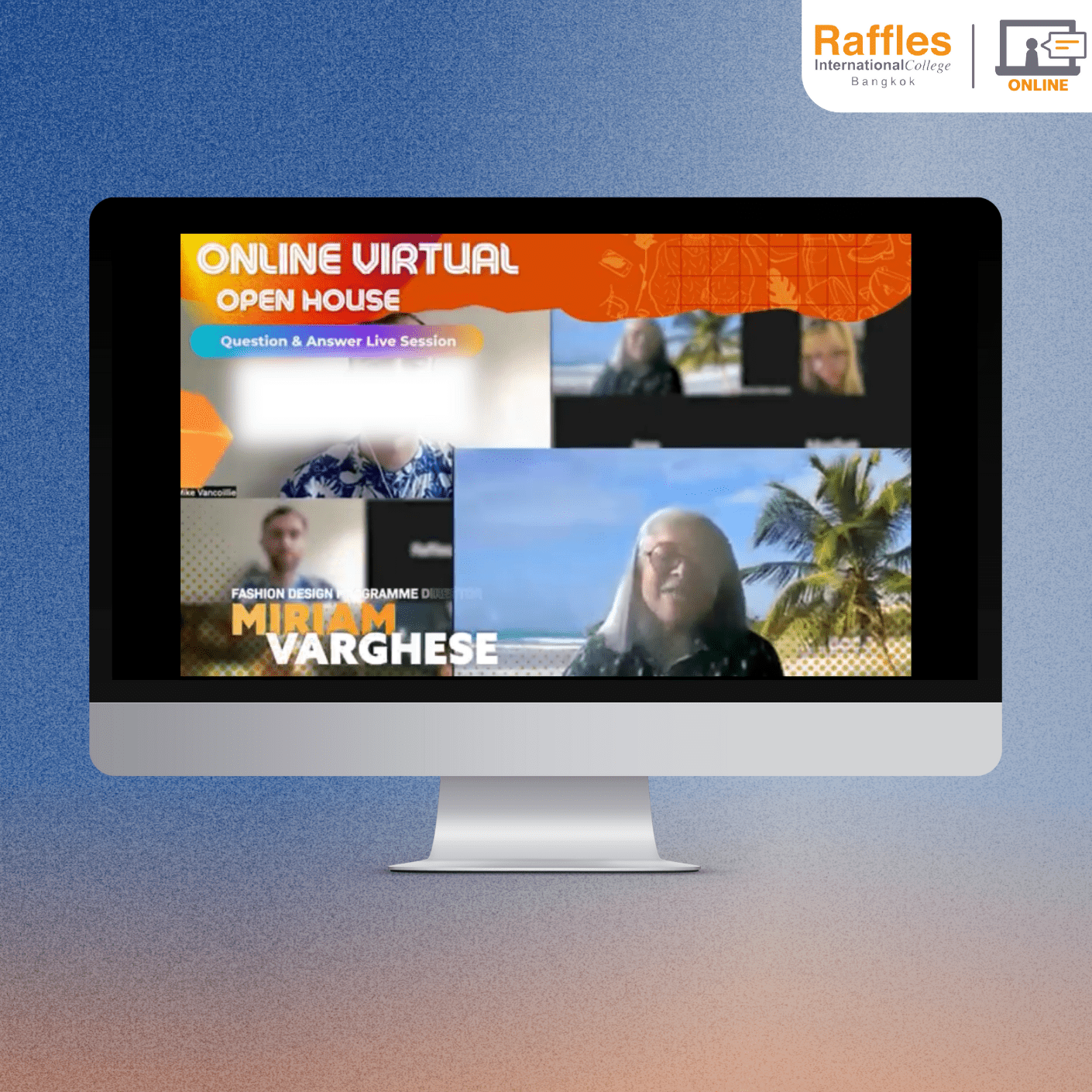 Miriam: I would like to add that there are many students who are afraid of drawing and of sewing. But we will teach you everything. We teach you to even draw. And believe me, everyone can draw. If you're not happy with drawing with a pencil, then there's always us to teach you how to use the computer to explain your design. 
So, you have computer-aided design work to teach you. So ultimately, it's what you're comfortable with. Most of our students will draw, and they will clean it up on the computer to express their ideas. So, we leave it up to you to decide what you're comfortable with. But our duty is to teach you all the skills, from scratch. 
Are there any math-related modules in the
Psychology 

programme

? / Thet 

Thitsar

 Lwin
Valentine: There are only a few subjects, and one of them is Behavioural Statistics. But it's okay; it's statistics. Most of the time, you are working with an Excel programme. I don't think you have to calculate things. There's only a little bit of data research and a little bit of human resource management. 
They do compilations on salaries, for example. Research-based analysis and statistics are the basis of mathematics in psychology. These are only 2 subjects out of your entire programme. So, you'll only need to pay attention in class and you will be fine.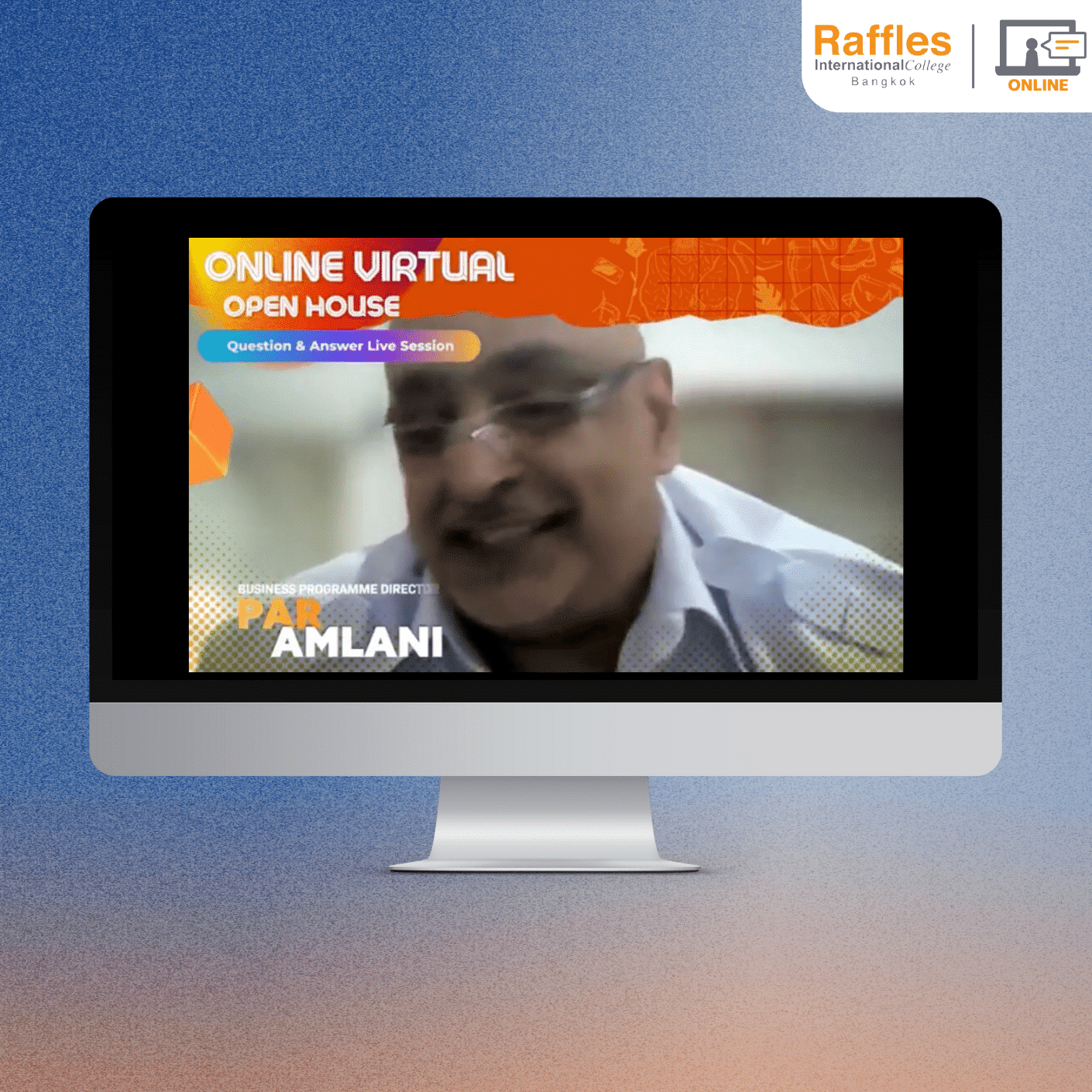 Par: We had to do everything manually in the calculators 25 years ago. But today, with technology, there are so many platforms for you that you simply key in the data and, bingo, you have your answer. So now, you really don't have to worry about the statistics as much as I did in the past 25 or 30 years ago, so put your mind to rest. It's not that complex anymore. Thank God for technology. 
How many credit hours do

we need
to take for interior design? 
What software is used in
video game design?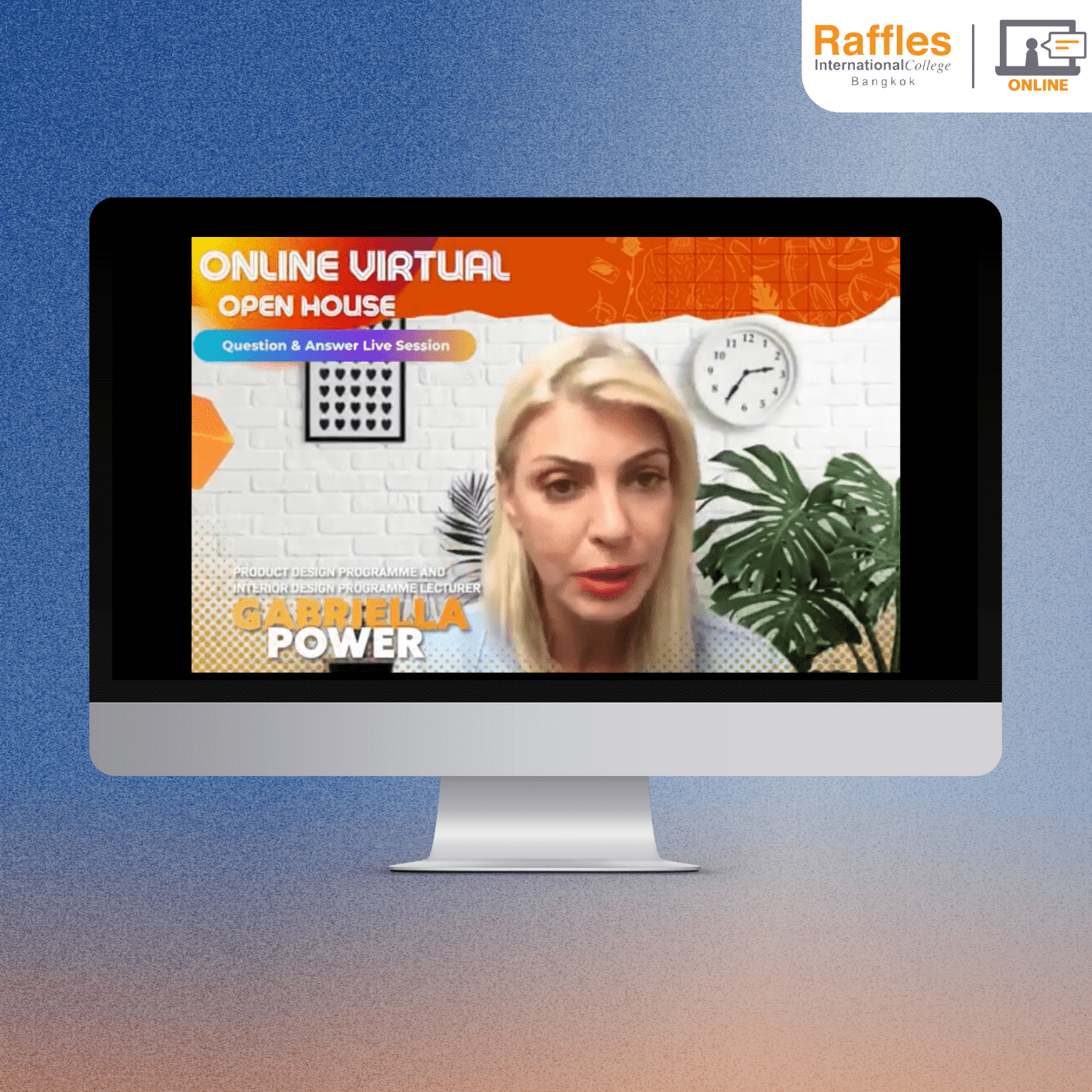 Gabriella: For the bachelor's program, we start with the eight foundation modules, and they are three hours. There are four modules in each semester, which runs for 11 weeks. The credit hour is going to be either 3 hours or 4 hours, depending on what module you are going to enrol in. 
Some of them are 4 hours long because they are both theory and practical. For example, in presentation drawings you get credits for ten points, but the hours are four hours plus lectures and probably the self-study, which takes you to 44 hours in the course of the 11 weeks. 
And what we would expect of you is to put in about 6 hours per week of self-study, which brings you to 66 hours over the 11 weeks. So, you need to invest another 5 to 6 hours per week in each of your modules that you take on per term.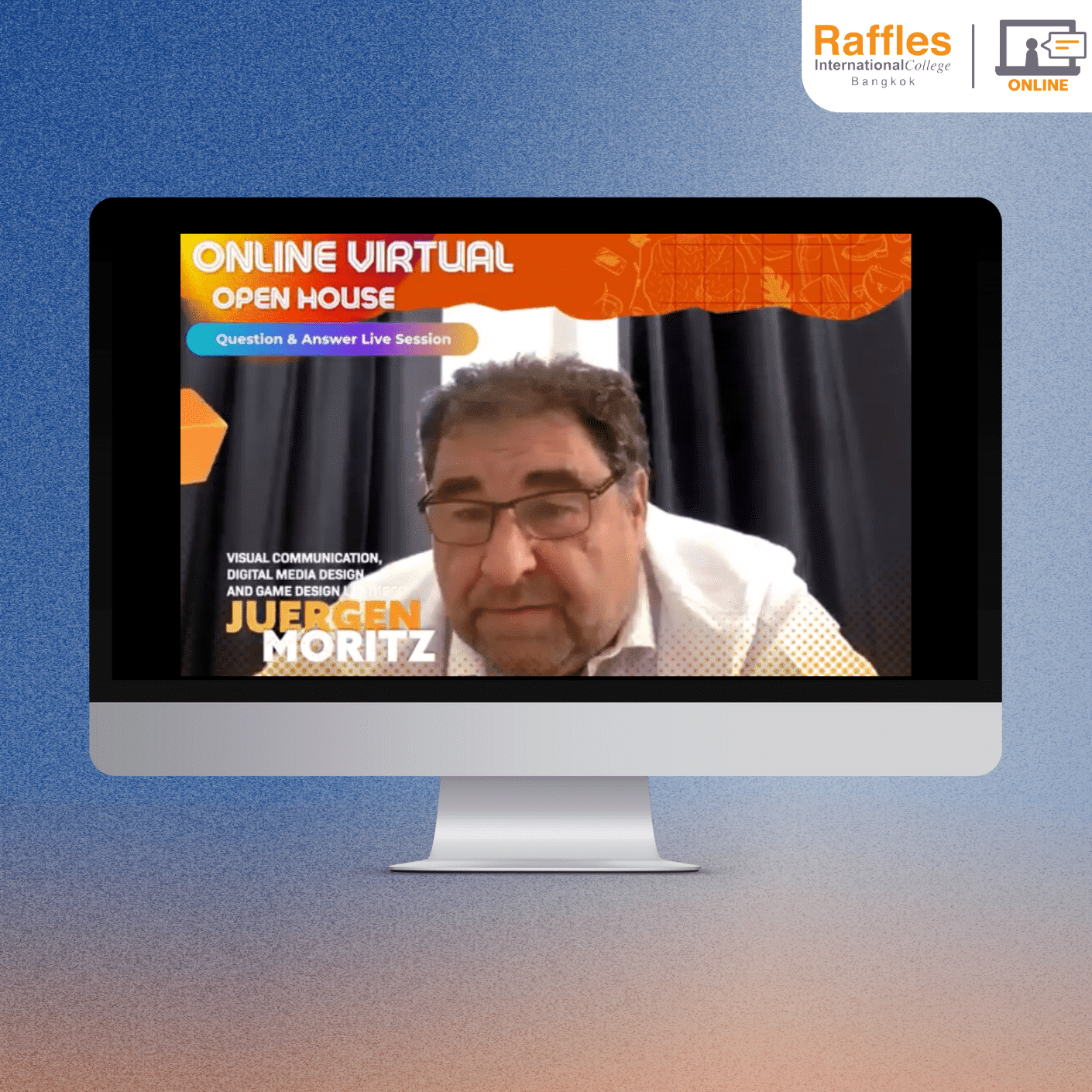 Juergen: The platform is called Unity and, at the moment, it is very strong in terms of the ecosystem and the community. It works in different areas now: for example, augmented reality, virtual reality, and visual effects. 
And we integrate this platform as well in video game design. We reconnect with Unreal or with Blender, and then also in digital media design. And you have this whole area of emerging platforms in digital media design with Unity as you can go in different directions. And what is also very strong about Unity is that it integrates, on a non-coding level, artificial intelligence in terms of storytelling. 
Another example would be Unreal, as well as very strong platforms from Google, Apple, and Amazon, from which you can create and develop new media. And there is a strong need for people who can champion the design. It's also connected. 
Khao Soi is Ranked No.1 Among the Best Soups in the World
Khao soi came in first in TasteAtlas' list of the top 50 soups, ranked by website visitors. Tom yum and tom kha gai, which are two more Thai soups on the list, are ranked numbers 12 and 13. 
The famous dish of Northern Thailand, khao soi, contains coconut milk and red curry paste, giving it a light spiciness. It is served with flat egg noodles and your choice of meat, which is generally beef, pork, or chicken. It is usually served with side dishes like fresh lime, pickled cabbage, shallots, and chilies. It is topped with crispy fried noodles and chopped cilantro. 
All three of the soups on the list contain coconut milk. You can choose to eat tom yum without coconut milk, but it's essential to the other two soups. Tom yum is one the most well-known Thai foods around the world. People are drawn to its unique combination of sour and spicy flavors. Tom kha gai, or boiled galangal chicken soup, is made with coconut milk, chicken, galangal, lemongrass, garlic, chili, kaffir lime leaves, fish sauce, and mushrooms.  
Which Thai soup do you prefer? Do you know a dish that can top these three?