5 TIPS
FOR RAFFLES ONLINE VIRTUAL OPEN HOUSE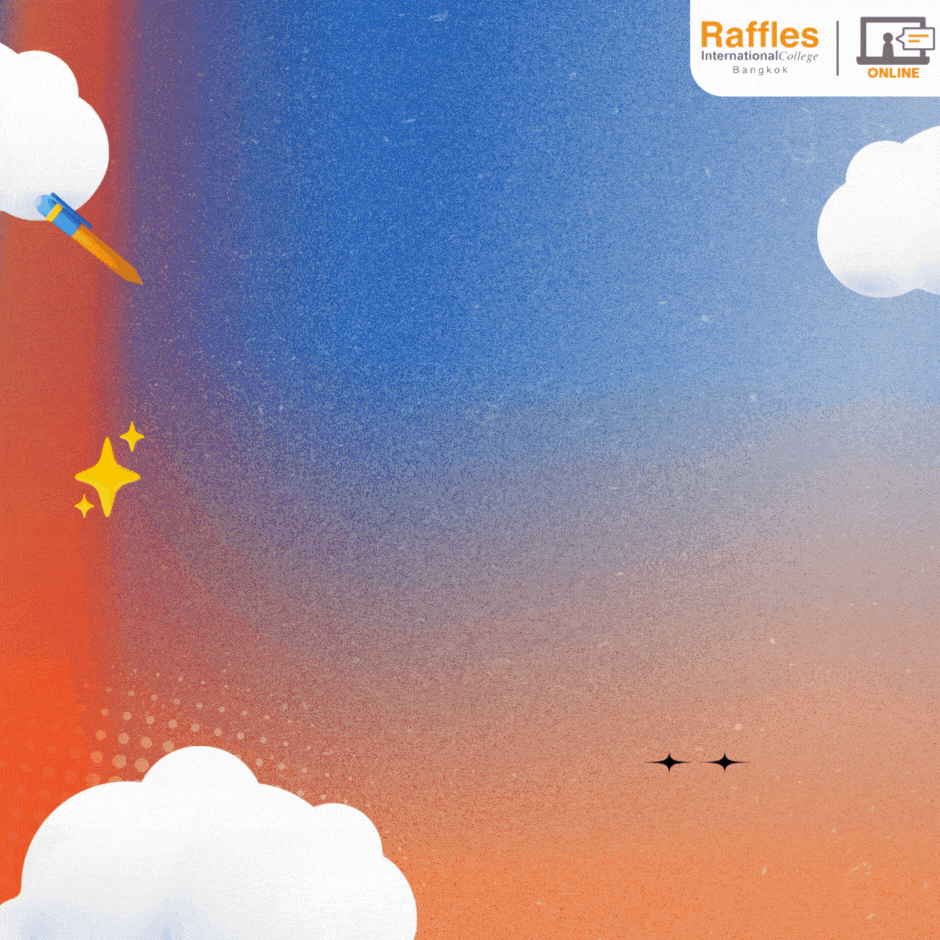 Visiting the colleges in which you're interested is an important part of deciding which one is best for you. Whether because you're in the middle of a pandemic or you live in another country, doing so online can be very beneficial. Here are some suggestions for making the most of your virtual visiting day. 
To begin, you can register for Online Virtual Open House, an online information session scheduled for Saturday, September 3rd, 2022 at 1pm (Bangkok Time). 
1. Visit our website for further information. 
Knowing the basics of the college beforehand will enable you to make more high-level inquiries about things that aren't readily apparent on the website. Please take a look around our site. Examine the admissions page for information on the application process, deadlines, tuition, and other requirements.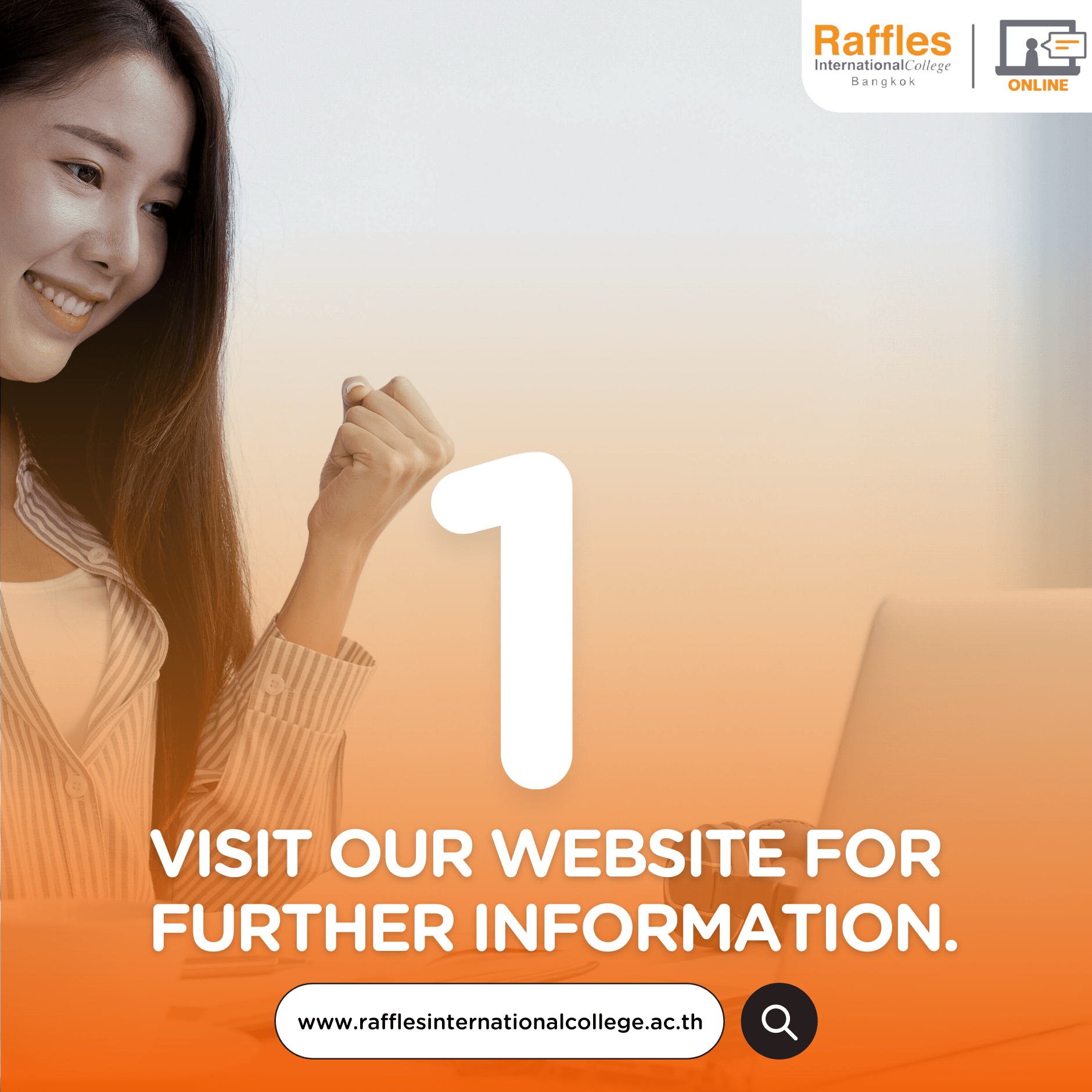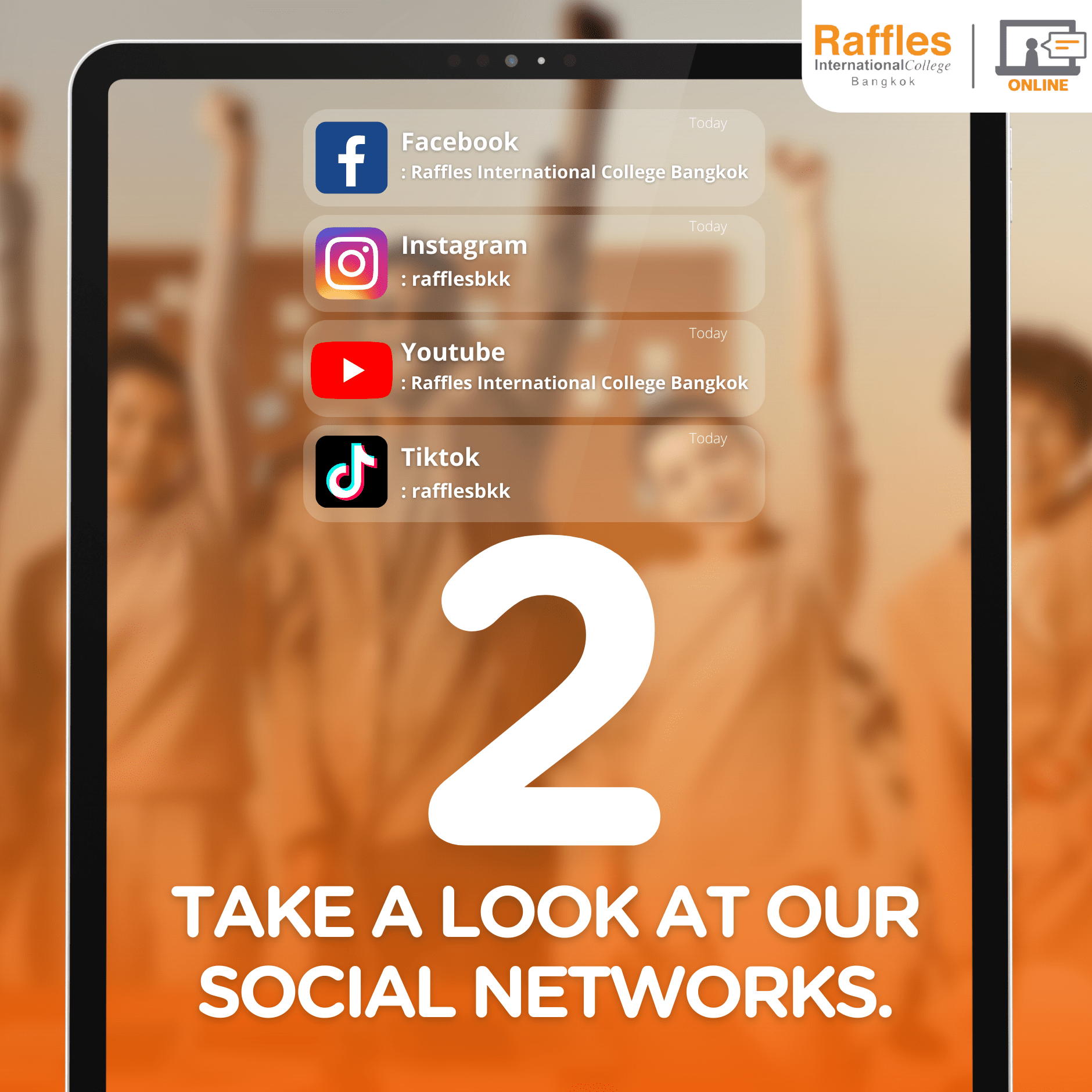 2. Take a look at our social networks.
You can get real-time information about us by looking at our social media profiles. You can hear about future events, see the latest news, and watch videos featuring interviews with faculty, staff, and students. The following are links to our Facebook, Instagram, and YouTube accounts.
3. Make a list of questions you want to ask.  
While many of the basics will be covered during your virtual information session, you might want to gather more detailed information by performing some research. You may start with academics. Find out what programs are available. Then, check out what it's like to be on campus. What is the campus' location? Once you've mastered these basics, you'll be ready to ask more detailed questions during the Q&A section of your virtual information session.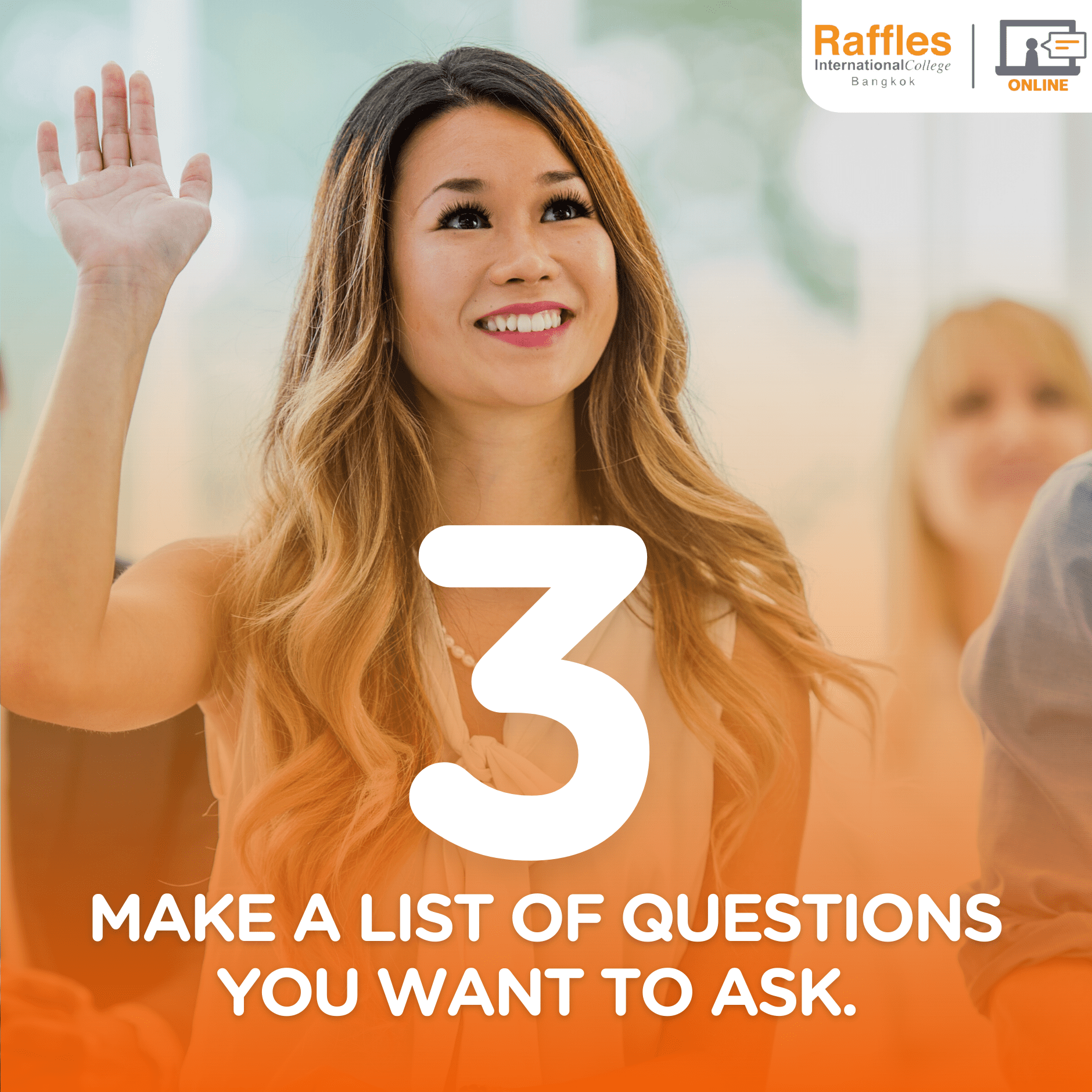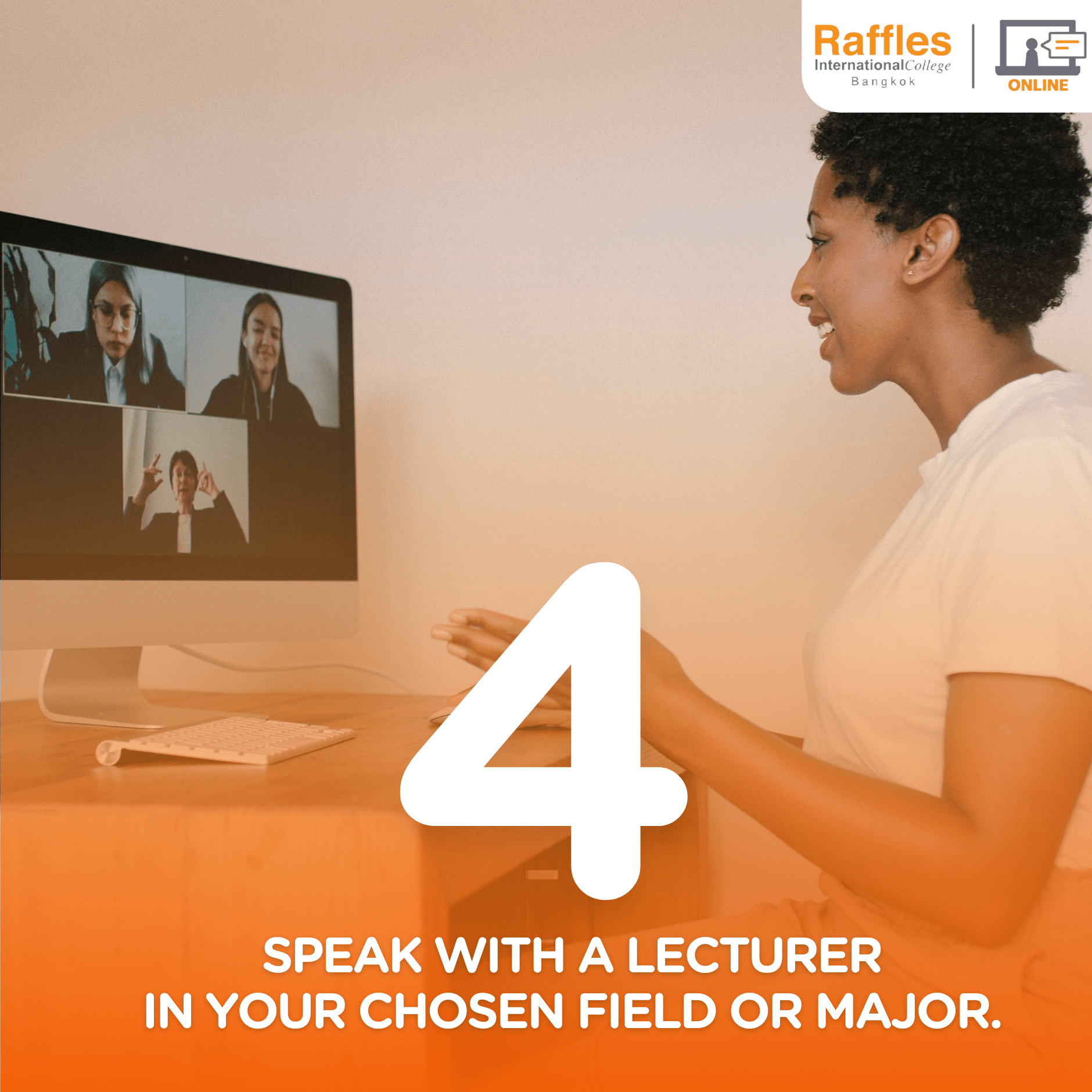 4. Speak with a lecturer in your chosen field or major. 
On the day of the session, we will have four speakers, including an Academic Lead, a Programme Director for Fashion Design, a Programme Director for Business, and a Fashion Design Lecturer, as well as a team of educational consultants available to assist you via the chat box.
5. Consider why you would attend Raffles at the end of your virtual tour.   
It is really fine to be upset that you won't be able to attend an actual college right now because you're living abroad. Parts of that experience can't be recreated. Whether virtual or not, this process is still yours. It's a good time to reflect on who you are and where you'd thrive if you could live anyplace, and it's also a good time to prioritize your needs. Make sure it's comfortable for you, and remember that we're here to help. If you have any queries, contact our educational consultants, and sign up for Raffles' News.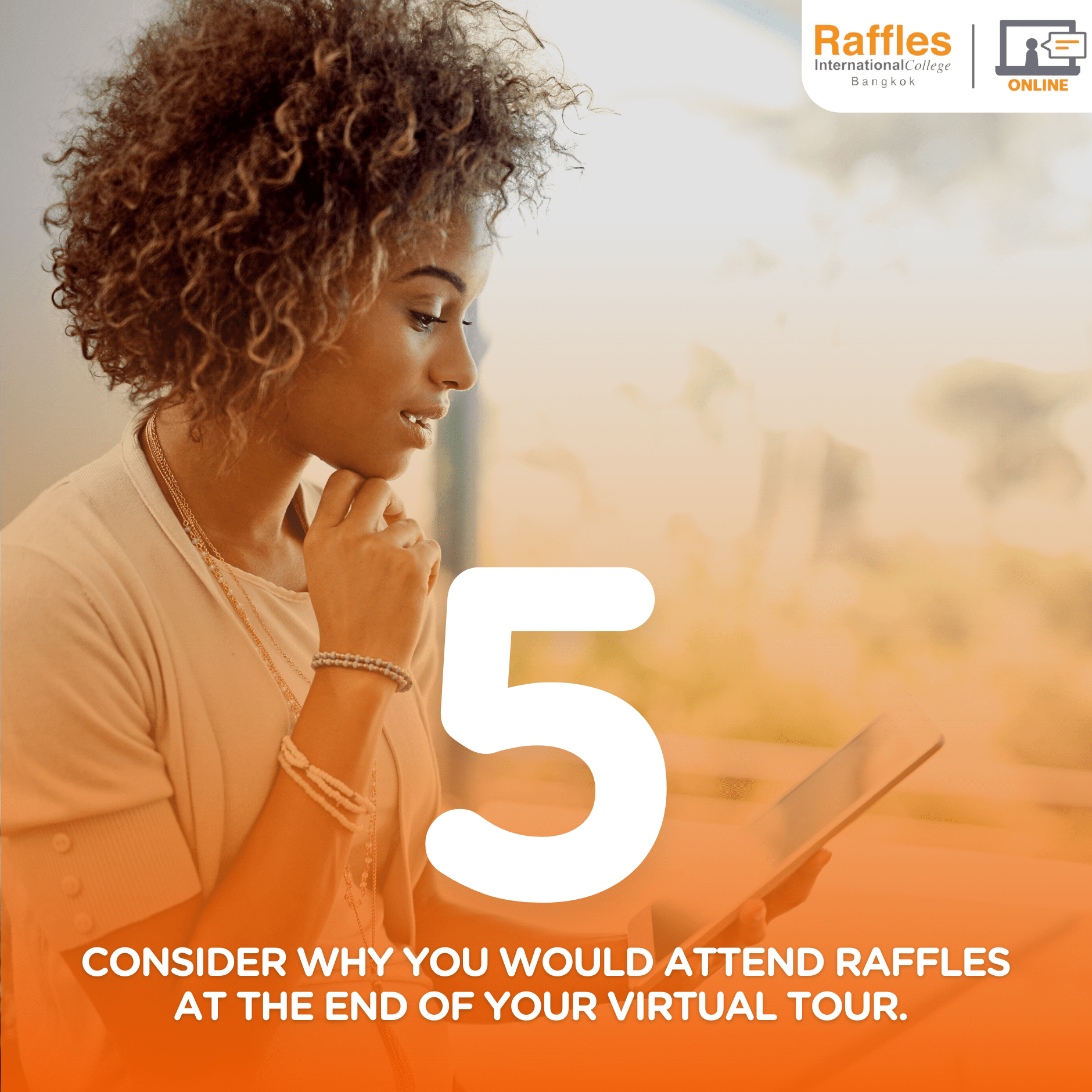 According to a recent internet picture going viral, the Thai Navy has prohibited the wearing of bikinis on the beach at Koh Samae San in Chonburi. A navy spokesperson later clarified that the navy does not strictly prohibit women from wearing bikinis on its beaches in Chon Buri, but instead just asks that tourists respect Thai culture by refraining from doing so.
Did you know that there are many types of bikinis nowadays? We put together a bikini style guide for you to avoid conflict with locals.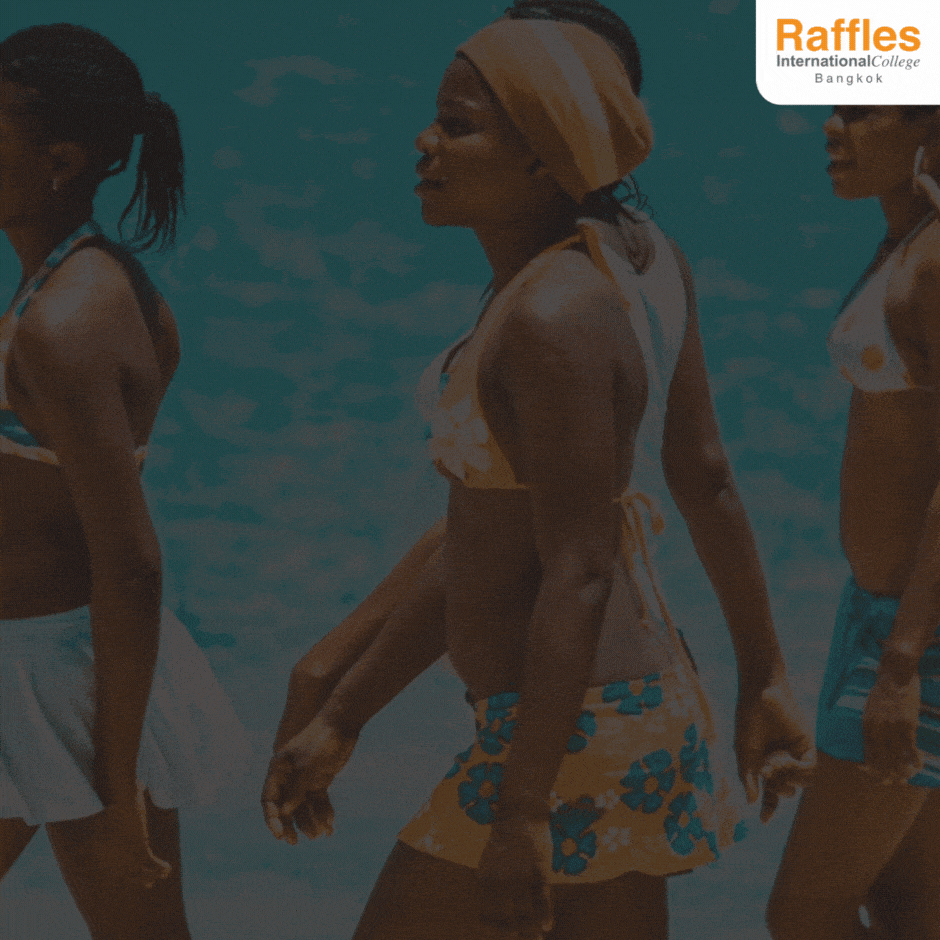 What is a Bikini

?   
Let's begin by defining what a bikini is. 
It is a two-piece swimsuit with two triangles of fabric covering the breasts on top and two triangles of fabric covering the pelvis and buttocks on the bottom, respectively. Bikinis with full coverage of the breasts, pelvis, and buttocks are available, as are more revealing styles like thongs or G-string bottoms that cover only the mons pubis but expose the buttocks, and tops that only cover the areolae. 

A microkini (or micro bikini) is a very basic bikini. Its designs typically only use enough fabric to cover the genitalia. Any additional straps serve only to keep the garment fastened to the wearer's body. In some iterations of the microkini, the fabric covering the genitalia is held in place by wire or adhesive. 
A tankini combines a bikini bottom and a tank top. It makes a feminine appearance and expertly covers up belly fat. Another benefit is that the entire suit does not need to be removed in order to use the restroom. 
Briefly introduced in 1967, the trikini was described as "a handkerchief and two small saucers." It resurfaced a few years ago as a bikini bottom and two triangle-shaped pieces of fabric strung together to form a halter that covered the breasts. 

A string bikini or stringkini is more revealing and scantier than a traditional bikini. It is made of two triangular-shaped pieces that are joined at the groin but not at the sides by a thin string that goes around the waist. Similar bikini tops with strings attached are called string bikini tops. Pieces of string can be tied or left unfastened for tanning. The backside can be partially or completely covered by a string bikini bottom. 
A monokini, also known as a topless swimsuit or a unikini, is a one-piece swimsuit for women that is similar to the lower half of a bikini. 

The sling bikini is a one-piece suit that gives as little coverage as a classic bikini, or less. Commonly, a sling bikini looks like a bikini bottom, but the side straps extend upward to cover the breasts and cross over the shoulders instead of going around the hips or waist, leaving the entire sides of the torso uncovered but the nipples and pubic area covered. The straps come together behind the neck and extend down the back to form a thong. 
A bandeaukini, or a bandini, is a bandeau top, which has no straps going over the shoulders, worn with any bikini bottom. It is the earliest type of bikini, with one of the earliest examples dating to the 4th century AD and being found in the Sicilian Villa Romana del Casale, also known as the "Bikini Girls." When it was reintroduced, young women quickly took to it, and bandeau top sales began to overtake those of the traditional tankini.  
a two-piece swimsuit that consists of a short-skirted bottom and a bikini top or other style top, such as a halter or tank. It gives off a coquettish and girly vibe, showing the midriff but providing coverage for hips and thighs. 
Bangkok ranked No.1 in Agoda's hot destinations 
Agoda keeps a list of the top-trending holiday destinations. Travelers are dusting off their suitcases and getting ready to celebrate the holiday season somewhere different than the previous two years, according to Agoda's most recent analysis of booking data. 
Bangkok tops the list in 2022 as most travel restrictions, including wearing a mask outside, are relaxed in the Thai capital. Jeju Island, Kuala Lumpur, Tokyo, and Seoul are other Asian destinations that made the top five. 
According to booking information gathered by Agoda from May to August 2022, the top five international destinations for travellers leaving Thailand are South Korea, Singapore, Vietnam, France, and the UK.