Join

 
u
s at

 
Dek-D's

 
TCAS Fai
r
!
Raffles International College Bangkok is excited to announce that we will host a booth at the upcoming Dek-D's TCAS Fair, organized by Dek-D this October. We would love to extend an invitation to all students to visit our booth and chat with us at this event. It's a great opportunity for you to learn more about us.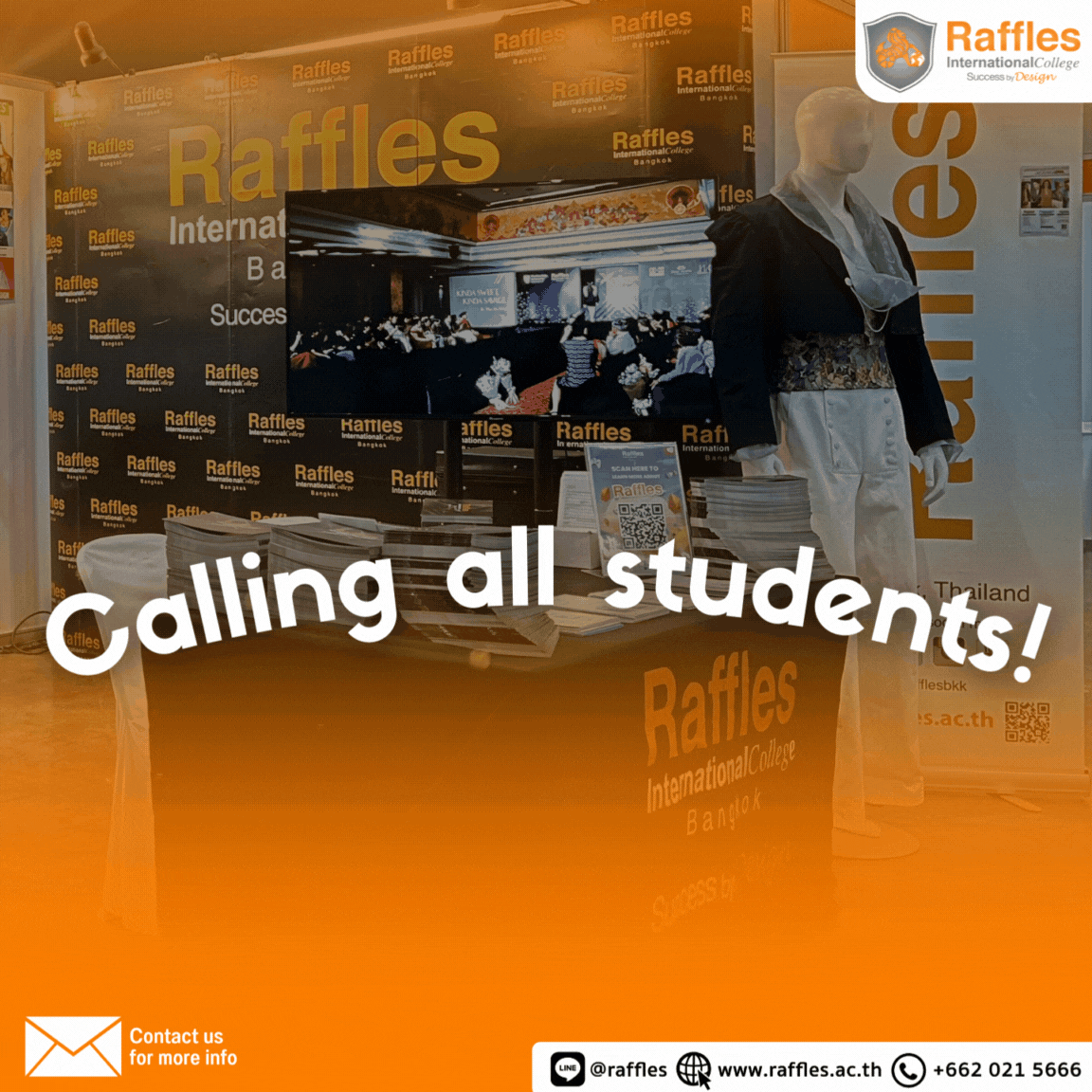 This event offers many activities for students to participate in, including the portfolio clinic. This clinic provides students with the opportunity to check out their portfolio and receive feedback from experts and senior students, or the IELTS test room will allow students to do the IELTS test and review their true ability. There are still many more activities available for this event, so let's find out together.
For our booth, our expert consultant team will be available to provide you with in-depth information about Raffles International College Bangkok. They will be happy to answer any questions you have and provide you with the information you need to make an informed decision about your education.
We hope to see you at the Bitec Bangna on October 7-8 from 09.00–17.00. Come and have fun with us at this exciting event! Don't forget to stop by our booth and say hello. We look forward to meeting you!
From Trash to Cash with Collage Art
Raffles International College Bangkok is happy to share the recently held fun and creative workshop, which is called "Album Cover Design". This workshop was led by two talented women, Ms. Lonsai Kangkhao, an architect, and Ms. Wonwisa Sangrit, a graphic designer, who provided the interior design students with an opportunity to showcase their potential in many ways.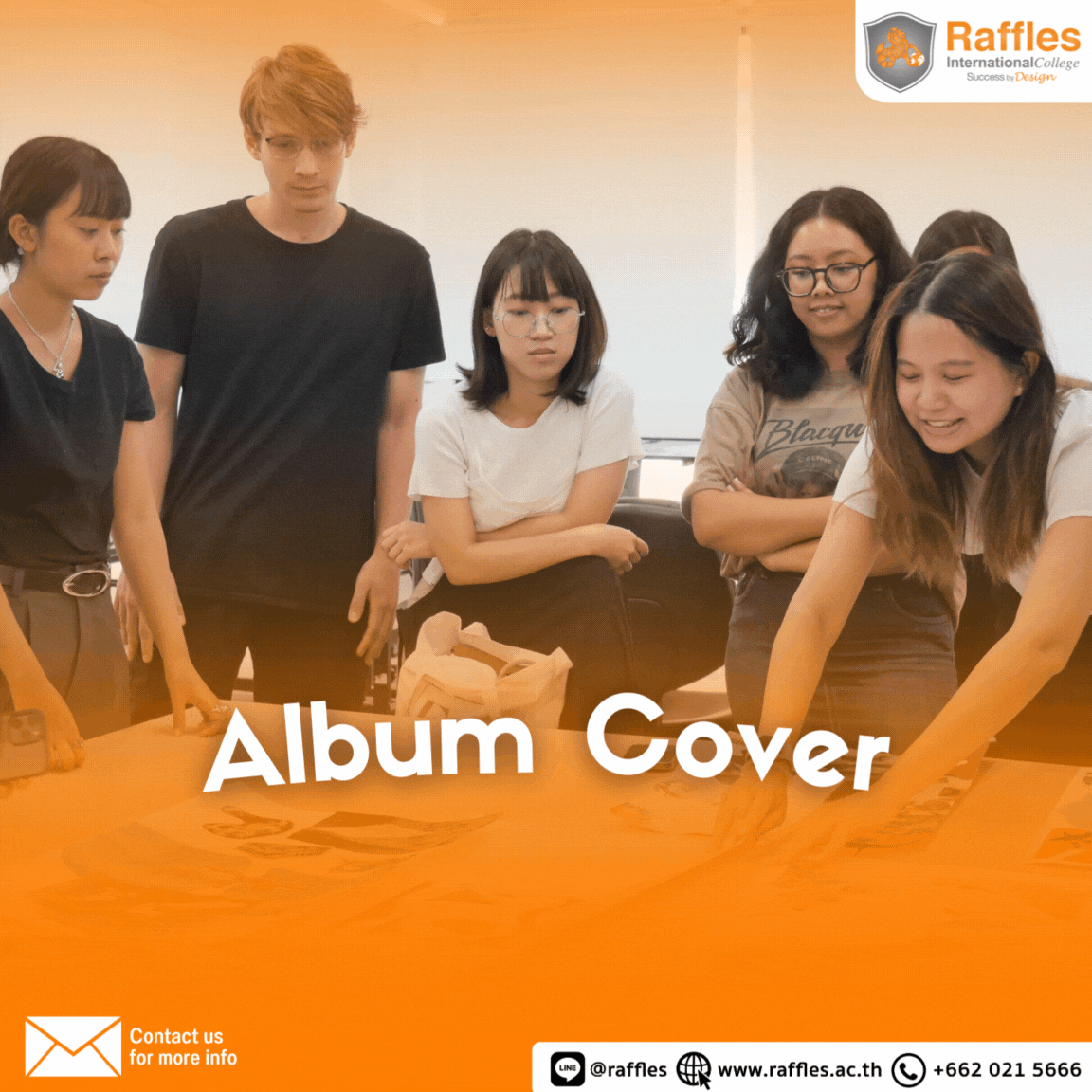 During the workshop, students had to select a vinyl record and a random song from it. After that, they had to create an album cover for that song. The challenge was to use the random elements from old magazines provided by lecturers to create collage art that reflected the meaning of the song. The workshop proved to be a great success, as students were able to explore their creativity and learn many techniques about composition and colors.
The lecturers provided the students with the best reviews and suggestions to help them improve their skills and techniques in designing their masterpieces. This feedback was valuable to the students and helped them gain insights into the art. The workshop was a great opportunity for the students to hone their skills and gain valuable insights that will help them in their future endeavors.
In conclusion, the Album Cover Workshop is a fantastic opportunity for interior design students to develop their skills and gain valuable insights into the world of design. The event not only provides a creative outcome for designers but also helps them learn new techniques that they can apply to their future work. With the support of the lecturers, students can unleash their creativity and produce stunning works
Explore Business Fashion SMEs Topic with Ms.Valentine in Mot Magazine
Recently, Ms. Valentine Vu, an academic lead, and Mr. Van Lyputhyvong, a fashion design student, were featured in The Digital MOT Fashion Magazine's August and September 2023 issues on the topic of business fashion SMEs. On this topic, Ms. Valentine wrote an article about Fashion SMEs, while Mr. Van contributed his fashion design work along with the article.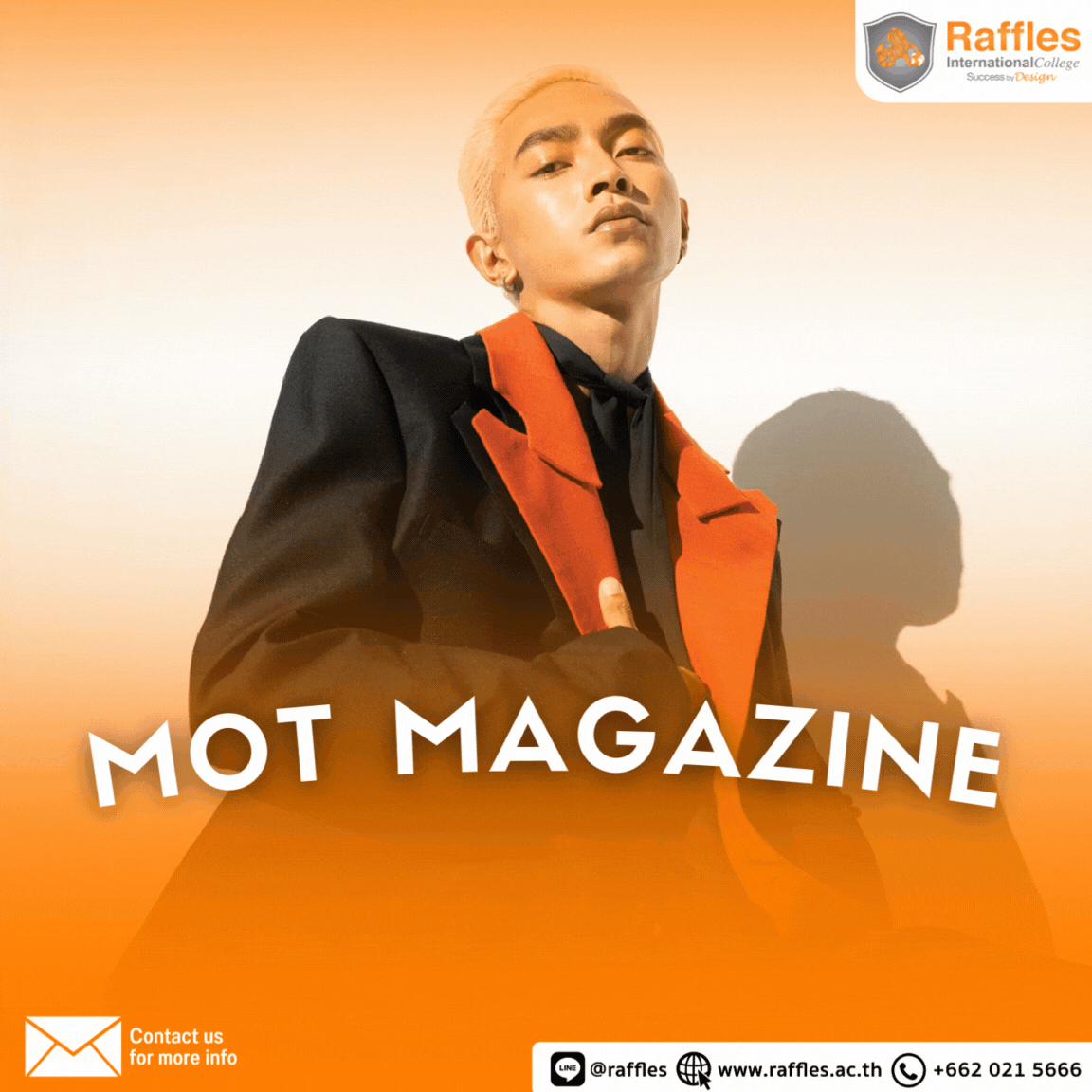 The article discusses the BMC Business Model, covering key concepts such as creating a comprehensive customer care framework, understanding cost structures, developing essential partnerships, and creating multiple revenue streams. The author emphasizes the importance of considering pre-purchase, during-purchase, and post-purchase values or services in creating a strong brand identity.
Additionally, the author provides examples of successful partnerships and revenue streams within the fashion industry. Moreover, the article introduces 'The First' collection by Cambodian designer "Mr. Van Lyputhyvong", which combines music culture and retro designs.
For those interested in reading more, the article can be found in The Digital MOT Fashion Magazine, published in Vietnam in August and September 2023, on pages 44–48. The magazine provides an excellent resource for individuals looking to learn more about the fashion industry and its various trends and developments.