iG
 Library: Our Newest Research Tool
Our library is an incredible resource for students, providing them with a variety of information and knowledge at their fingertips. With access to a large collection of books, journals, and other educational materials, students are able to enhance their studies and expand their fields of interest. However, we never stop staying up to date with technology.
Recently, Raffles International College Bangkok upgraded its library area by adding iG Library, a new generation eBook platform developed by iG Publishing, as a new option for students looking for fresh material. These digital books provide students with the convenience and flexibility to access their required reading materials from anywhere, at any time. With iG Library's reputation for producing high-quality educational content, students can be confident that they are receiving the best resources available from the 1246 titles we provide.
Moreover, together with the modern private design of our library, which provides students with a quiet, distraction-free environment in which to study and learn, students can focus on their studies without having to worry about outside distractions. By taking advantage of all that our library has to offer, students can optimize their studies and achieve academic success.
To access our new materials, simply connect to the wifi at Raffles and click the link below. 
Restaurant Design Workshop with MasterChef Thailand Runner-Up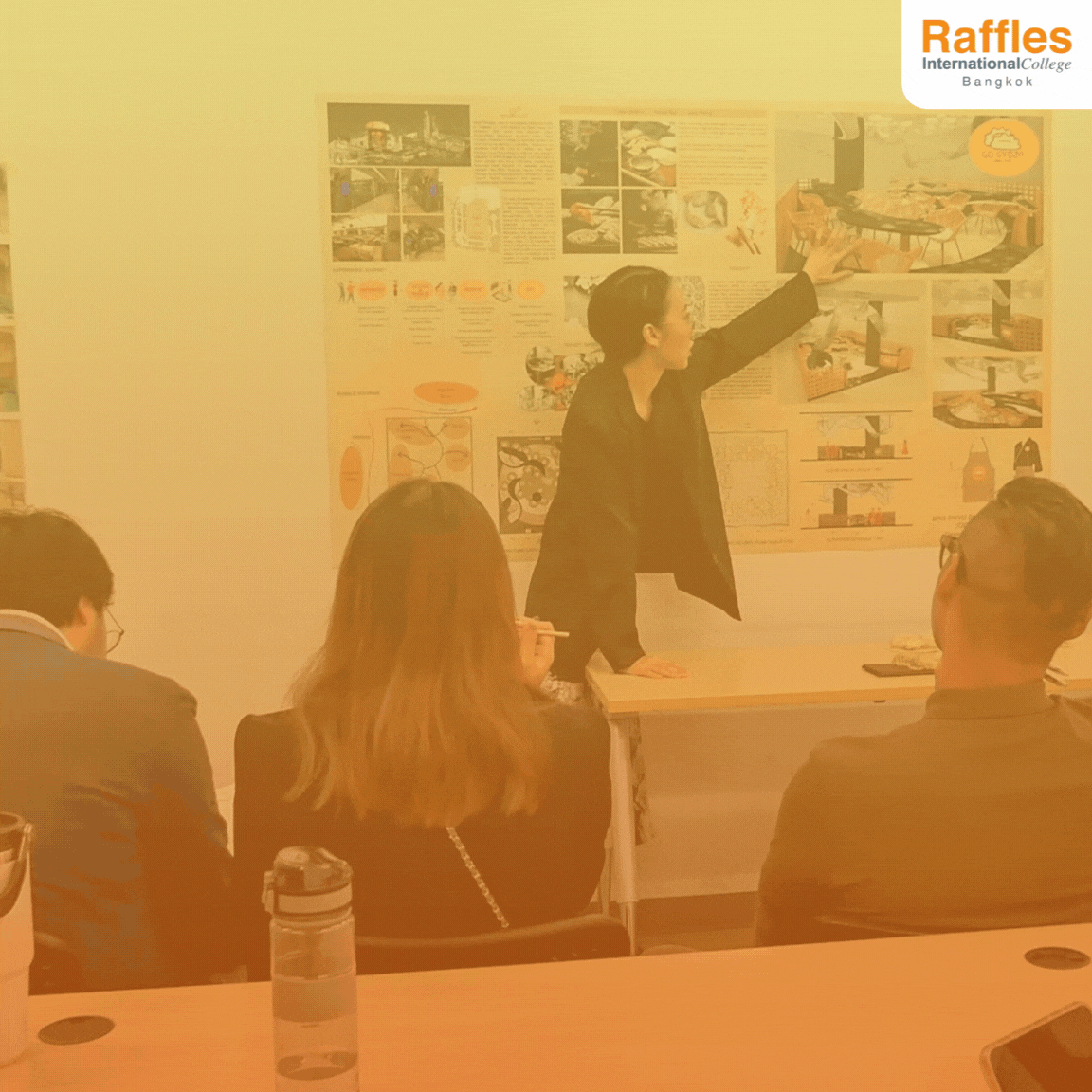 In May 2023, Raffles International College Bangkok welcomed special guest Mr. Bradley Chuensomsong, the founder of DESIGN QI, who famously participated in MasterChef Thailand Season 5. He led a restaurant design workshop created for interior design students by interior design lecturer Wynn Arunrugstichai.
In this workshop, students designed a restaurant that served food they enjoyed. They presented realistic concepts with which they could market their restaurant to real customers. Mr. Chuensomsong served as a guest judge. All the students enjoyed the chance to create something interesting and personal for them. It also gave them an opportunity to understand how to run a real business.
Bringing imagination and creativity into business is essential. To create a successful plan, students needed to use their imagination to design something suited to their target group of customers. This was an extremely beneficial exercise for interior design students, who will be doing exactly this in their future careers. 
After presenting their designs, they received useful comments from Mr. Bradley based on his experience in interior design and fine dining. Moreover, they enjoyed themselves and gained a deeper understanding of design principles. We look forward to seeing their next projects. 
for anyone who is a big fan of Mr. Bradley, please don't forget to support his work at the links below.
Keep in Touch via the Raffles Students Homepage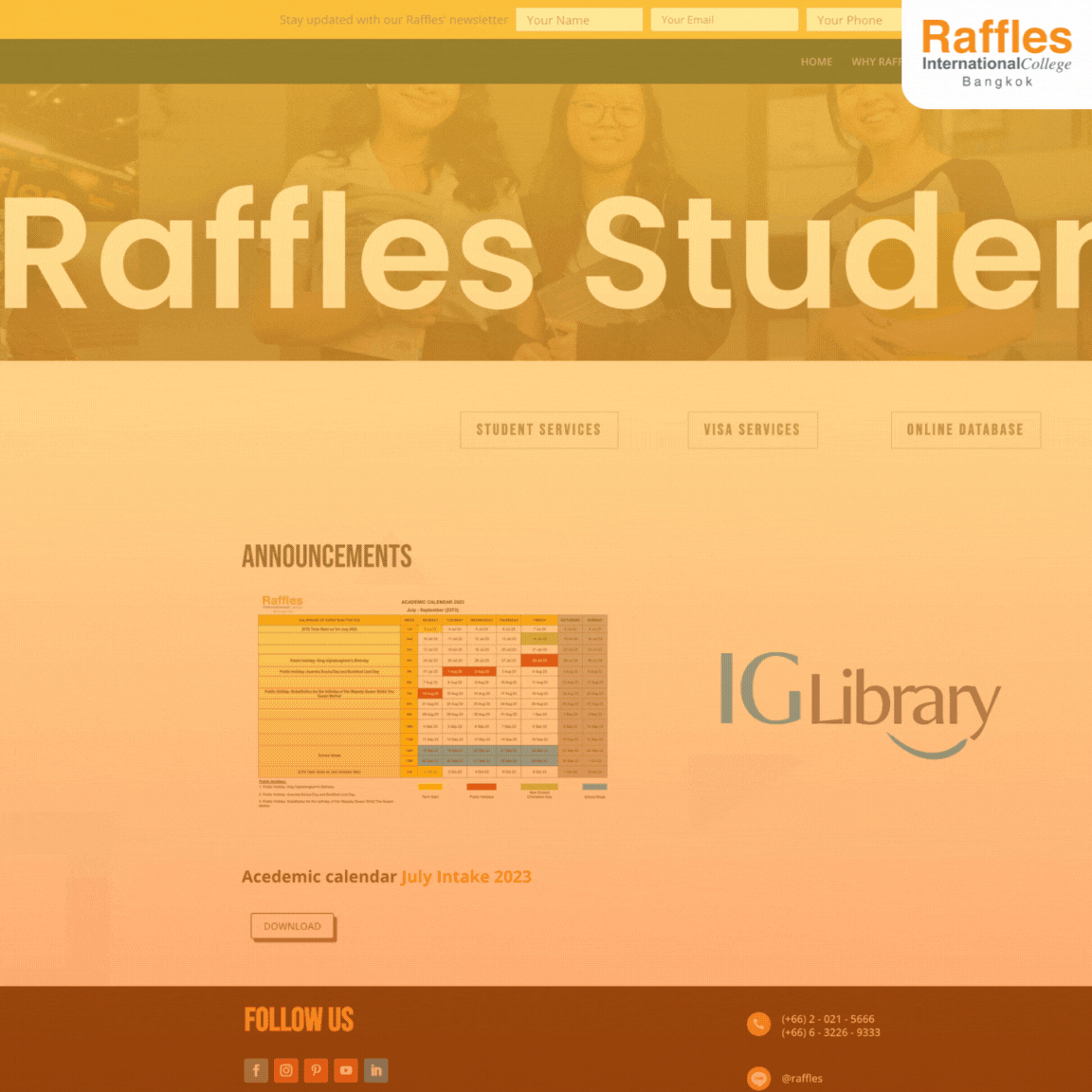 Raffles International College recently added a new page to our website called "Raffles Students." This is a portal that will help our students keep in touch with us more closely and stay up to date on current events and resources. 
The Raffles Student Portal is a convenient and comprehensive resource for students to access various services and information. Here are a few more details about what the website offers:
Academic calendar: The academic calendar section informs students about important dates and deadlines such as exam schedules, registration deadlines, and holidays. This allows students to plan their time more efficiently.
Online databases: An online database is a valuable tool for students to access a variety of materials that will assist them in conducting research. This feature saves students time and energy by providing access to all course materials in one place.
Visa services: Raffles recognizes that international students may require assistance with visas and immigration. This page provides a contact for Visa Services so that students can inquire about visa applications, renewals, and other related services.
Student services: The student services team provides a variety of resources to help students succeed at Raffles. This page includes a contact for you to ask if you have any questions about counseling services or other campus resources.
To access the Raffles Student homepage, please click on the link below.