Follow Your Dreams: Inspiration from Zahra, a Psychology Student
We got the opportunity to speak with Zahra, a psychology student whose greatest dream is to become a psychologist. She discussed her experiences and gave us her opinions on how psychology can benefit people today. Find out what motivated her to pursue a career in psychology and what she aims to do after graduating.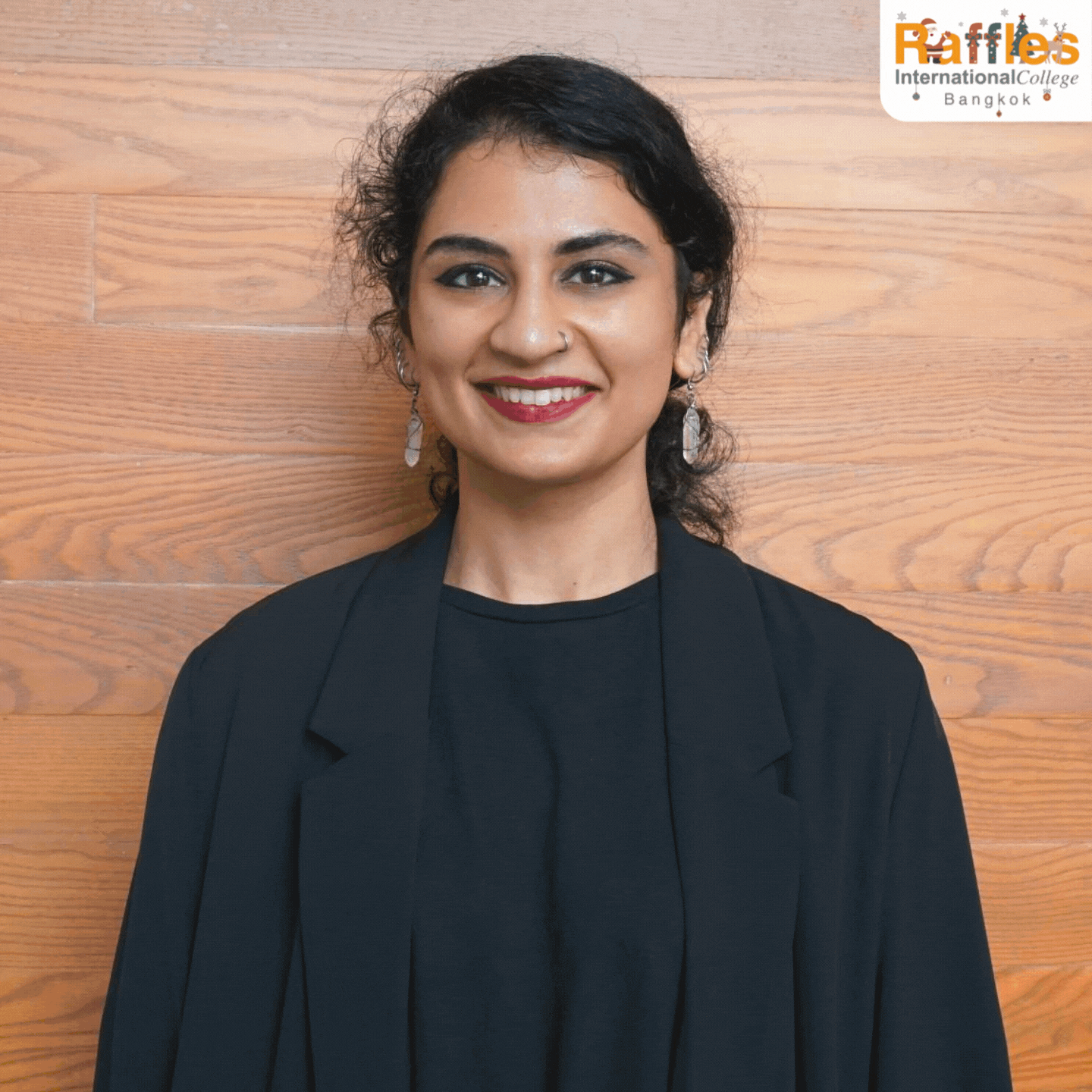 Q: Please introduce yourself.
A: My name is Zahra. I am 29 years old and I'm now doing my bachelor's degree in psychology. I've lived in Thailand for seven years now, almost eight. I did study psychology briefly in a community college near my home before my family moved to Thailand. 
Q: Why did you choose Raffles? 
A: First of all, it was convenient for me because my sister also studies here. Second, I genuinely love the staff here. They're very kind and very accommodating. They allow me to study online. So, I chose to study at Raffles because they're very flexible. Aside from that, I feel like if I have any issues, I can speak to anybody. The faculty is very kind, very nice, and I like the way that the modules are spread out. It's a safe workload for a student. Even if you're working part time, it's very manageable. It's a very chill atmosphere and not a lot of pressure. 
Q: Why do you want to study psychology?  
A: I would say that my inspiration was my seventh-grade teacher. She was an English teacher and she was a licensed psychotherapist. I was very much interested from that point on. So, it's a long-time dream of mine to be a psychologist or a psychoanalyst. And then, while I was waiting for the right opportunity to find me, I decided on life coaching. So, while I was doing life coaching, I realized that life coaching is a very good thing to do; but also, for me, I want to cover all my bases. To do life coaching is very future-based, but short-term. So, I can't deal with your past problems. I can only help you with something like a career goal or a self-image goal. However, if you want to do something like help someone who has had a traumatic experience, you have to study clinical psychology or something like that. So, for me, I want to be able to at least have the tools necessary to help someone to the best of my ability. So, my goal is to study psychology for that. And then, after I finish my bachelor's, I wanted to do my master's. And then I want to do a PhD and higher education, very specifically in Islamic psychotherapy because I am Muslim, and I want to combine everything. So, if I have a Muslim person come to me, I can do it in an Islamic way. Because I'm very passionate about people and their well-being.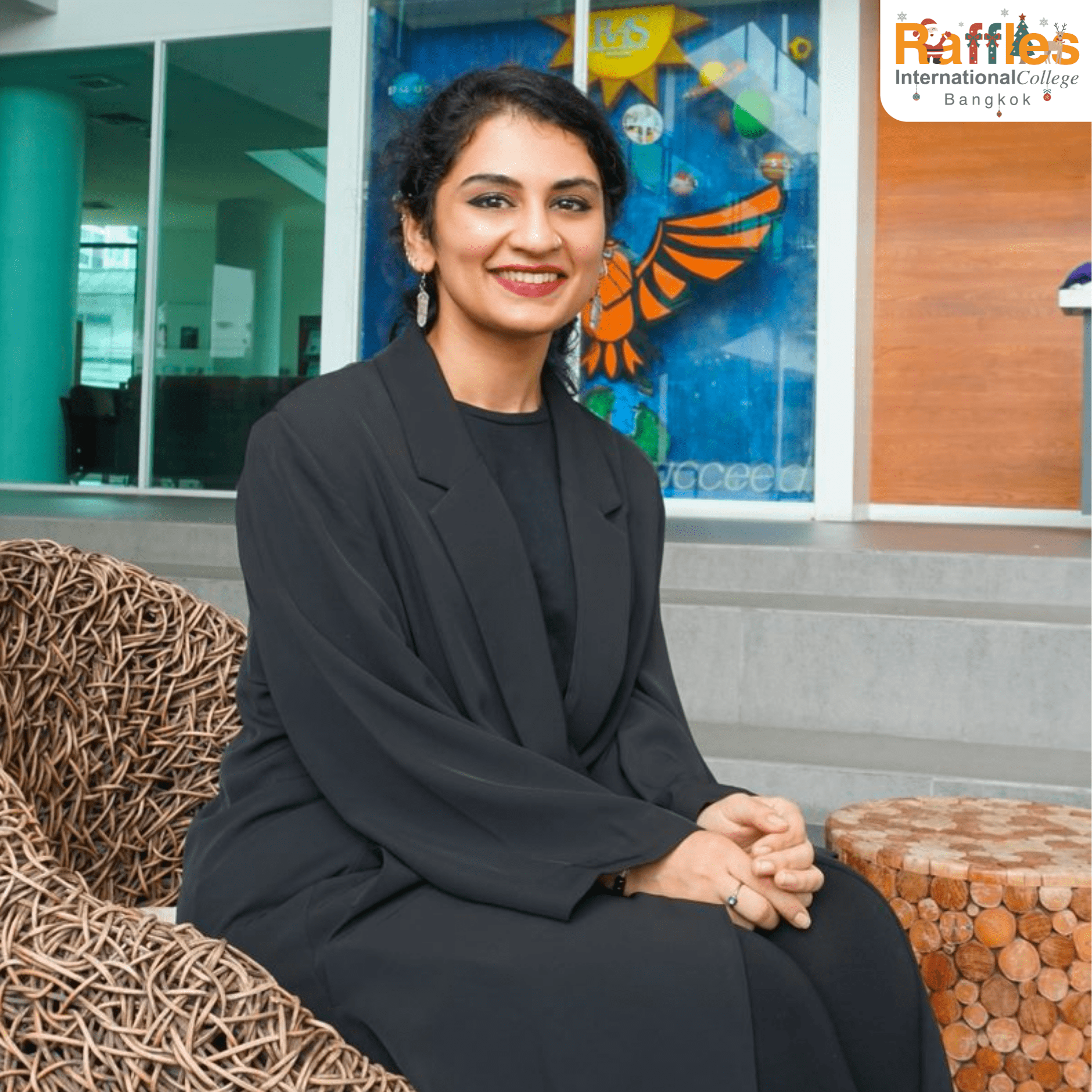 Q: Can you talk a little about life coaching? 
A: I've studied life coaching, I have a lot of certificates that I don't use yet, but I am a licensed hypnotherapist. I can help with a lot of things. It depends on what the person would need, but I am allowed to counsel or guide people through smaller life problems. I can't really do too many traumatic things. With life coaching, it's very future-oriented. It's very fast paced. So, if you have a goal in mind, my job is to help you get there. I studied for two years in order to get my license, but it was a very grueling two years because classes were around 13 hours for two months straight. I am an NLP life coach, which is good. I think in the future, I will definitely try to merge psychology, NLP and Islamic Psychotherapy. 
Q: What was your most memorable moment while studying at Raffles? 
A: One day I was sitting in the Common Ground Cafe when I saw that another student had brought their puppy and the puppy was roaming around. I'm scared of dogs because I never grew up around them. Then everybody came and played with the puppy, students and teachers alike. That was really enjoyable because it conveyed the light, airy feeling that I associate with Raffles. It's just a very calm, very welcoming environment, which I really appreciate. It is a visual representation of how I feel about the school. It's fun. It's happy.   
I think of Raffles as a place where, if you are willing to understand, you could be understood. So, it's very easy to talk to faculty members. Even during the visa process, I had a very difficult time with my visa, but nobody has been unkind. Everyone has been very sweet and tried their best to help me, and I cannot say enough how much I appreciate that. So, my two favourite things are how painless the visa process was for me and the dog, and having the coffee shop and just seeing everyone there. 
A: I feel like being here and being able to study psychology is a big achievement for me because I have had a 10-year gap from school and was looking for a place to study psychology. My family asked me why I didn't just study something else. But I have to wait. It's just not time yet. So, I mean, even Raffles having a psychology department is a huge achievement, selfishly, also for me because I waited for a long time. And to be able to do this is very near and dear to my heart. 
A: I would have to say that whatever you study, definitely think about the functionality of why you're studying what you're studying and give it time. Don't get ahead of yourself. The more that you learn, the more you learn that you don't know much. The more I learn, the more I know that there's so much more to learn. I'm such a small little drop in the ocean of the universe, but when you're settling in at Raffles, definitely keep good relations with your teachers and your classmates. If you need help, whether that be academically or personally, people are a lot kinder to help. Raffles is a good place and a good environment. If you need anything in terms of tools or any guidance, they're more than willing to help. So, it's a good place to be. 
About the Psychology Programme

 
Our undergraduate programme in Psychology is designed to educate students in different areas of psychology. The course begins with the fundamentals of psychology so that students develop knowledge and understanding of the concepts, theories and practices of psychology. Then, as the student progresses through the course, these fundamentals are built upon, extended and applied to cover more specialised areas of psychology, including human resource management, marketing and branding, health services and education. 
Psychology Students Volunteer
at The Mirror Foundation

 
On November 18th, 2022, a group of psychology students and Charisma, a psychology lecturer, visited The Mirror Foundation to perform volunteer work. Students helped in packing amulets made from recycled plastic that would be given to donors as gifts.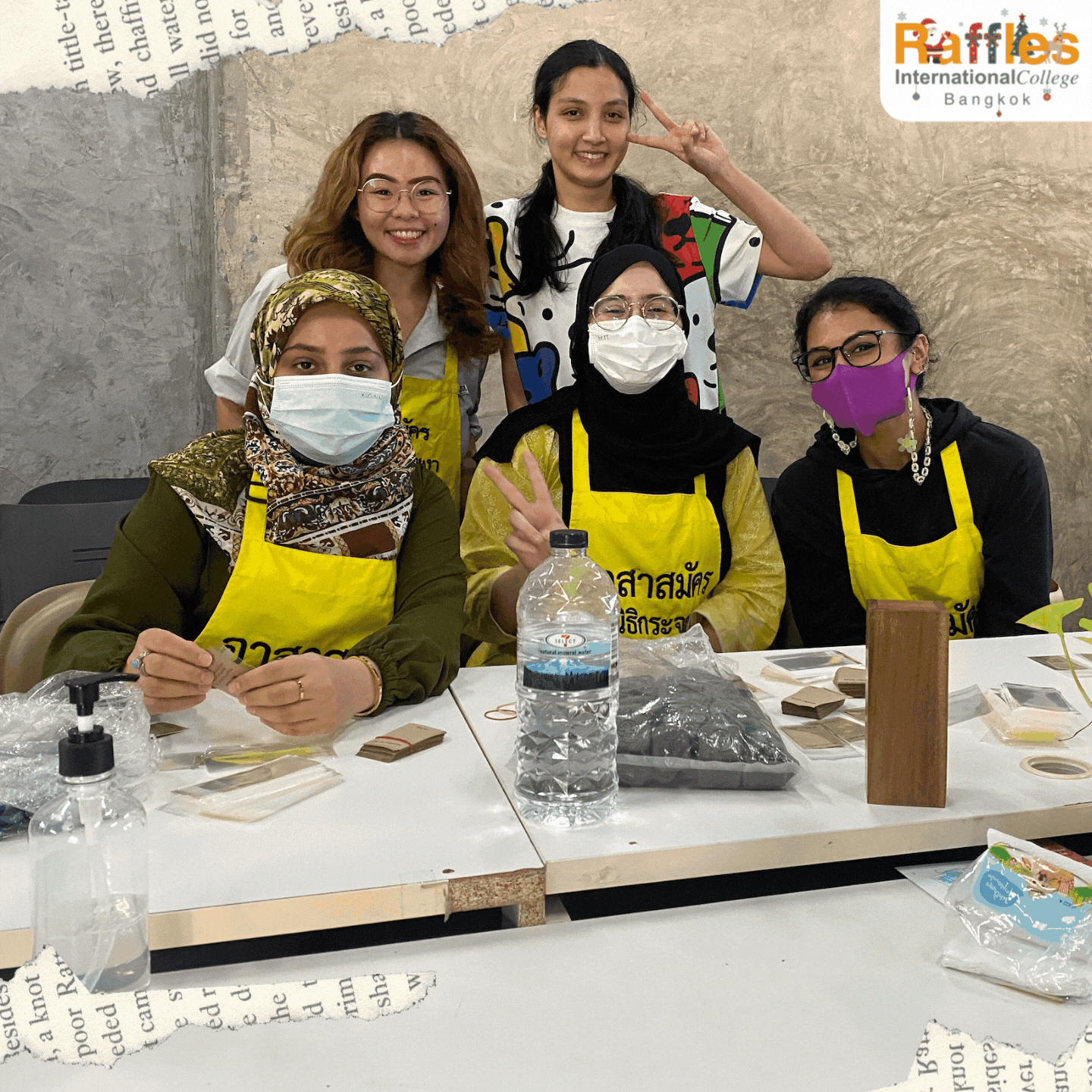 Students will learn more about human needs and the basic necessities of existence if they get the opportunity to work with people in various settings who have diverse needs. The goal of studying psychology is to work with people, and the best way to help people is to understand them. 
The Mirror Foundation was founded in 1991 by a group of five students. Since then, they have continuously expanded to become one of the most prominent Thai Non-Governmental Organizations. They promote human rights, education, the use of new media and information technologies, volunteer training and resource sharing to accomplish the primary goal of social development.
At The Mirror Foundation, there are many volunteer jobs available through events like Food for Friends, in which participants deliver food to the homeless during the night. Volunteers visit elderly and sick people who have neither relatives nor close family friends to care for them. The foundation provides them with the things they need. They go to see sick children at the hospital and old men at shelter homes, giving them support, food, conversation, and entertainment to help them relax. 
Check out The Mirror Foundation website if you want to volunteer or donate. 
Outside the Box: Learning through Arts, Design, and Photography
Bangkok is a city that actively promotes the arts through various activities and events. whether they are traditional or modern. As you can see, the city has seen a recent increase in the number of galleries. There are a lot more art events happening this month that you can check out.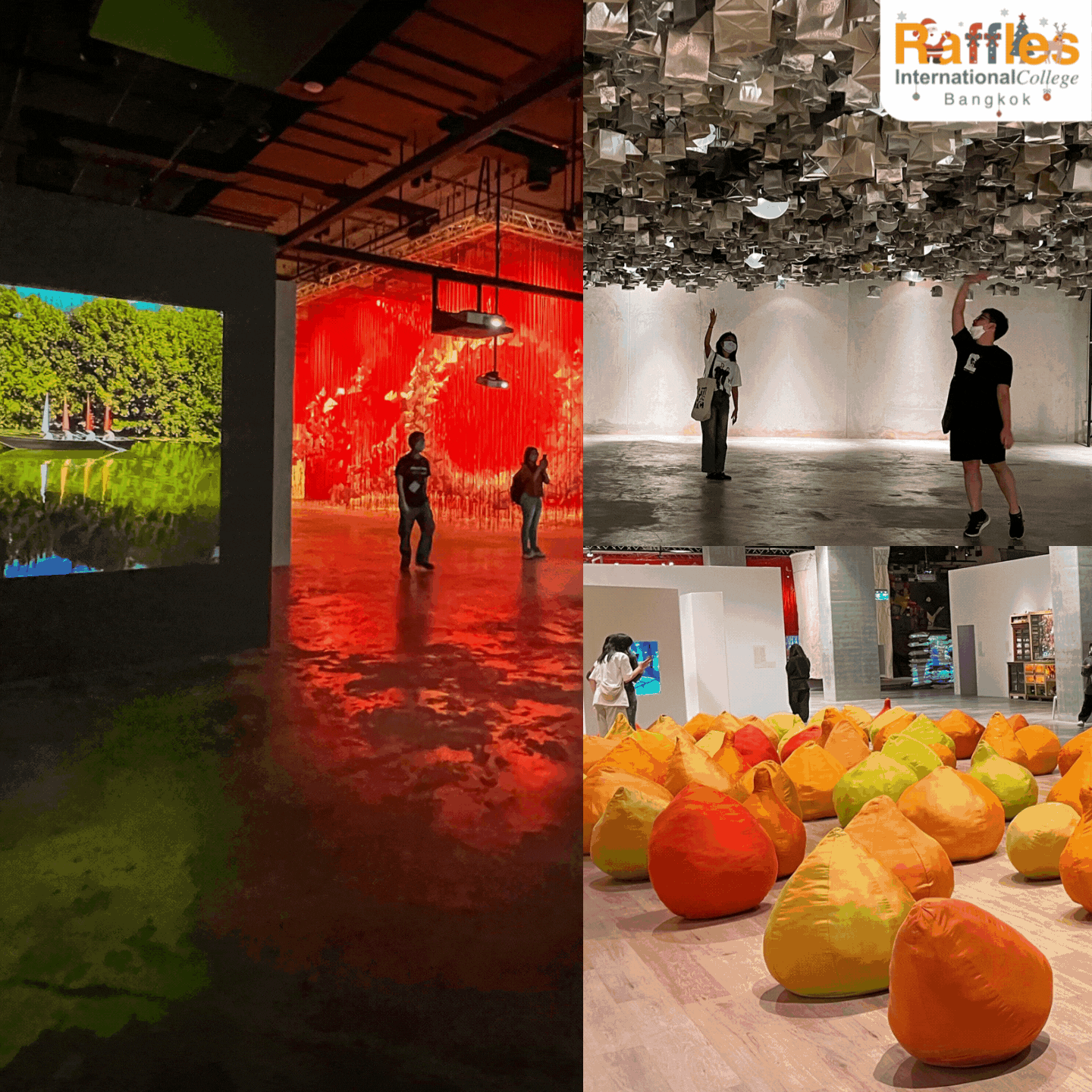 Keskarn, a lecturer in the design programme, guided students on field trips to places in Bangkok where they could learn from and practise on the actual site and benefit from their experiences. In this article, we'll show you some photos from her field-trip-based classes, including Design Thinking, Semiotics and Image Making, and Digital Photography. 
Street Photography

 
Photography is important because it allows us to capture moments in time and save them forever. We can discover things through photography that we might otherwise have missed. In order for others to see your ideas, you can use photography as a way to communicate and express them.  
Known as one of Bangkok's street food paradises, Chinatown, or Yaowarat as the Thais call it, is a popular destination for tourists. In addition to the food, the area is more attractive because of its long history of buildings. 
Students from Digital Photography class were there to learn and practise snapping photographs. The lecturer arranged the class into groups and assigned them to capture images as part of the street photography assignment. Students had to develop a concept for what they would photograph, whether it be people, food, or a landscape. Students also explored the most popular spots for street photography, like Talad Noi and Wat Mangkorn. 
Bangkok Art

 

Biennale (BAB) 
The Bangkok Art Biennale (BAB) spans across various venues over a period of 4 months and helps transform the bustling city of Bangkok into a lively hub that celebrates art, creativity, and culture. It is accompanied by a variety of events ranging from educational conferences, talks, hands-on workshops, guided visits, publications, and online programs to ensure a memorable, educational, and fun experience. 
Raffles students went to the Bangkok Art & Culture Centre (BACC) and the Queen Sirikit National Convention Center (QSNCC), two venues where the BAB's artwork is on display. The lecturer gave the students two different photographic styles to photograph in. The first type of photography is standard photography, and the second is long exposure photography. 
The lecturer also brought second-year students from a Semiotics and Image Making class to work on a project focusing on signage in the BACC building. 
Design Thinking 
In addition to teaching photography, Keskarn also took Design Thinking students to the Thailand Creative & Design Center (TCDC) to attend exhibitions. This allowed the students to develop ideas and gain an understanding of the creative process. For example, they are taught about the materials used to make things today, such as industrial gloves, newspapers, food packaging, waste from the fashion industry, and cosmetics, as well as how to reuse or recycle these materials. This learning contributed to their ability to create sustainable designs in the future.
For more information about enrolling in design programmes at Raffles, check out the enrollment criteria here.