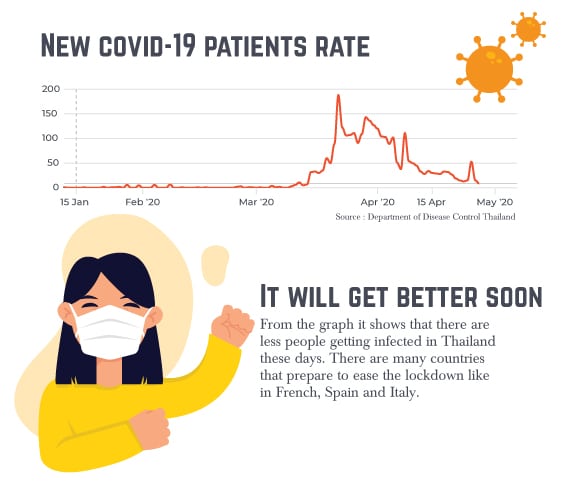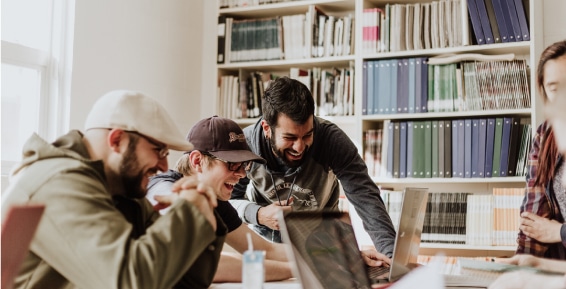 RAFFLES ON – CAMPUS
CLASSES OPENING SOON!
There's a high chance to open classes on campus soon this
July 2020! Reasons for the soon upcoming re-opening of
campus classes:
-Recent news from the Thai government stating that
domestic flights will be back in operation this May 2020.
-Malls will open again soon along with other retail stores in
this coming month of May 2020.
-Chon Buri and Buriram are opening.
–Other countries are easing restrictions such as Germany
and even Italy stated recently that they are easing as well.
AUTOMATIC VISA EXTENSION FOR FOREIGNERS IN THAILAND UNTIL JULY 2020
Translated from the annoucement from the Immigration Bureau
Thai Immigration Bureau's Announcement!
Thai government allows Foreigners (tourists, temporary
visa status) can stay in Thailand until 31st July, 2020.
-No need to extend a VISA
-No need to report yourself in 90 days
-No need to pay a fee-no need to submit any documents.
Thai Immigration Bureau will be automatically operating
them for you.
Hotline: 1178
The Thai government stated their some of their reasons behind this
decision mainly was to reduce the spread of the number of
infections from the pandemic. Their goal as stated was to prevent
massive groups gathering in large numbers, which likely would
consist of foreingers who travel to meet the immigration officals
for the purpose of visa extensions, which could have lead to a risk
of the pandemic infection. Foreigners whose visas would have
expired on the 26th of March, 2020 will be allowed to stay until the
31st of July, 2020 without having to apply for any kind of extension.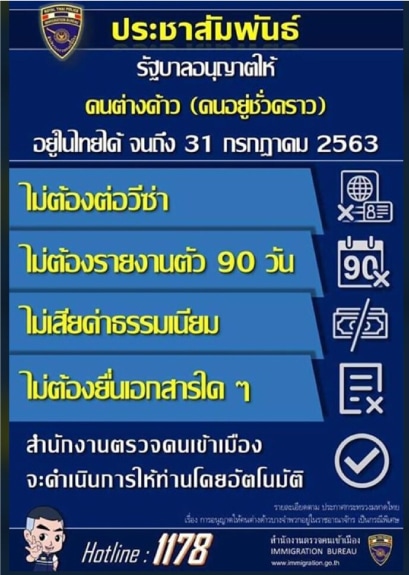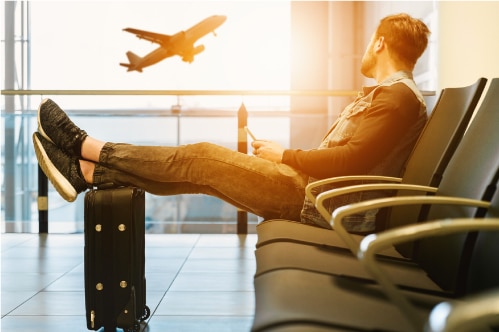 5 Tips for studying at home

Written by
A n d r e w
M a r k
L a w r e n c e

5 Tips for studying at home

Written by  A n d r e w   M a r k   L a w r e n c e

1. Create a study area
Although you may be competing with others in your household, try to mark out a work space. "Even if this is temporary each time you use it, place some physical objects around you to customise it. Make it comfortable," says Martin Weller, professor of educational technology at the Open University. Set boundaries with others. If your study space is now the kitchen table, try to get an agreement that it is yours alone for a set time period. In the same way you would take notes when attending a lecture, it is a good idea to do the same while listening to or watching an online lecture. Sit in a comfortable place, have a notebook and pen handy and try to keep any other distractions to a minimum. Take some time to look at your timetable and work out a study schedule to ensure you are well-prepared to attend all your seminars and lectures online. Do the relevant reading beforehand and ask questions if there is anything you aren't sure about.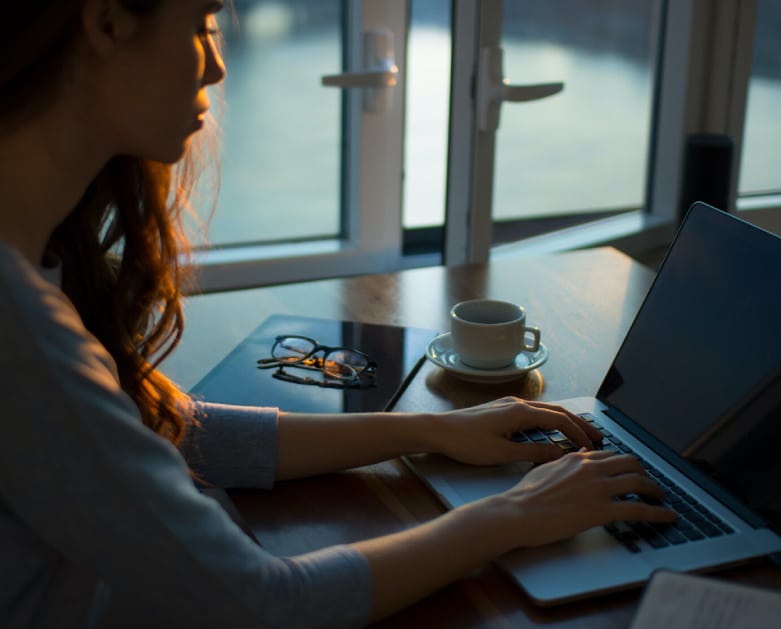 2. Keep it tidy
It's hard to be disciplined to work at home, and even harder if the place is cluttered. "If you have piles of dishes or laundry around you it can be difficult to focus. I like to set a timer for 15 minutes and do a quick blitz of a room. It makes for a calmer environment," says Kimberley Lowe, who studied Spanish and English at the Open University.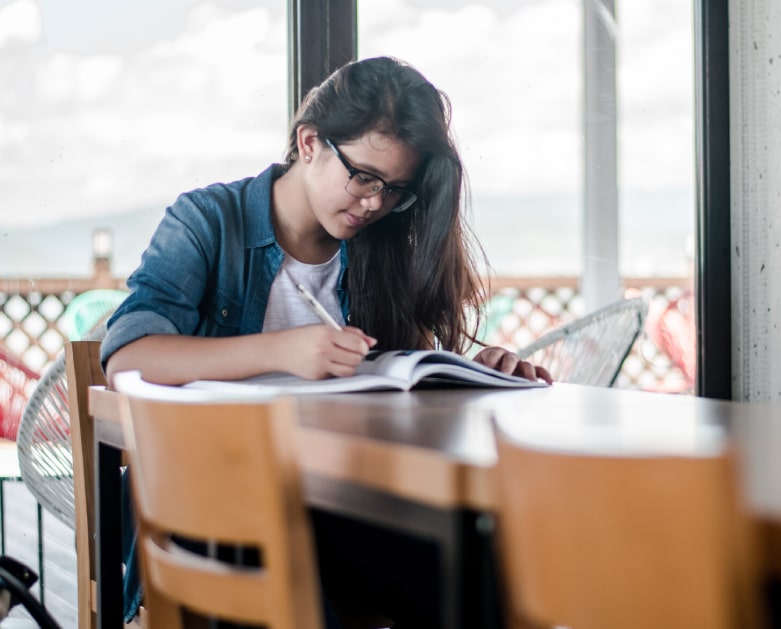 3. Keep socialising
Although you may miss campus and socialising in person, reaching out and connecting with staff and other students can maintain a sense of community. Use the online systems to maintain
social contact. Stephane Bignoux, senior lecturer in management at Middlesex University, says
although it can feel lonely, posting on discussion boards and reading other student's posts can help. Set up informal discussions via Skype or FaceTime if you can.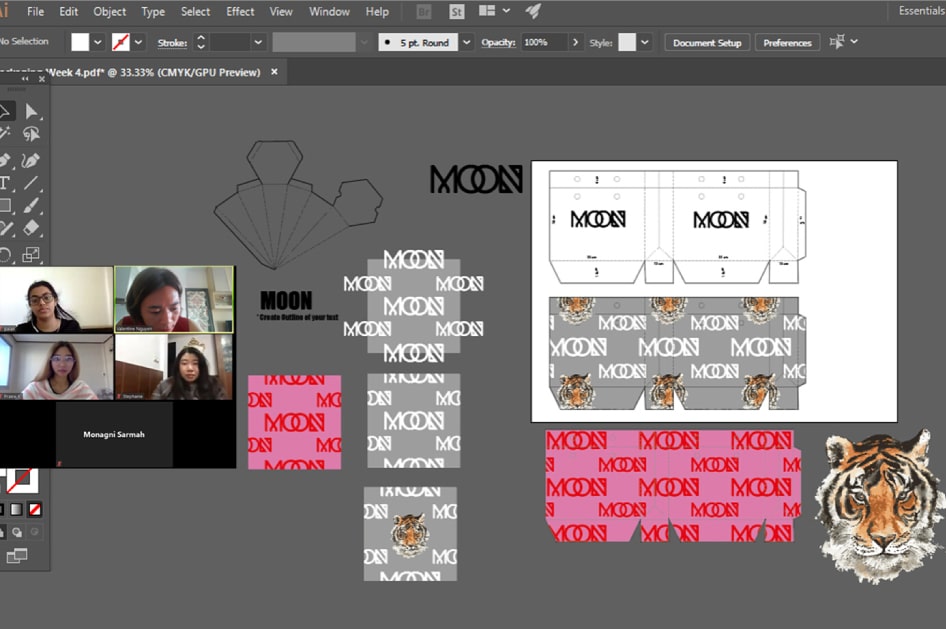 4. Manage your time
Recognise that different tasks require different levels of concentration. Watching a video can be easier than reading a complex text and taking notes. Divide your work in to manageable time slots and take proper breaks. You don't have to stick to a 9-5 schedule if that doesn't work for you, but identify the hours you are most productive and centre your work day around that. Taking regular breaks during the day keeps your mind fresh and is one of the easiest ways to ensure you don't burn out. Step away from your laptop every hour or so and do something you enjoy, whether it's reading a chapter of your book, watching a little TV or playing a game. Try to get out at least once a day for a walk (if you are able to) and give yourself things to look forward to each day.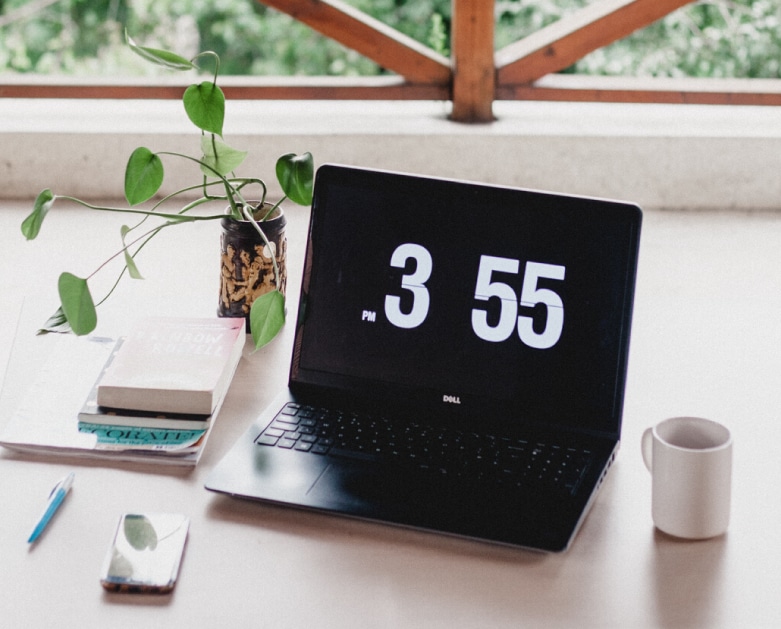 Some Interesting Links
Posters
https://designyoutrust.com/2020/03/art-against-virus-covid-19-posters-by-mexifunk/
https://www.we-heart.com/2020/04/07/designing-for-coronavirus-graphic-design-covid19/
5 essential study tips
https://www.youtube.com/watch?v=6krST38SUGI&feature=youtu.be
References
Reidy, T., 2020. How To Study At Home During Coronavirus – By Online Students And Tutors. [online] the Guardian. Available at:
<https://www.theguardian.com/education/2020/mar/26/how-to-study-at-home-during-coronavirus-by-online-students-and-tutors> [Accessed 26 April 2020].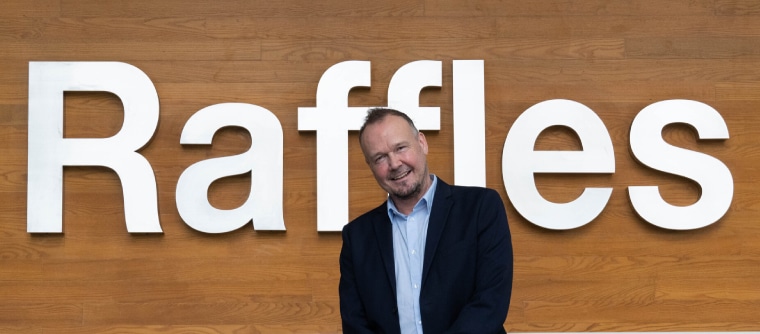 MESSAGE TO STUDENTS
FROM THE CHANCELLOR!
"I would like to take this opportunity to thank you all for your cooperation and support in these very challenging times. I think that you have been absolutely awesome throughout this difficult situation, you have been cooperative, patient, positive, punctual and hard working. Of course you are not alone, students in Colleges and Universities all over the world are having to face the same challenges that online study brings with it.
As Academic leader I would like to assure you that this difficult situation will be taken into account when we assess your work, we acknowledge that especially in some modules learning online is not quite as good a way of learning as if you were in a classroom, so I hope
this is only a temporary situation and that it is resolved as soon as possible, your safety is our priority. Raffles will continue to follow the guidelines that the Government give to all educational institutions. I wish you all the best and I know you will succeed and come through
this stronger than before."
-Andrew Mark Lawrence
RECENT STUDENT TESTIMONIALS FOR RAFFLES ONLINE COURSES
Interview with Raffles student : Stephanie
"Hi, my name is Stephanie, as an international student in Raffles I actually appreciate Raffles starting online courses to avoid the risk of students getting infected. All of the classes are well organized by teachers and literally makesme feel the same way as we were in the actual class with all the classmates and teacher. Since last week Raffles upgraded the Zoom system, so that we don't have to be cut off every 40 minutes, and can flexibly arrange break time and class time. Moreover, all the teachers of my class did a very good job on time management. Sometimes they gave us like 10 minutes to organize our idea or do a little research on what we want to do on a personal project and then did a little presentation with every single one by showing our screen, which was a little difficult to do in a real class before (in my personal opinion only). 
In short, I truly like the online courses Raffles offers! Additionally, by the way, I truly hope colleges can do this online thing a little longer since I think the whole world is still in high-risk situation right now. In my humble opinion, expect for no matter what taking a plane back to Thailand or taking transportation to go to school, especially from where an international student stands. I feel like staying in our home country would definitely be a better choice. For instance, if there's any unexpected and unwanted things that happen, students can get medical resources to treat themselves much easier. All in all, I hope colleges can take it into serious consideration for stopping on-campus classes before making sure the situation is pretty safe and there's no risk for all the students to travel to school, whether from abroad or from the city. Thank you."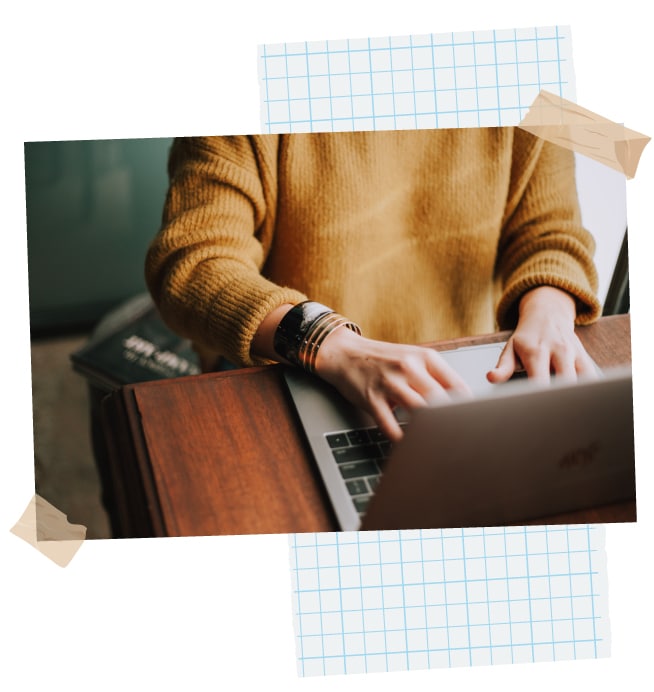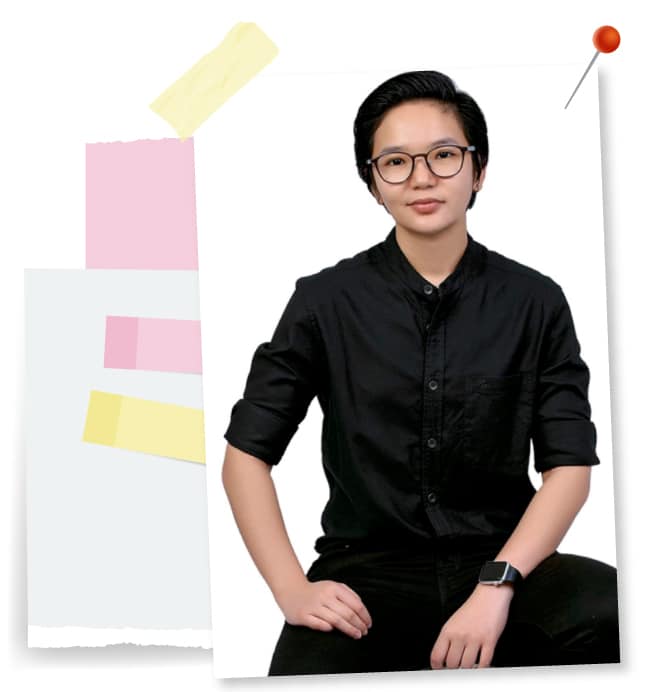 Interior Design student : Nan Htet Htet Aye Mon
"I won't let anything stop me from chasing my dream.
So, I have joined Raffles International College
Bangkok Interior Design course online during this
stay-home period. I must say the teaching method
and research experience I got is incredible. This
surely motivates me to learn new things to break the
monotony and is one of the best ways to activate my
knowledge while staying at home."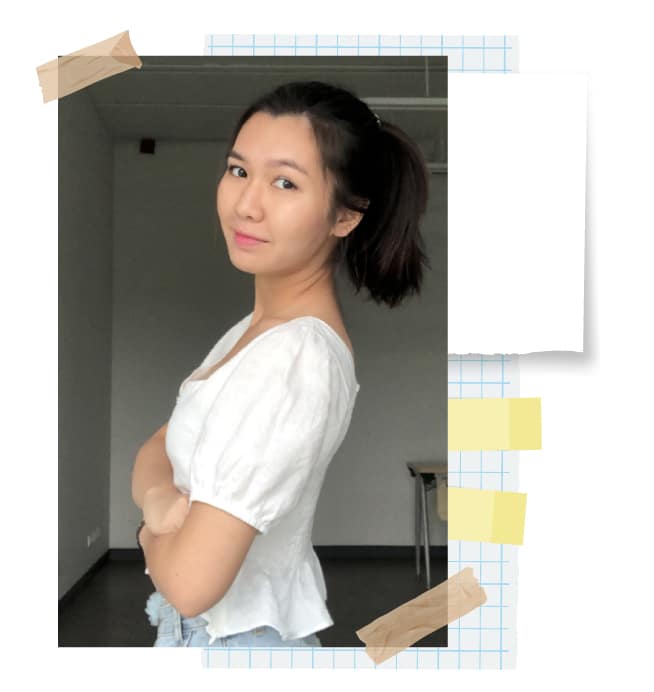 Business student :"Isabell" Yin Myat Noe Wai
"Learning from an online class is the best way to solve the problem of ot beign able to go to class on campus and learn at the university. Also, the online classes werevery well organized by the teachers. I feel the same learning online as I do learning at the university. However, learning online hasn't become a habit yet."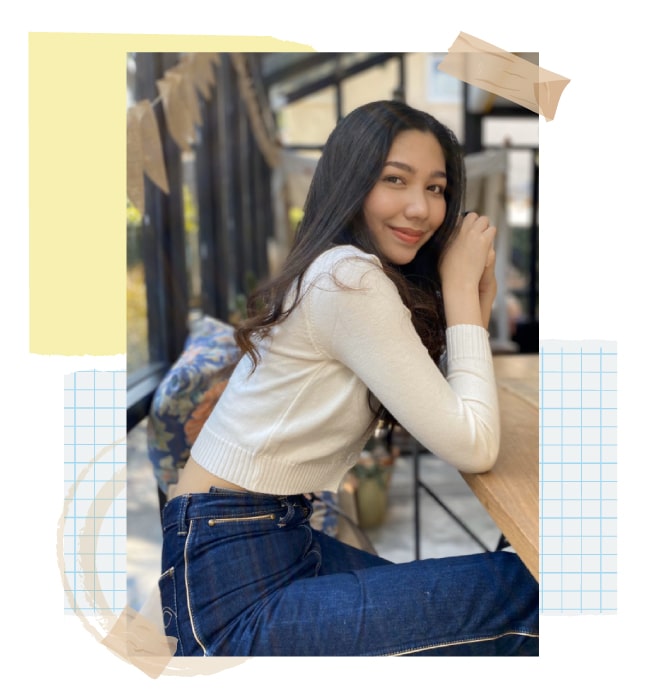 Fashion Marketing & Management student : "Preaw" Kulaya Boonlorm
"Online learning has both advantages and disadvantages. The advantage is saving time and traveling costs. Besides, students can record videos for past episodes in order to review lessons, but there are obstacles in using online educational tools such as communication that may not be understood or issues with the internet. Moreover, online exams have an environmental disparity. People with better internet or more electronic devices may have the advantage of conducting information and the speed of technology. However, in this unavoidable situation, online education is considered a convenient, and safe alternative for everyone, including foreign students and teachers. Hopefully, we will pass through this crisis together."