Coffee Talk Event with Alibaba Certified Global Lecturer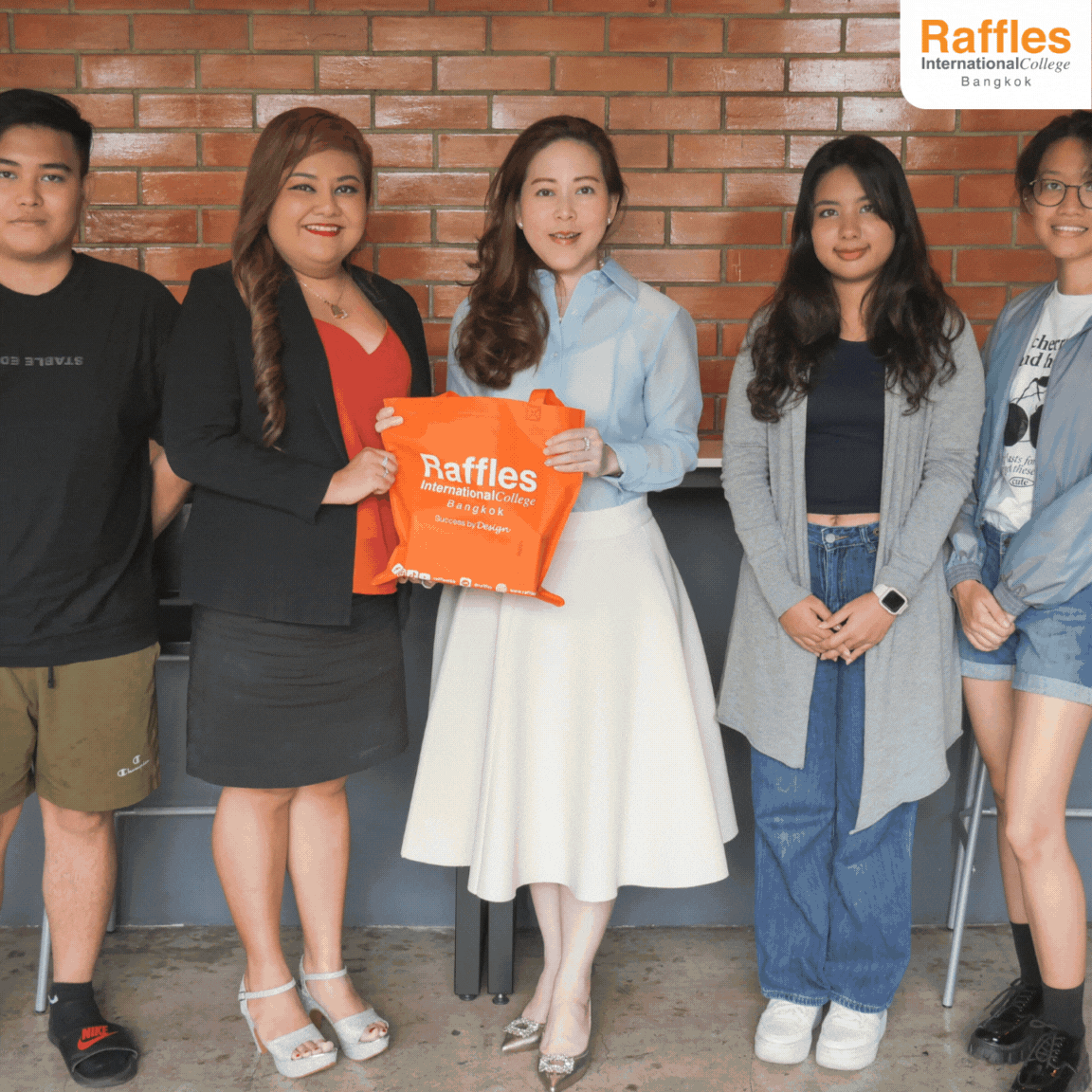 In August 2023, Raffles International College Bangkok hosted a Coffee Talk event with Ms. Papitchaya Sangchanthamanee, an Alibaba Certified Global Lecturer and Alibaba Specialist, as the guest speaker on the topic of "Alibaba and E-commerce Business" at the Common Ground Cafe. Many business students came to enjoy this event.
Alibaba is a worldwide organization that specializes in e-commerce. As the world's fastest growing e-commerce organization, Alibaba has revolutionized the way businesses operate online. With Ms. Papitchaya's expertise, students would be able to gain a better understanding of the future of e-commerce and how it will shape the global marketplace.
The event was an excellent opportunity for students to learn directly from industry professionals. With Ms. Papitchaya's guidance, students could learn about the various aspects of e-commerce and how to adapt business ideas to their work. Students also had the chance to ask questions and engage in discussions with Ms. Papitchaya, allowing for a more personalized and interactive learning experience.
As a result, the Coffee Talk event was an exciting opportunity for business students to expand their knowledge and gain unique insights into the world of e-commerce. With the guidance of a highly respected industry professional, students can gain a competitive edge in their future careers and thrive in the evolving digital marketplace.
Explore the heart of tech and science incubation
Mr. Wynn Arunrugstichai, programme director of interior design at Raffles International College Bangkok, was recently invited to attend the opening of the Link Lab Shinkiba 2 building in the Shinkiba District, Tokyo, Japan. The event was a grand affair, attended by many industry leaders. Mr. Wynn was thrilled to be a part of the event, as it gave him an opportunity to witness firsthand the latest developments in architectural design and innovation.
The Link Lab Shinkiba 2 building is one of the projects that have been created with the vision of becoming the heart of the tech and science incubation area in the Shinkiba District of Tokyo's Bay Area. The building's typology is made up of laboratory and office space that is set to become benchmarks for future development with its generous internal and external informal meeting spaces designed to stimulate interaction between start-ups and incubate innovation.
This building impressed visitors with its design and the efforts that went into creating such a dynamic and innovative space. This made visitors feel that these spaces were crucial in fostering an environment of innovation and creativity.
Overall, Mr. Wynn had an excellent experience at the opening of the Link Lab Shinkiba 2 building. He was impressed by the building's design and appreciated the opportunity to engage with other industry leaders and innovators. The event made interior designers feel inspired and motivated, eager to continue pushing the boundaries of architectural design and innovation.
Creative Brand Design Presentation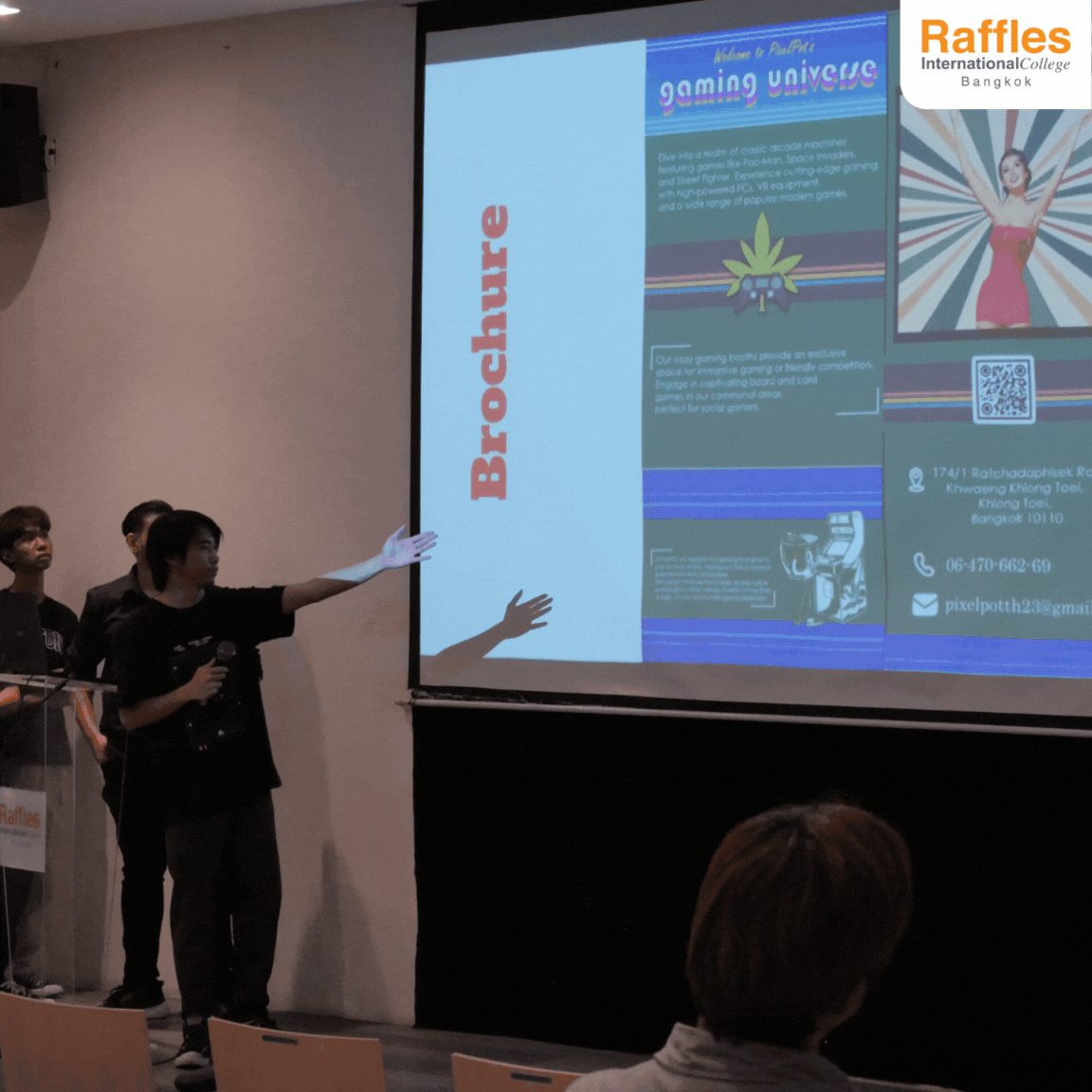 In July 2023, graphic design and multimedia design students had an exciting opportunity to pitch and present their brand designs at Raffles International College Bangkok. The main focus of this project is on logo design, creating a brochure, and conceptualizing a store in a group presentation. This was an excellent opportunity for the students to showcase their creative talents and put their design skills into practice.
During this activity, the students were able to present their ideas and designs to their friends and lecturer. This allowed them to receive valuable feedback and constructive criticism for their work. The lecturer provided insights on how the designs could be improved and also shared their expertise on industry standards and best practices.
Many students created outstanding outcomes from this activity. Their designs were innovative, creative, and well thought out. The students were able to apply the knowledge and skills they had learned in their classes and produce high-quality work. This activity not only helped them improve their design skills but also provided them with the opportunity to showcase their talents.
In conclusion, this activity was a great success for the graphic design and multimedia students. It allowed them to showcase their creativity, receive valuable feedback, and produce high-quality designs. The students gained valuable experience and skills that will be beneficial to them in their future careers.