Interior and Product Design Students' Field Trip to the Architect Expo 2022
We sat down with Gabriella Power,Programme coordinator for Product Design and Interior Design lecturer, to discuss her experience guiding students from product and interior design programmes with Ned Ronsairo, Product and Interior Design Lecturer, to Architect Expo 2022 on April 27, 2022 at IMPACT Challenger Hall. 
This was the first expo in three years since the pandemic, and it was extremely valuable for exhibitors and visitors. The expo is a platform for leading manufacturers and distributors to showcase their new innovations or re-launch their existing products and services.  
The expo is designed for the building industry and people working in the associated fields like architects, interior designers, procurement managers, and construction managers. It is also for the general public who have an interest in building products, renovating, or constructing their own homes. 
Professor Power, why is it important for students to visit design expos?
"Well, I think it is important for practicing designers and students equally. It was my first expo I attended since the Seoul Architect Expo in 2019. I was very interested in what new innovations, products, manufacturing methods, and software were developed in the "sleeping" COVID years. 
I was also happy to see trusted old brands of interior finishers like Wilsonart showcasing their new innovations.  
For most of our students, it was their first time attending such an expo. They had so much to see and get inspired by. For example, they could see the quality of work they will need to produce in their more advanced years in the programme by looking at current architecture students' presentation boards and building models exhibited by local universities. They were mortified. Yes, building scaled models is extremely time-consuming. We all remember the many "all-nighters," but that's just a designer or architect student's life.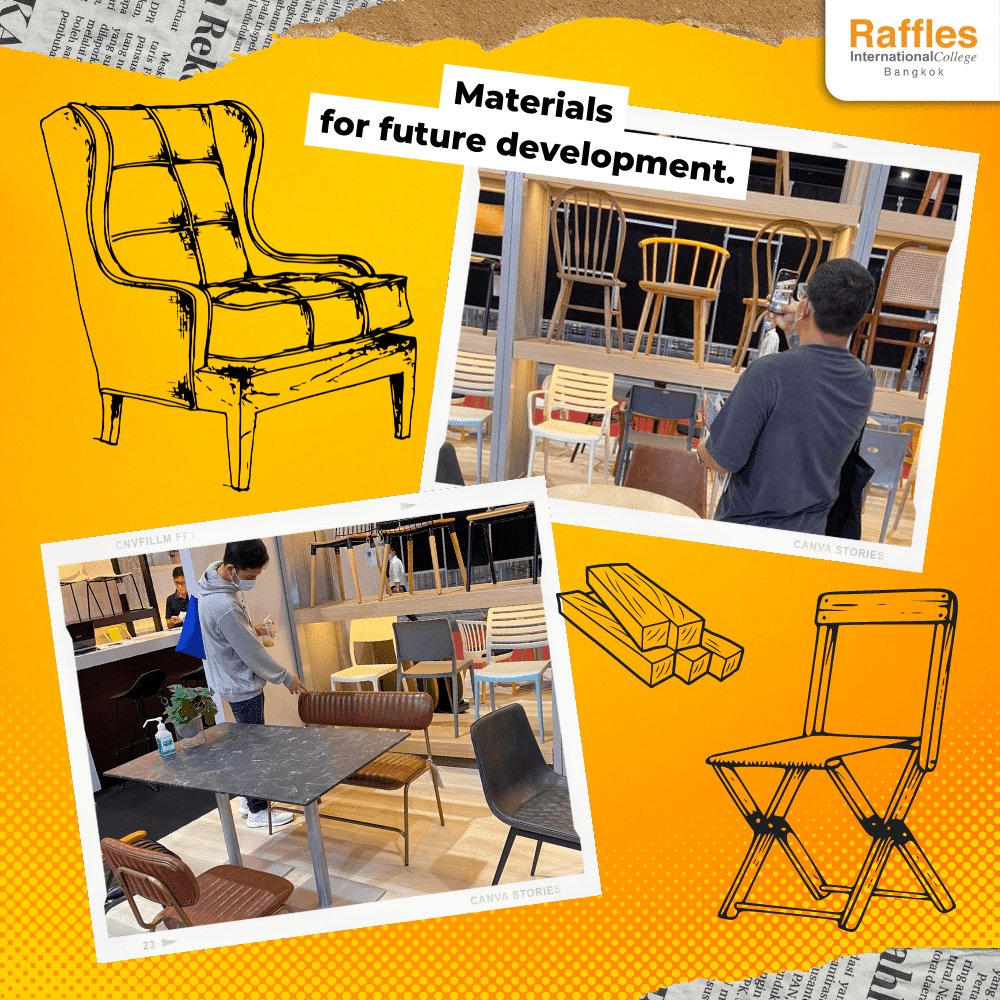 Of course, the main aim of such a field trip for students is to stay updated on new trends and keep a pulse on new product launches. They could see, touch, and even try out the products to the different ways they can be used and applied. With this, they will be able to incorporate new ideas and new ways to use products that they probably haven't thought of before.
At Raffles, we pride ourselves on offering practical learning in all design programs, which means students can hit the ground running as soon as they graduate. One of the examples of this at the expo was that I could explain to students how to choose furniture pieces for their projects by giving them a scenario of an office fit out and choosing chairs for an auditorium. I asked them to sit in the different chairs and assess them on aesthetics, comfort, and ergonomics. This is exactly what happens in real life, you know. Sit in the chairs for a day to get a real feel for them because that is exactly how the user will feel.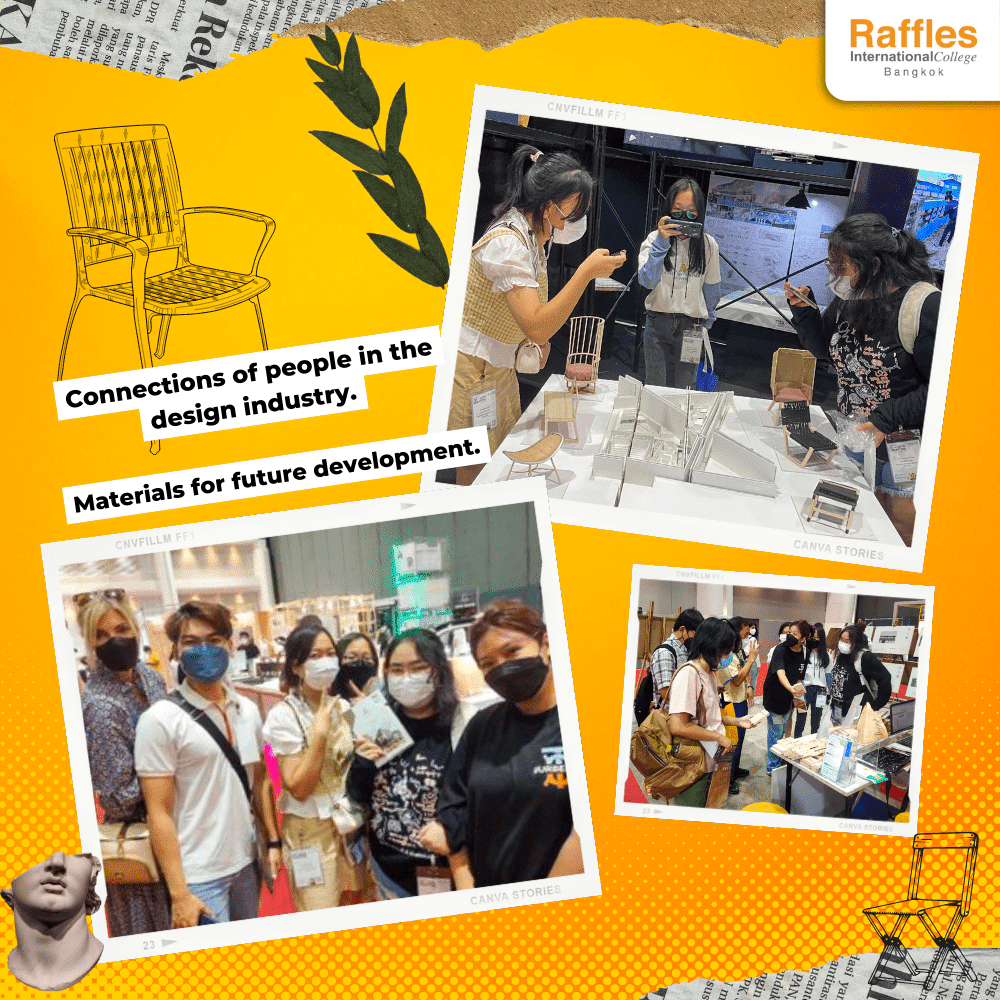 Another important aspect of visiting expos and design fairs is to get connected to the industry. Sign up for memberships in different design associations where students can get mentorships and potentially pave the way to a job straight out of college. Get connected to manufacturers, suppliers, and installers. As designers, we can never have enough trade contacts. Without them, our designs would never be realized and built. 
We had such a pleasant surprise while collecting paint samples at one of the paint finish exhibition booths. The company is owned by one of our graduate interior designer's family. We didn't know before, but now our current students can go to their showroom anytime to collect samples. Furthermore, they offered to come and give a hands-on workshop on interior and exterior paint finishes, which is part of our Interior Design Materials and Finishes module."
What products were highlighted at the exhibition?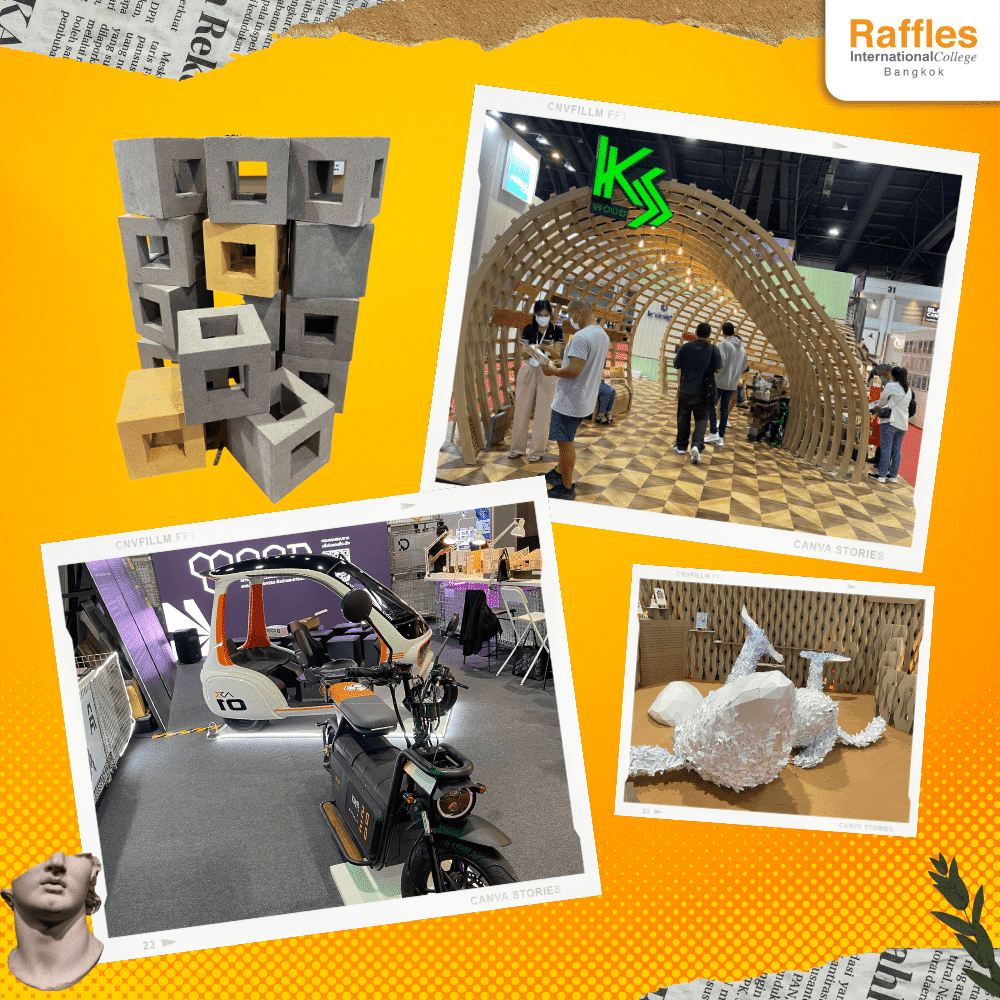 "The focus was definitely on sustainable products where the raw materials came from organic sources or renewable manmade materials to preserve our scarce natural resources. 
Manufacturers are continuously looking to come up with sustainable, innovative products and product designers are endlessly researching, experimenting, and testing these new materials to bring them to their customers.  
Some of the materials on display were reconstituted wood for construction, flooring, internal cladding, and manmade stones. 
For sustainable product design there were a couple of smart vehicles that were developed by students from King Mongkut's Institute of Technology Ladkrabang and approved for mass production. Lastly, I must mention an innovative charging station on display for electric bikes that was a real eye-opener and an inspiration to our students for their future projects."

About Architect Expo 2022
Architect Expo has expanded to serve the region's growing design, building material, and construction industries over the past 35 years and is consistently increasing its scope to meet market demands.  
The expo is ASEAN's largest international exposition for construction materials and an annual assembly of architects, designers, and professionals. It offers a wide range of building materials, technology products, and services for construction, architecture, and design. Several additional activities, such as a seminar and forum, a design competition, networking, a start-up stage, a business cocktail, and others, are planned in conjunction with the exposition.   
The Association of Siamese Architects under Royal Patronage (ASA) is co-organizing Architect Expo 2022 with TTF International Co., Ltd. Over 500 exhibitors and 375,000 guests from all over the world attended this event.  
The Student Lounge at the Common Ground and Our New True Vending Machine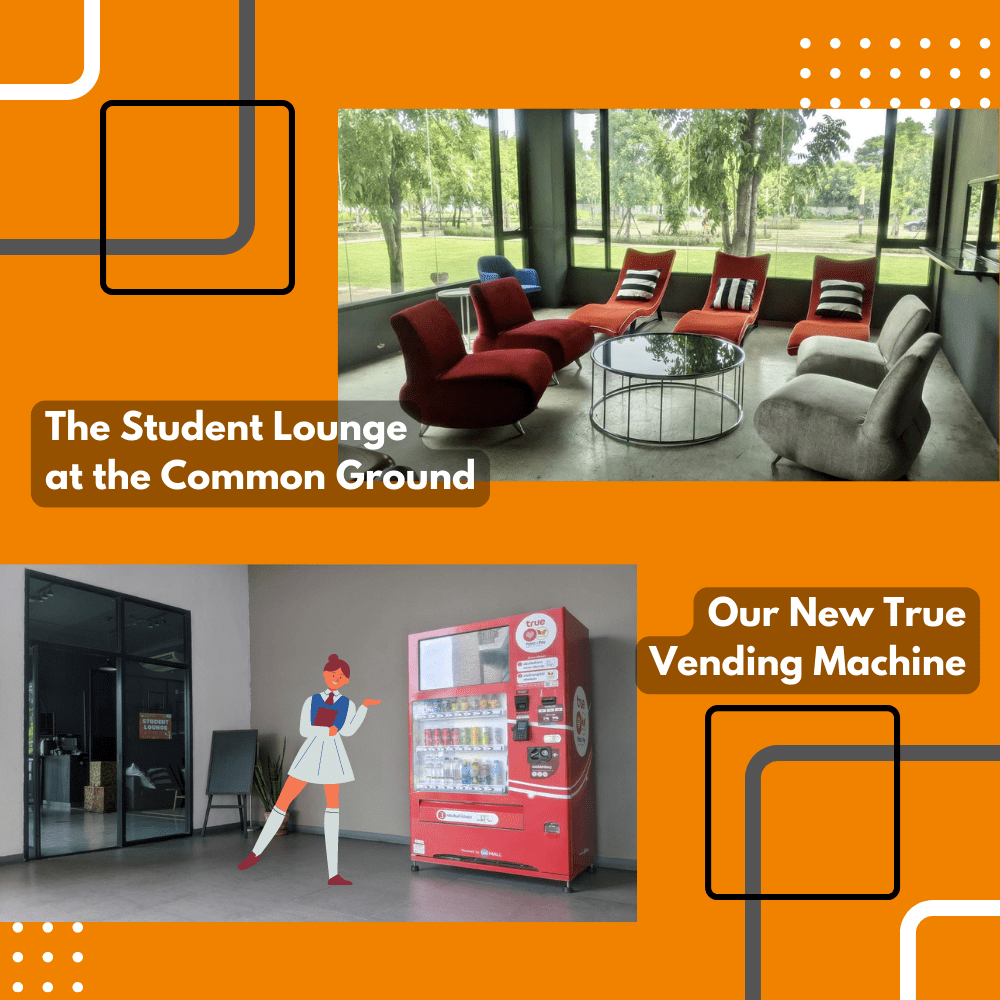 The ideal place to cool off during the sizzling summer months, where you can eat, rest, and socialize!
We have added more sofas and seats to the Common Ground Cafe so you can relax and enjoy your food and drinks after lunch or during your breaks. During the hours of 8 a.m. to 4 p.m., the air conditioner will switch on, allowing you to escape the summer heat. Furthermore, we have a brand new service, the True vending machine, which offers cool drinks at any time in front of the Common Ground Cafe. You can choose to pay with your True Money Wallet, credit/debit card, cash, and True Points at this machine. For your convenience, the True vending machine can also be used to pay for utility bills and other True services such as TrueMove H, TrueOnline, and TrueVision.
For more information about the facilities provided at Raffles International College Bangkok, click here.
Thailand Ranked Fourth on the List of the World's Most Popular Destinations
According to the latest research from Visa, Thailand remains one of the top tourist destinations in the world and is ranked fourth, behind the US, the UK, and India. Thailand was chosen by 30% of respondents for a vacation, 25% for getaway and relaxation, and 18% for adventure and outdoor sports. 
Thailand's most popular tourist destinations include Bangkok, Phuket, Chiang Mai, and Hua Hin. The most popular tourist activities are traditional Thai massage and Thai cuisine. Also, one of the attractions that many tourists seek when in Thailand is to spend time in a spa resort and to immerse themselves in Thai culture, such as by visiting Thai temples. 
Serene Gay, Visa's ASEAN region manager, expressed her delight that Thailand remained one of the world's most popular tourist destinations. The reopening of the country and the return of international travellers is a key sign of the tourism industry's recovery. 
According to research conducted by the Pacific Asia Travel Association, Thailand's tourism industry is showing signs of recovery. By the end of 2024, the number of tourists is expected to reach 46.96 million. More tourists will return to Thailand as the government eases rules to make entry into the country easier. 
Justin Bieber Justice World Tour Bangkok in November
Justin Bieber will begin the Southeast Asian leg of his Justice World Tour in Malaysia on October 22, followed by Singapore on October 25, and two gigs in Indonesia in November.  
Bangkok will be his last stop in Southeast Asia before he flies to Japan.  
His concert in Bangkok on November 6th is set to go on sale from April 29th, with tickets costing from 2,500 baht to 16,500 baht. He'll be performing that night at the Rajamangala National Stadium in Ramkhaemphang, Bangkok.  
Almost a decade ago, the Canadian singer performed in Thailand for the first time in September 2013.  
If you want to see him perform, Thai Ticket Major is the place to go, but unfortunately, tickets have been sold out since the first day. If you just can't miss this opportunity to see Justin, tickets are being resold at higher prices on sites like ViaGogo.