Raffles Attends Bangkok Design Week 2021
Raffles International College Bangkok will participate in an academic exhibition as part of Bangkok Design Week 2021, which will take place at Samyan Mitrtown from July 3 to 11, 2021.  
The academic exhibition features 26 qualifying works from students all around Thailand who participated in the "A New Interpretation of Face Wear" design competition, as well as student work from ten design institutes.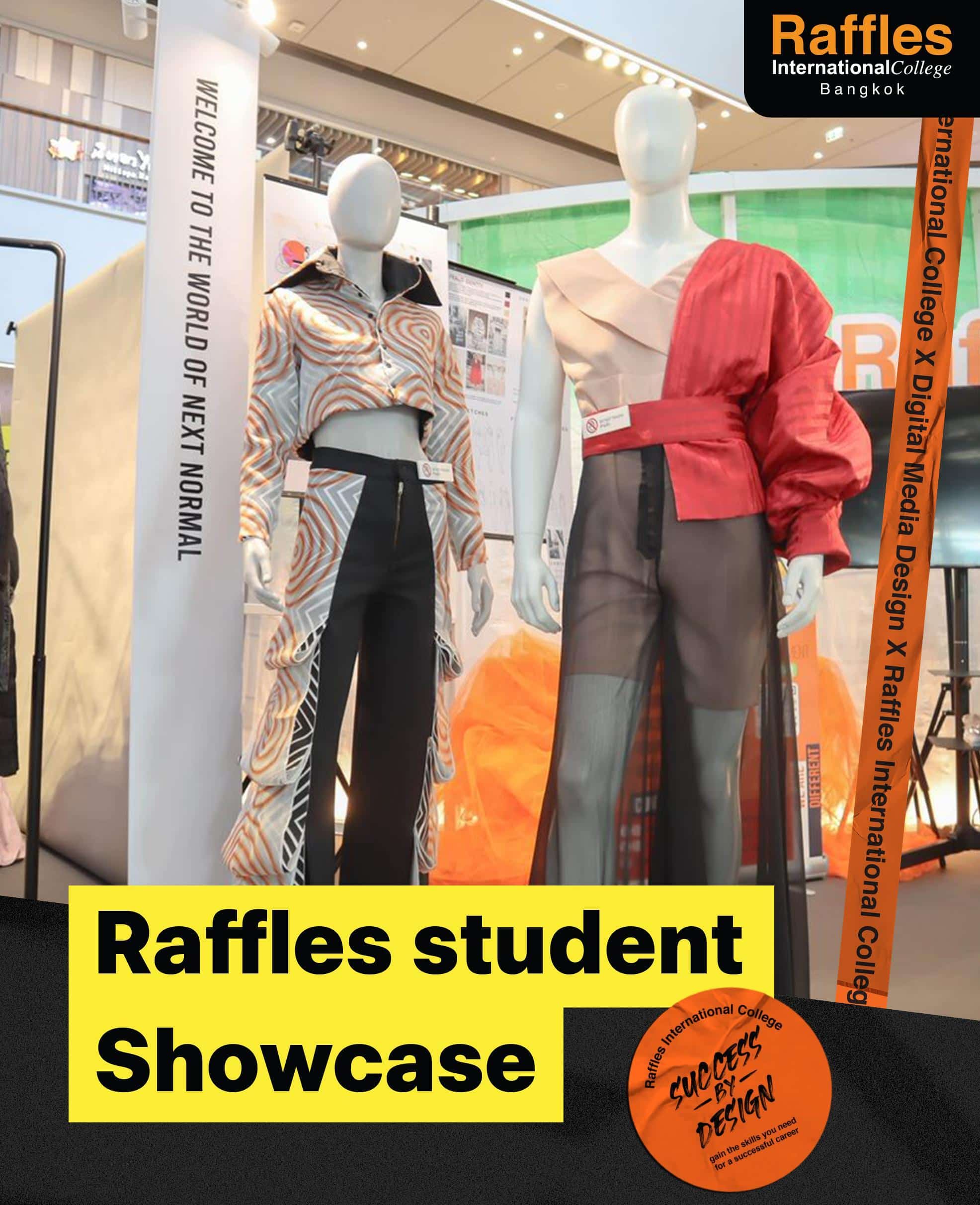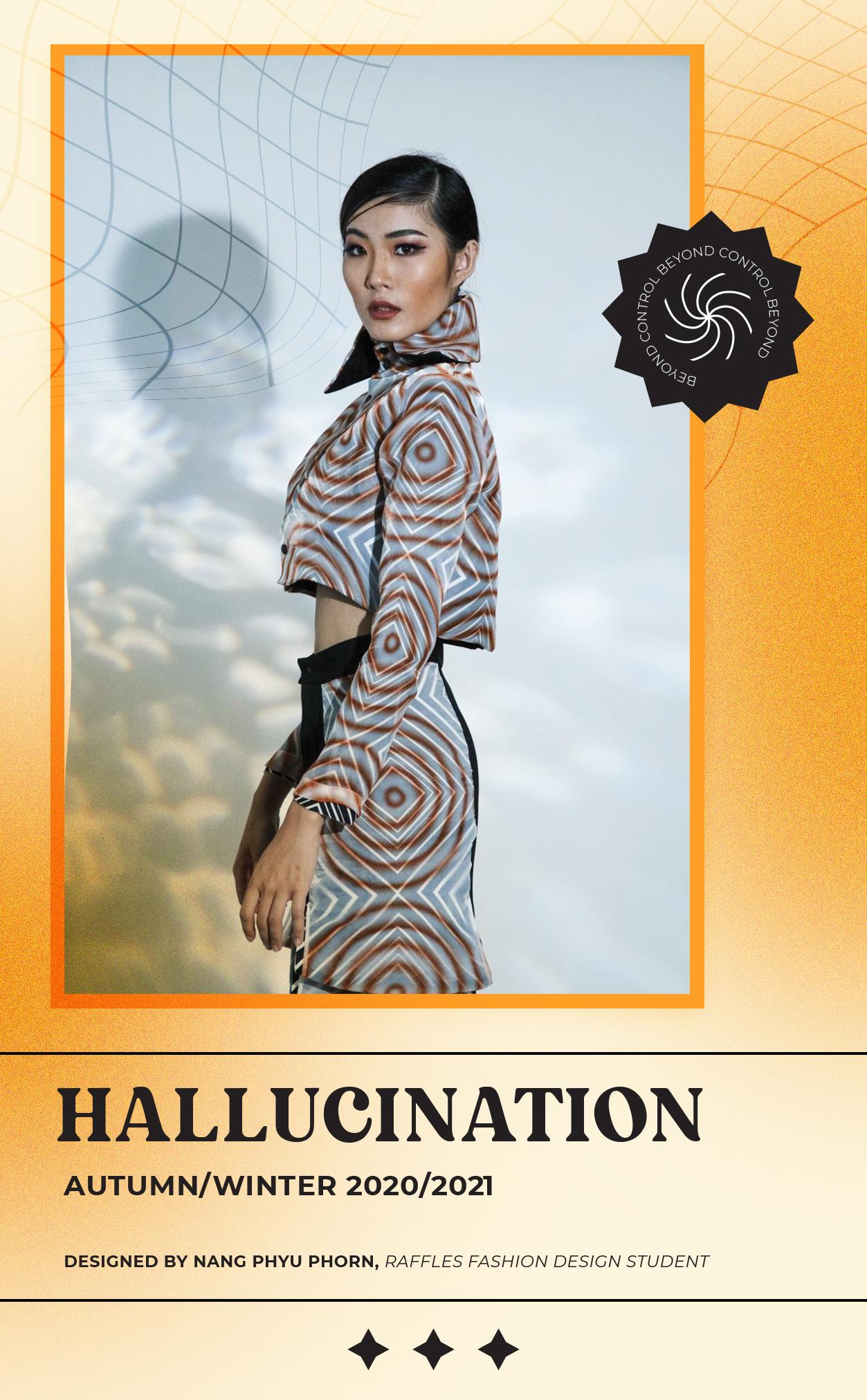 Nang Phyu Phorn, a Raffles Fashion Design student, will present her master project, "HALLUCINATION," at the Raffles booth. She describes her work in the following way: "The unconscious mind is like a pool of thoughts, memories, and feelings outside conscious awareness. In the end, it often influences our behavior and what you wear." 
By putting their knowledge into practice to create these kinds of projects, Raffles students gain a deeper understanding of what they are learning. Practical work also helps develop skills like teamwork, communication, and problem-solving, which are crucial for future employment. Students fuse advanced theory and skills gained in class with their own originality and personality. Work is completed and turned in as a finished product under the supervision of expert lecturers, simulating a real-world work setting.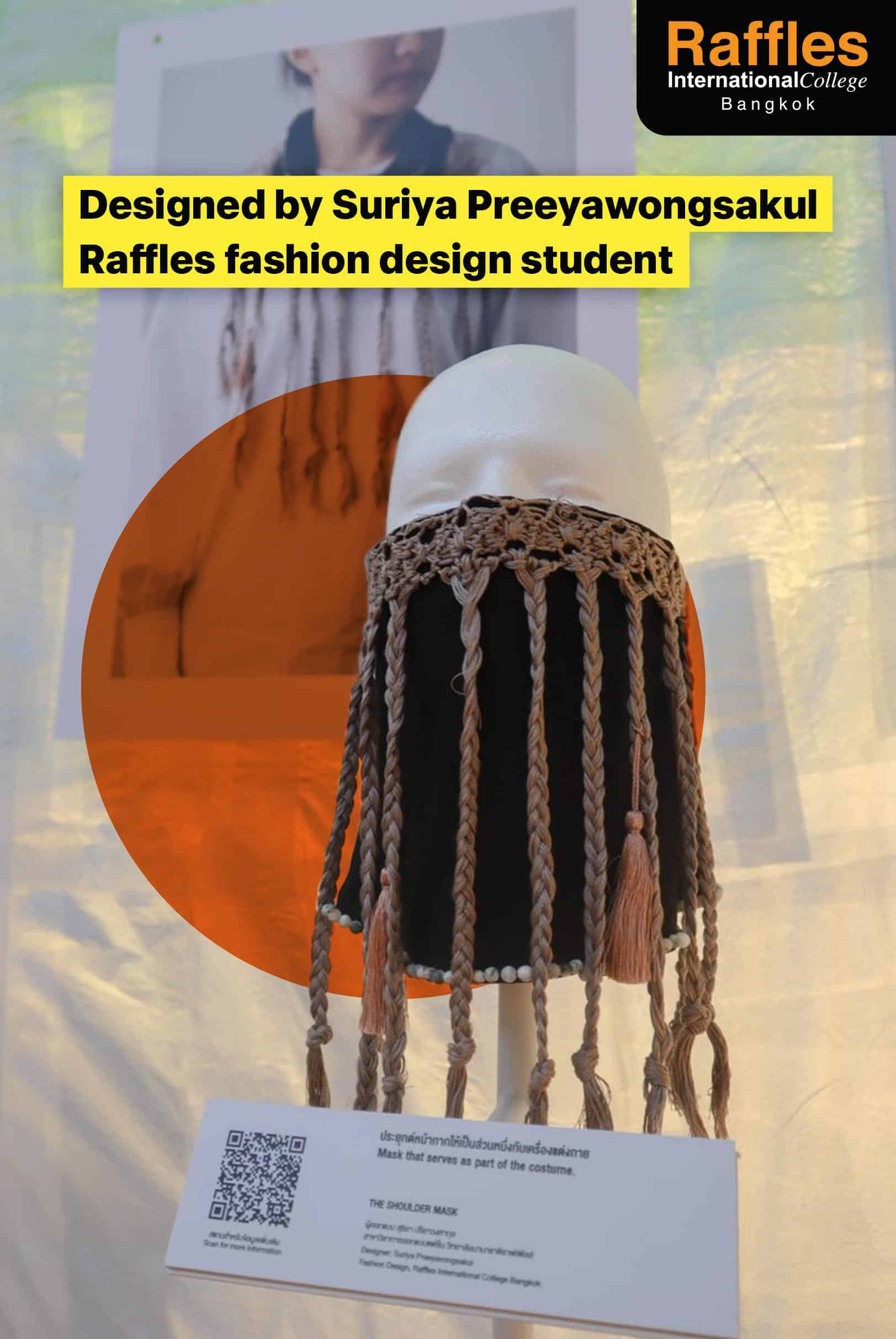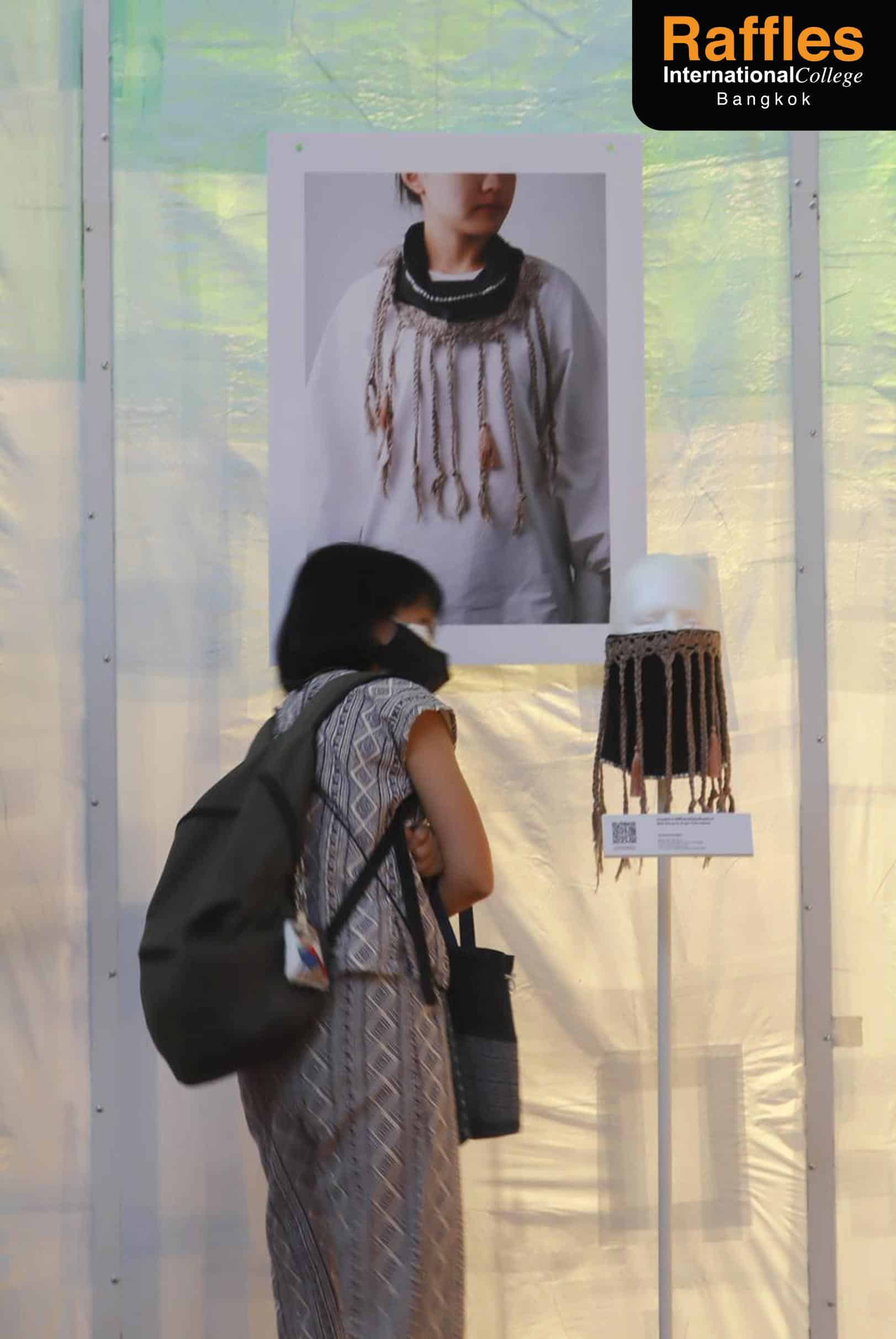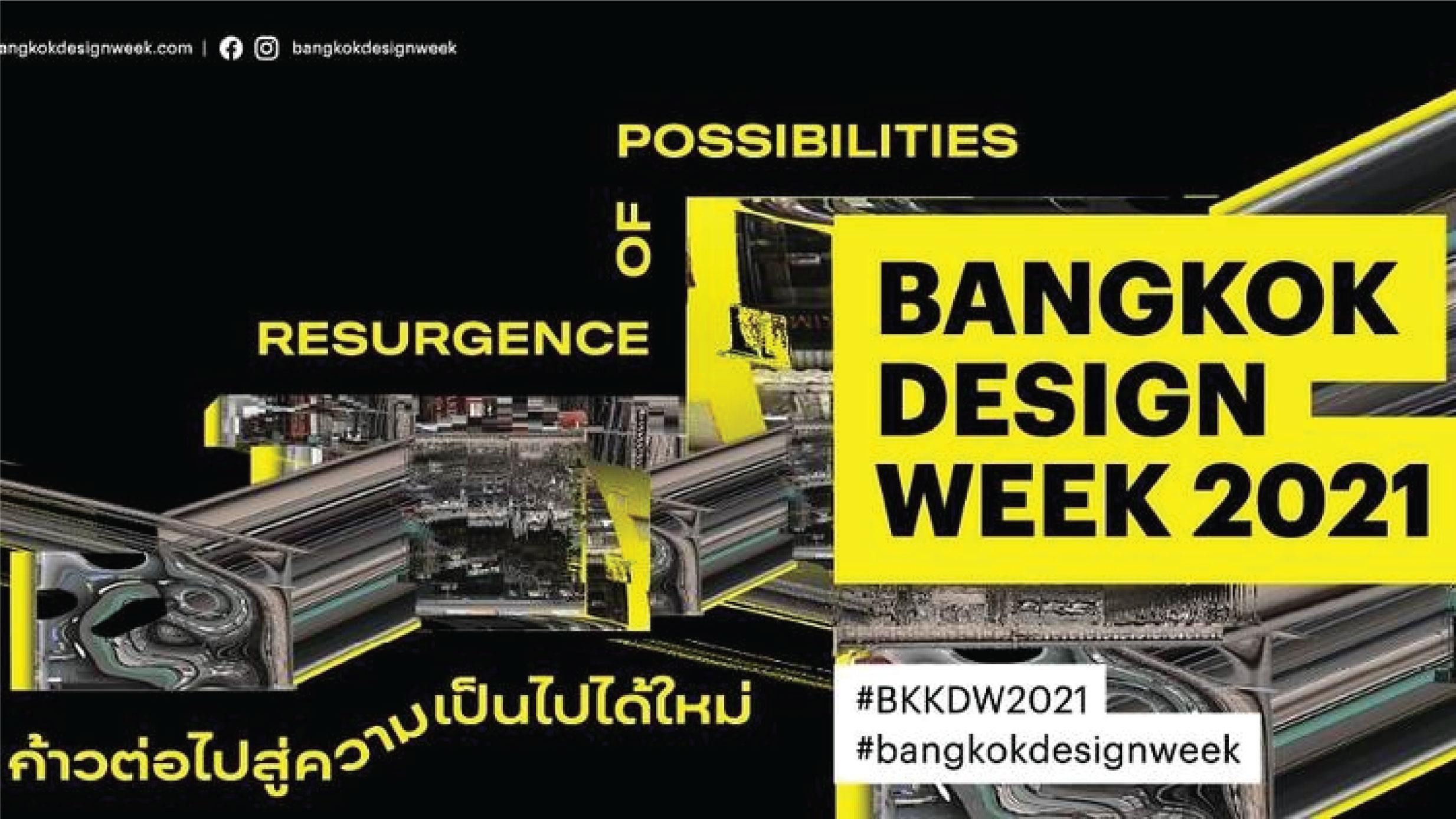 Bangkok Design Week 2021 (BKKDW2021), the fourth iteration of the event, will be centered around the theme "Resurgence of Possibilities". Explore new opportunities emerging from urban revival even amid the current world crises. Exhibitions will be organized in creative districts throughout Bangkok such as Charoenkrung-Song Wat, Samyan, Ari-Pradipat, and Thonglor-Ekkamai. 
About Bangkok Design Week (BKKDW) 
Bangkok Design Week (BKKDW) is an important mark on the Bangkok event calendar. The event is organized by the Creative Economy Agency (CEA) in partnership with over 60 state agencies, public organizations, academic and international institutions, and 2,000 designers and creative businesses. Each year, BKKDW draws an estimated 400,000 visitors from home and abroad.  
BKKDW is a growth engine for Thailand's creative industries in many ways: by showcasing creative business and designs; stimulating competition; providing local and foreign networking opportunities; and generating economic momentum to downstream businesses, such as marketing, printing, online media, galleries, and service industries.
Source : https://www.bangkokdesignweek.com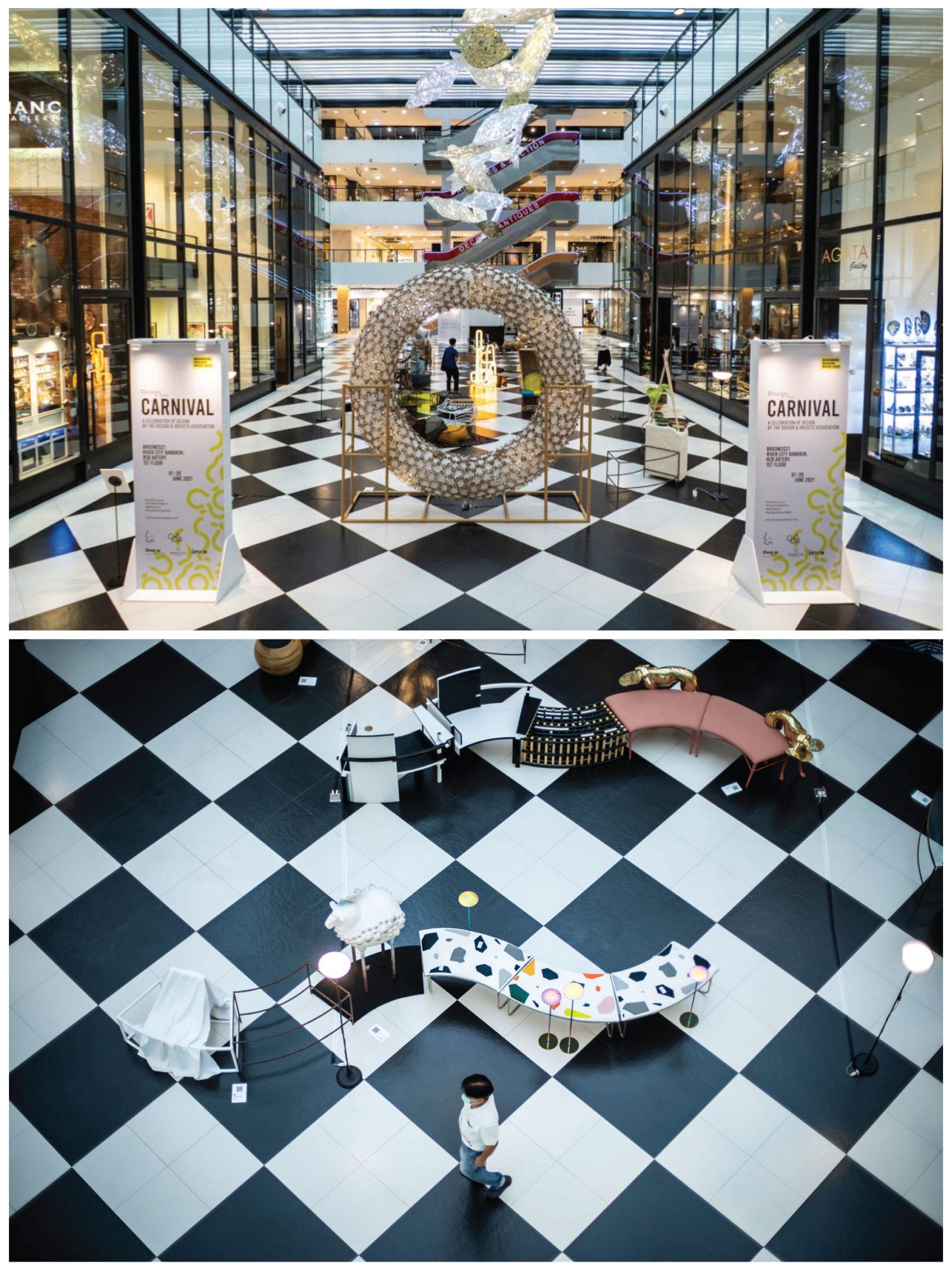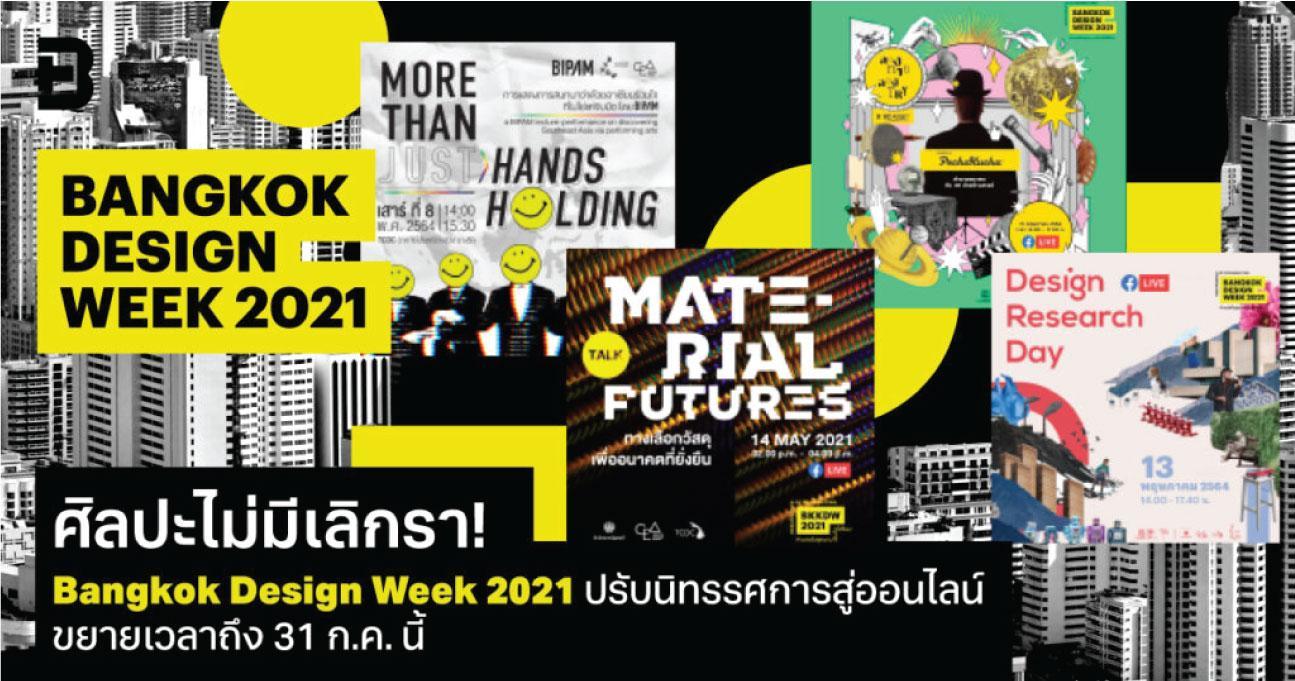 What's Happening in Bangkok Design Week (BKKDW) 
Bring your face mask and check out Bangkok Design Week 2021 to see product design, art, and creative media through a variety of exhibitions and workshop programs at Talat Noi, Samyan, Charoenkrung district, and more. From today until 31 July 2021, you can explore a calendar of various activities on the Bangkok Design Week website.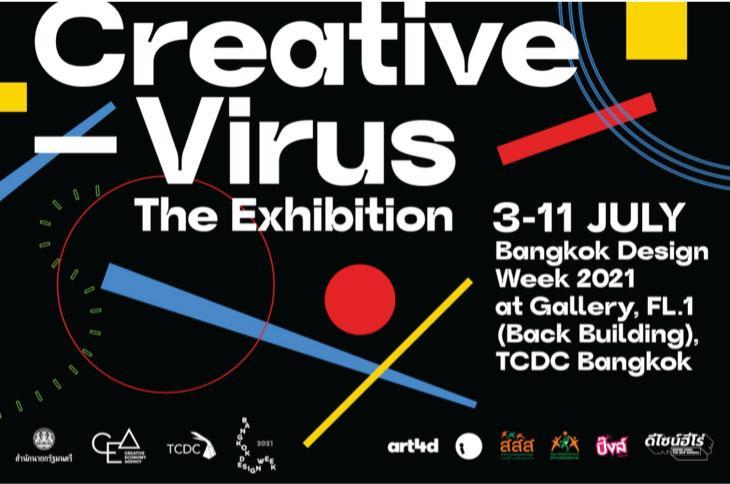 Looks at the pandemic from new perspectives with submissions from 34 architects, artists, and designers for art4d's "We'll Meet Again" issue, along with the winners of "Design Hero: The New Normal." 
Venue: TCDC Bangkok 
Date: 3 – 11 July 2021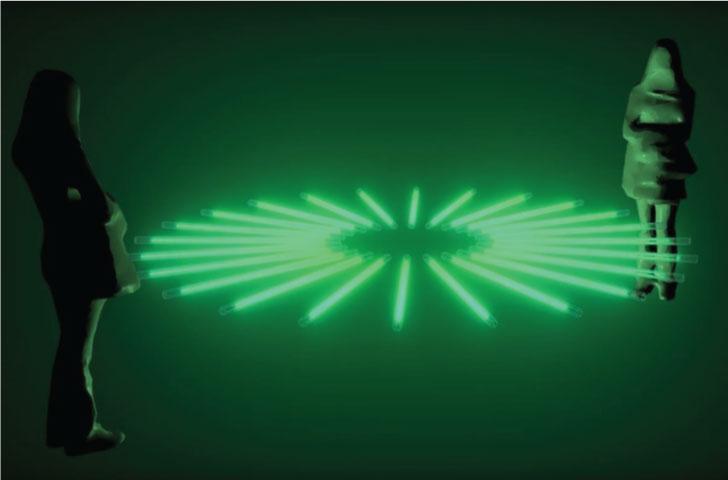 Combines eight works from eight creators (architects, designers, and artists) to create a conversation about the future of carbon footprint reduction. 
Venue: The Shophouse 1527  
Date: 3 – 11 July 2021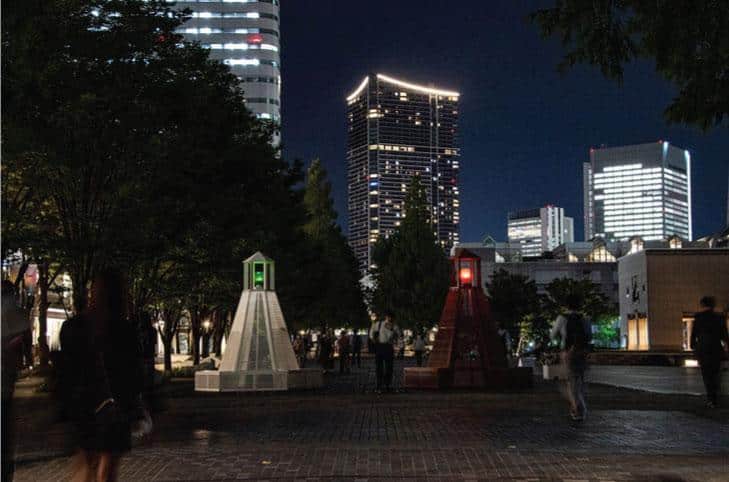 Demonstrates a series of projects exploring the possibilities of architectural strength through the creator's "direct approach" in architecture. 
Venue: CHAO PHO SUEA SHRINE Samyan 
Date: 3 – 11 July 2021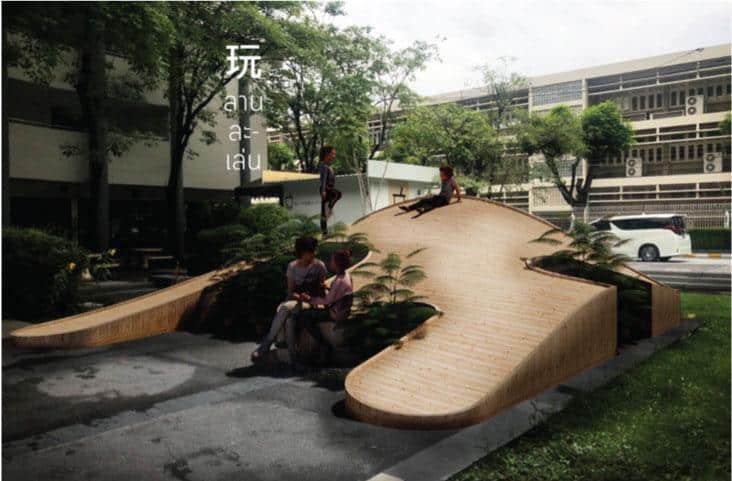 GroundPlay is a new modified play landscape built around the concept of giving players the ability to interpret and use the space as they see fit. 
Venue: U Center 
Date: 3 – 11 July 2021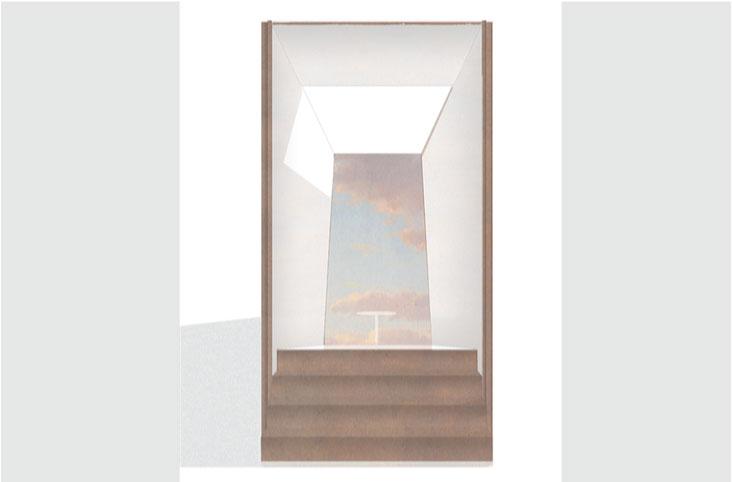 The 'SKYWALL' pavilion allows you to relax in solitude while still being connected to the outside world through the changing state of the sky. By looking forward in an enclosed environment, one can see the sky. 
Venue: Samyan Mitrtown 
Date: 3 – 11 July 2021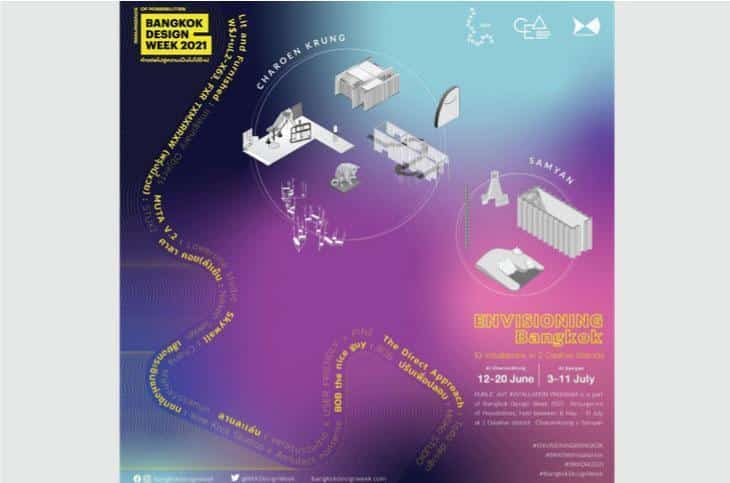 Art installations by Thai and International artists. 
Venue: Samyan District  
Date: 3 – 11 July 2021
6 New Gadgets
to Keep an Eye On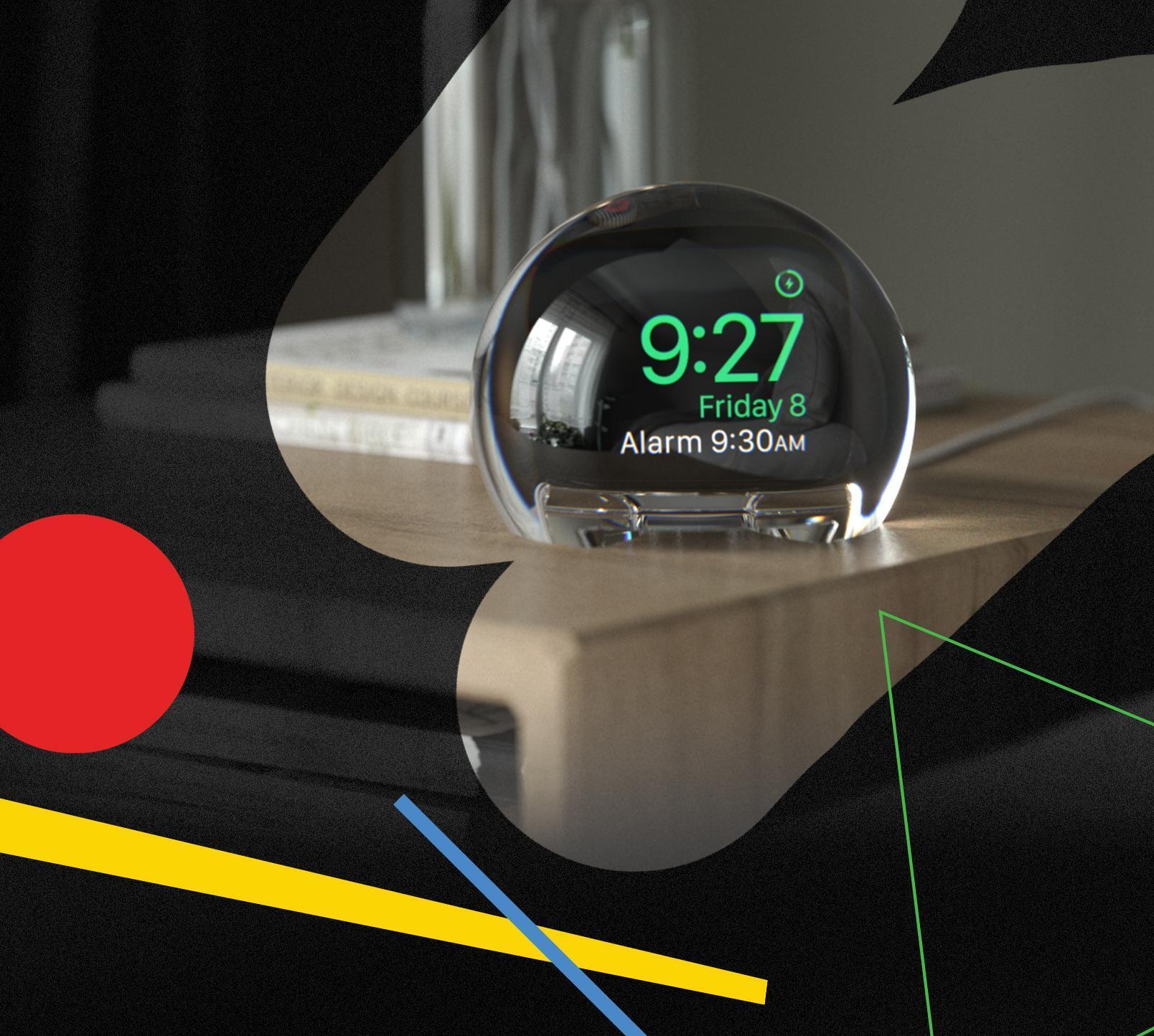 Anyone who wants to use their Apple Watch as a bedroom clock will appreciate the NightWatch. It's an Apple Watch dock that uses your existing Apple Watch charger, but its design magnifies the display of your Apple Watch so you can see it. It also magnifies sound, so you can clearly hear the alarm when it goes off.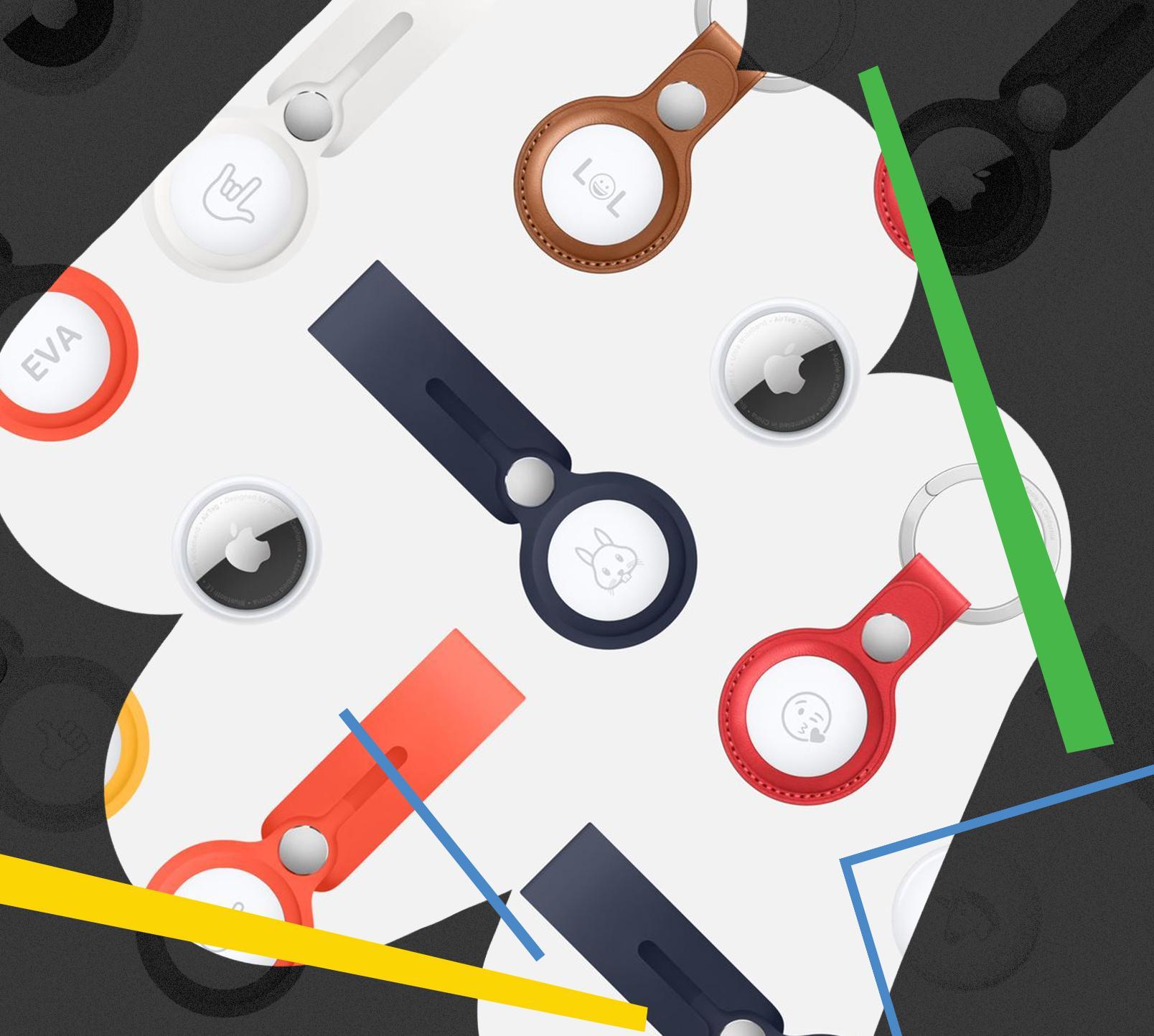 AirTag is a simple tool for keeping track of your items. By attaching tags to your keys, backpack, or purse, you can constantly have their location on your phone. You can also play a sound on the built-in speaker. If the item you're searching for is nearby, just listen for it and your hunt will be over. 
https://www.apple.com/th/airtag/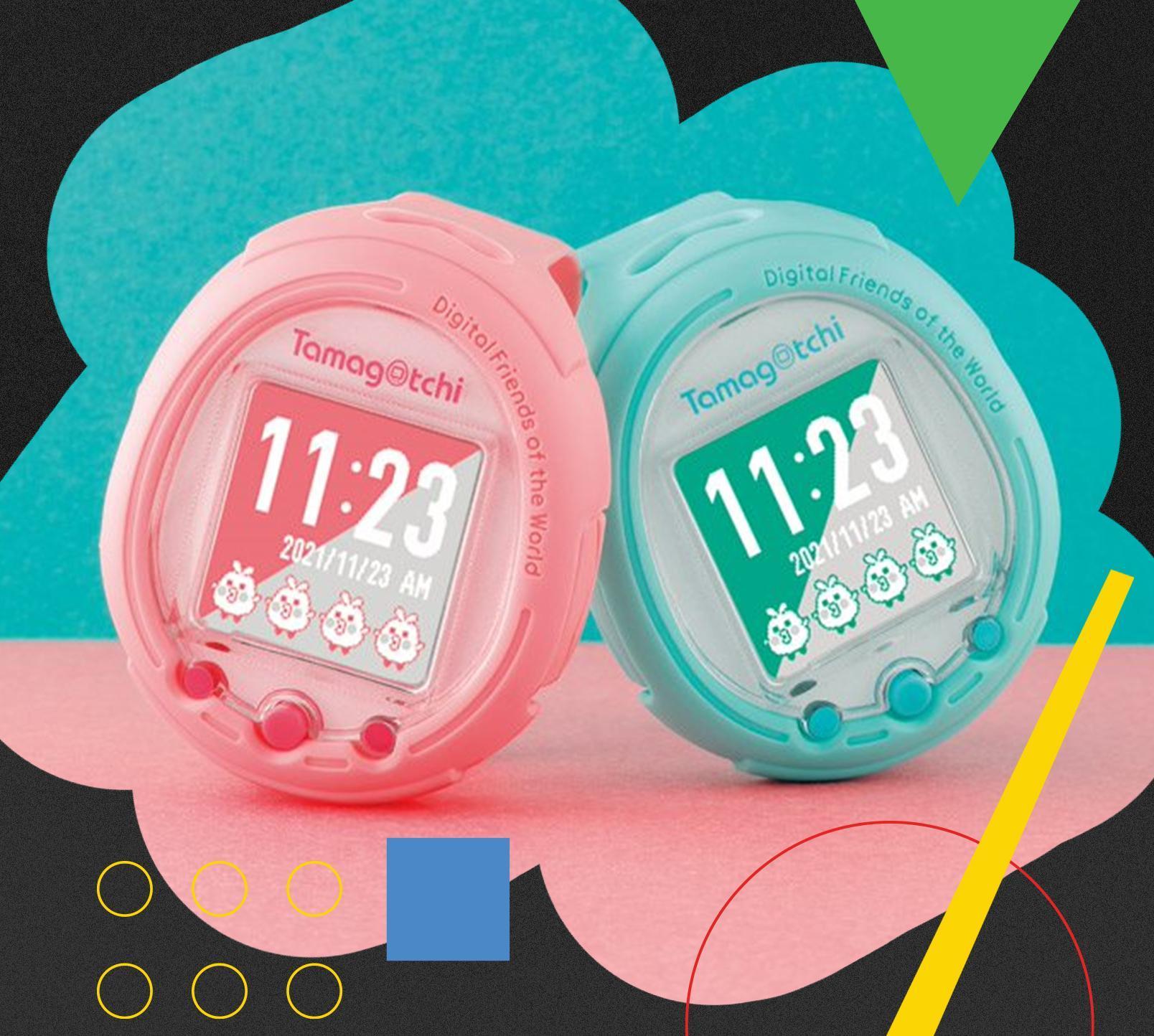 For its 25th anniversary, the Tamagotchi is making a comeback as a wearable. You can now raise your electronic pet on your wrist, use a microphone to communicate with it, and pet it using the touchscreen.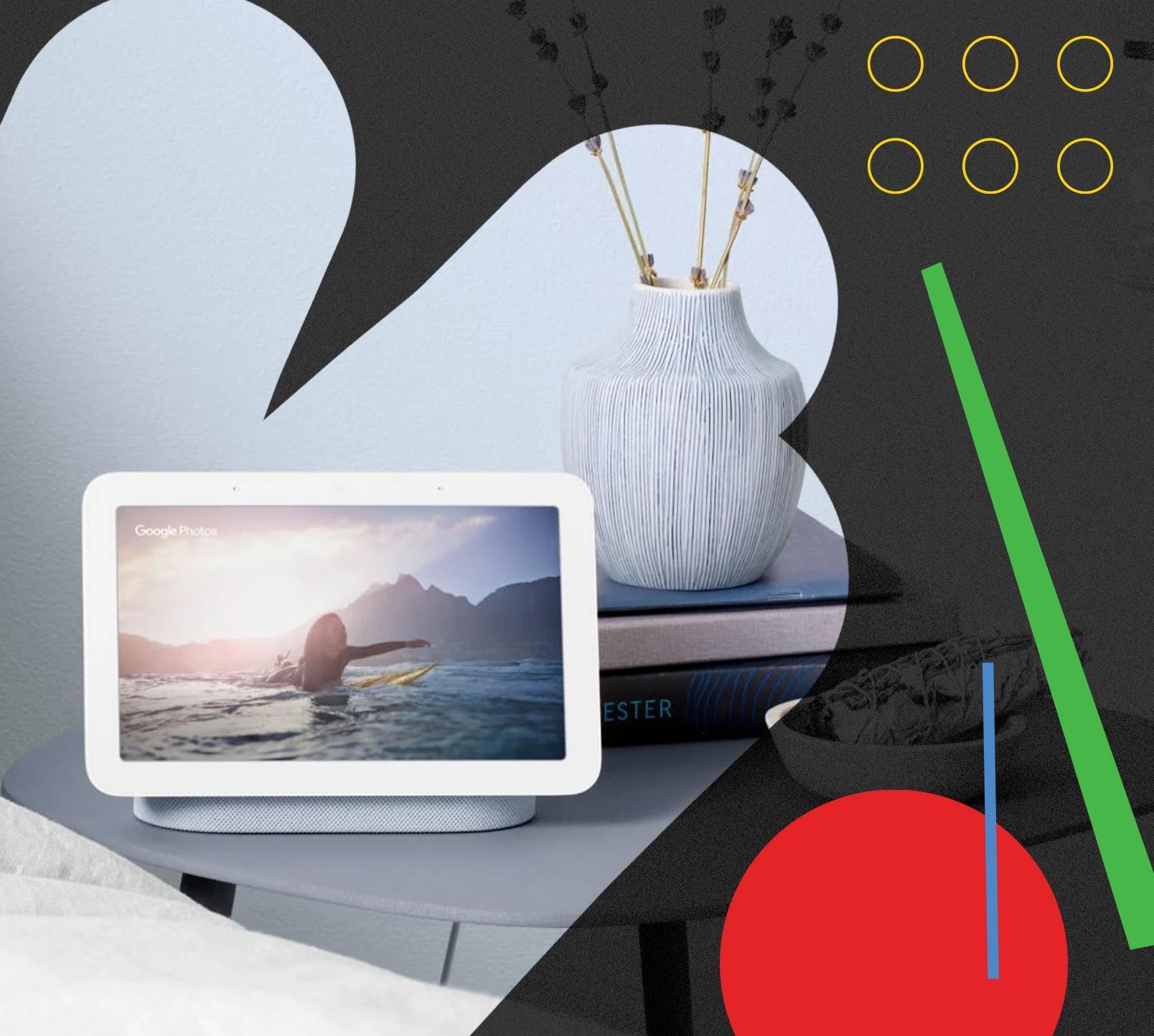 This 2nd generation of Google Nest Hub is a smart home control center, a fancy alarm clock, a weather machine, a media center, and a communications hub. The newest feature is automated sleep tracking with special sensors to watch your movement and breathing during the night in order to analyze your sleep. The new model also improved upon the audio quality of the previous Nest Hub's speaker. 
https://store.google.com/us/product/nest_hub_2nd_gen?hl=en-US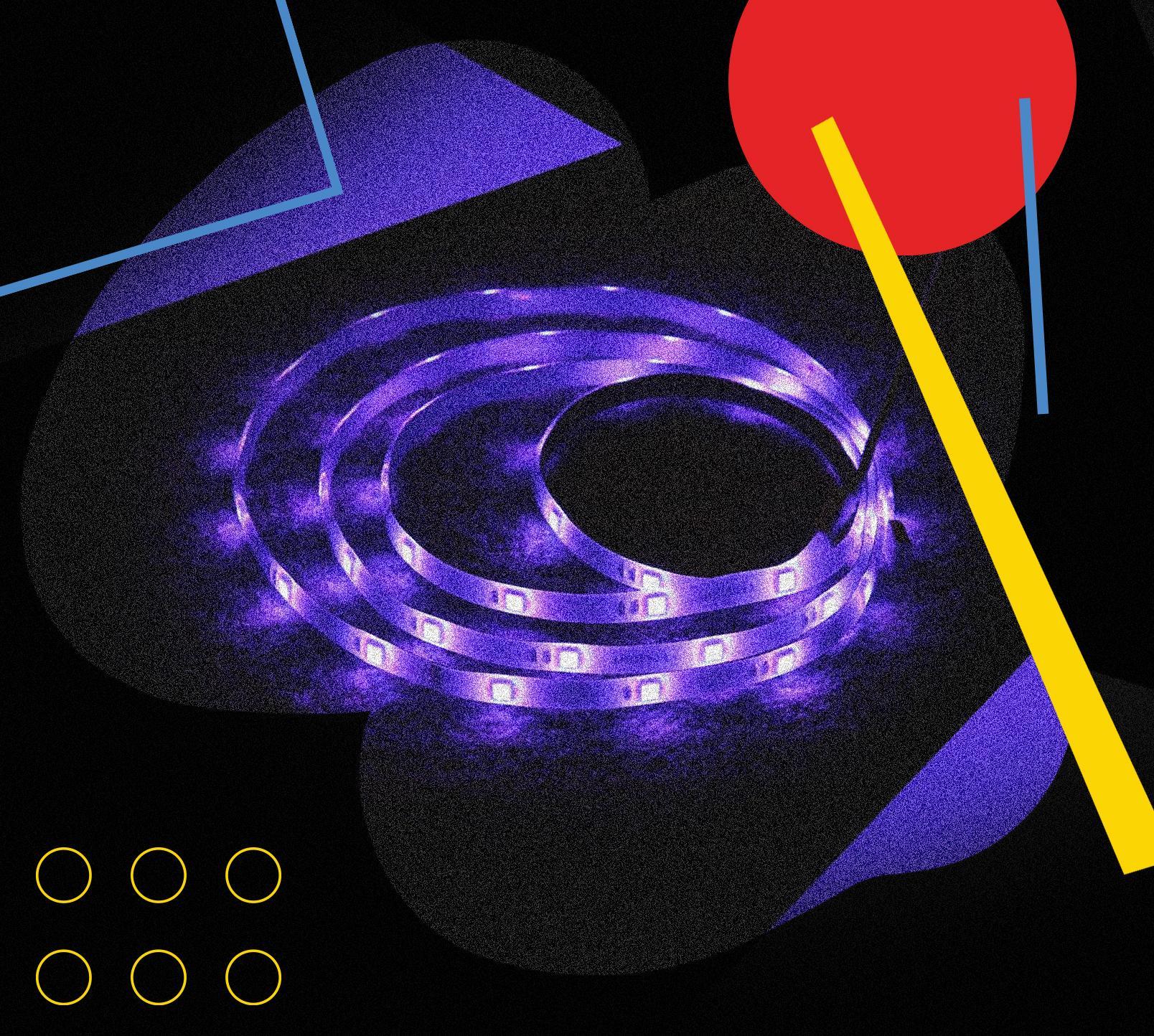 Turn your space into something amazing with a 1S strip. Whether you're a gamer, a Tiktok star, or a music lover, these customizable lights can be changed to suit your project or your mood. You can adjust the brightness and color temperature, as well as choose from 16 million colors to create the perfect lighting settings throughout the day. 
https://en.yeelight.com/product/847.html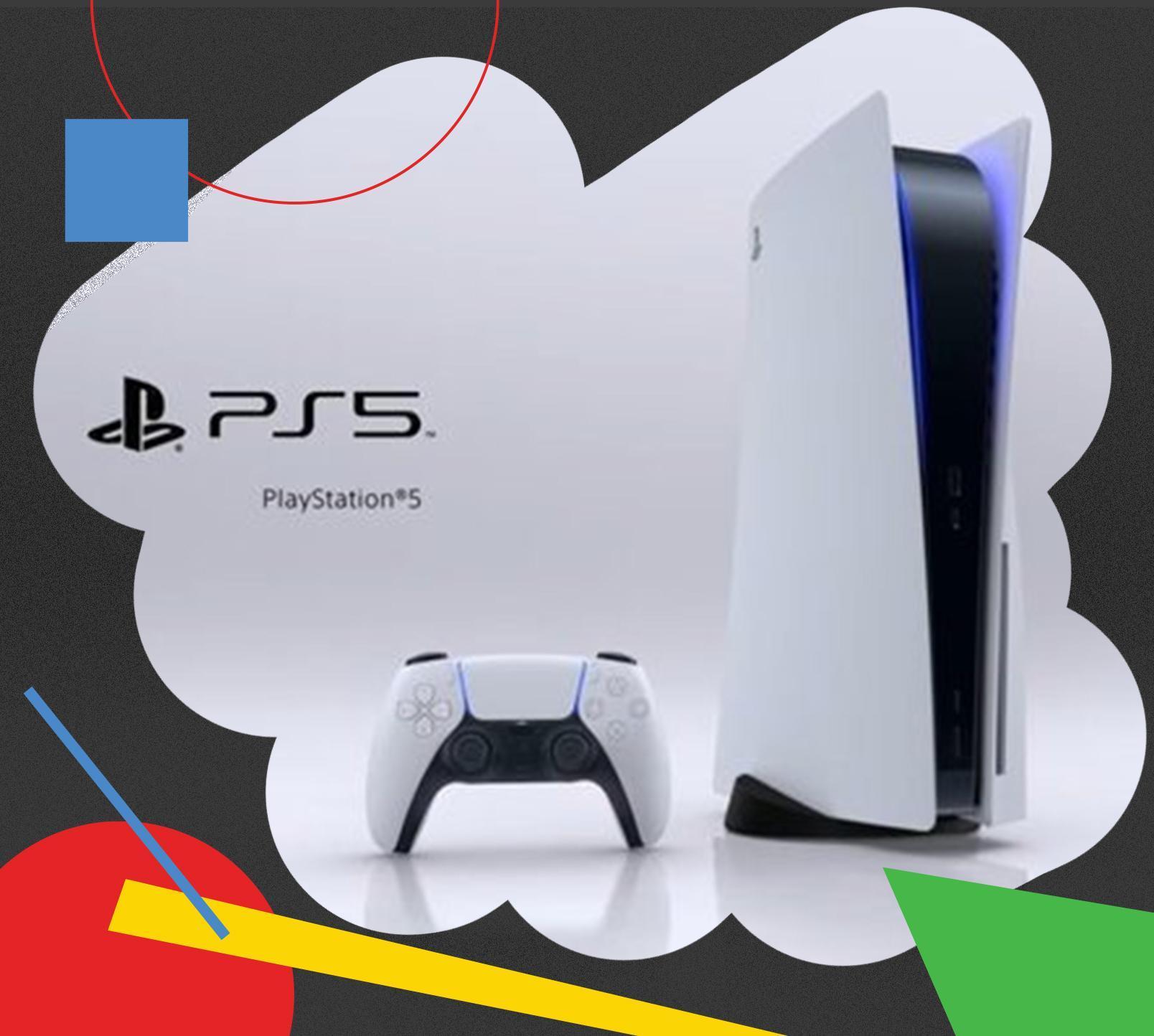 The PlayStation 5 is the latest video game console by Sony Interactive Entertainment. It was first released in November 2020 and was initially in short supply, and every resupply since then has been also sold out. A solid-state drive, an AMD GPU capable of 4K resolution display, hardware-accelerated ray tracing, and the Tempest Engine are the key hardware components of this model. 
https://www.playstation.com/th-th/ps5/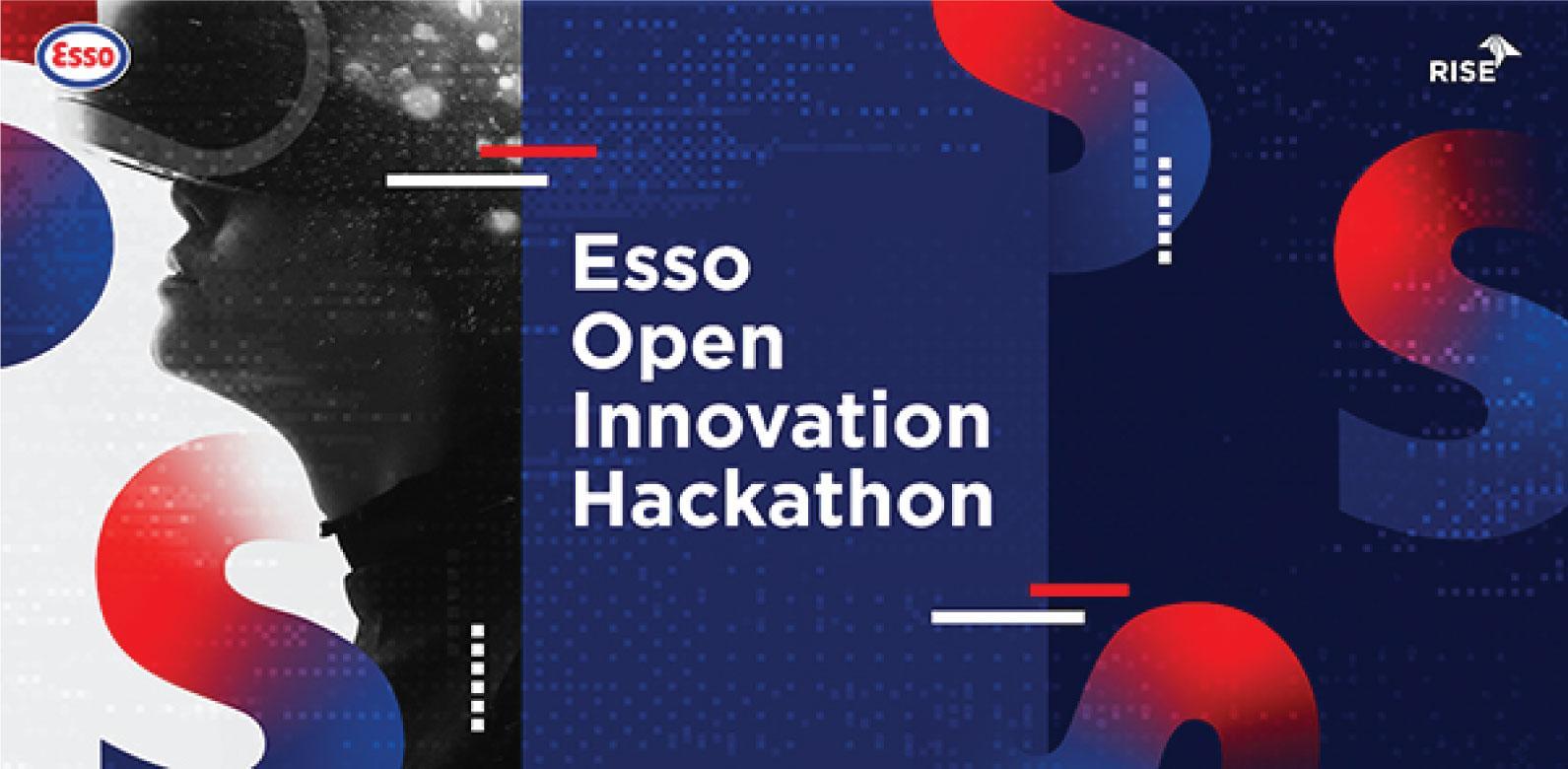 Congratulations to Our Student for His Hackathon Success!
We would like to congratulate to our Product Design student, Sirasit Sachdev, and his team, Micro OR, who finished 1st runner-up in the Esso Open Innovation Hackathon on 11 June 2021. 
After interviewing and selecting 21 teams from 100 applicants, the Hackathon was held. They were given a problem statement and asked to come up with a presentation for a business and design solution. Sirasit and his team did an outstanding job presenting and advanced to the top ten finalists. 
Sirasit's team presented the details of their solution and its implementation in a timeline format in the final round, and the result was that they came in second place. In addition to the cash prizes, the team will have the opportunity to work on a collaborative project with ESSO.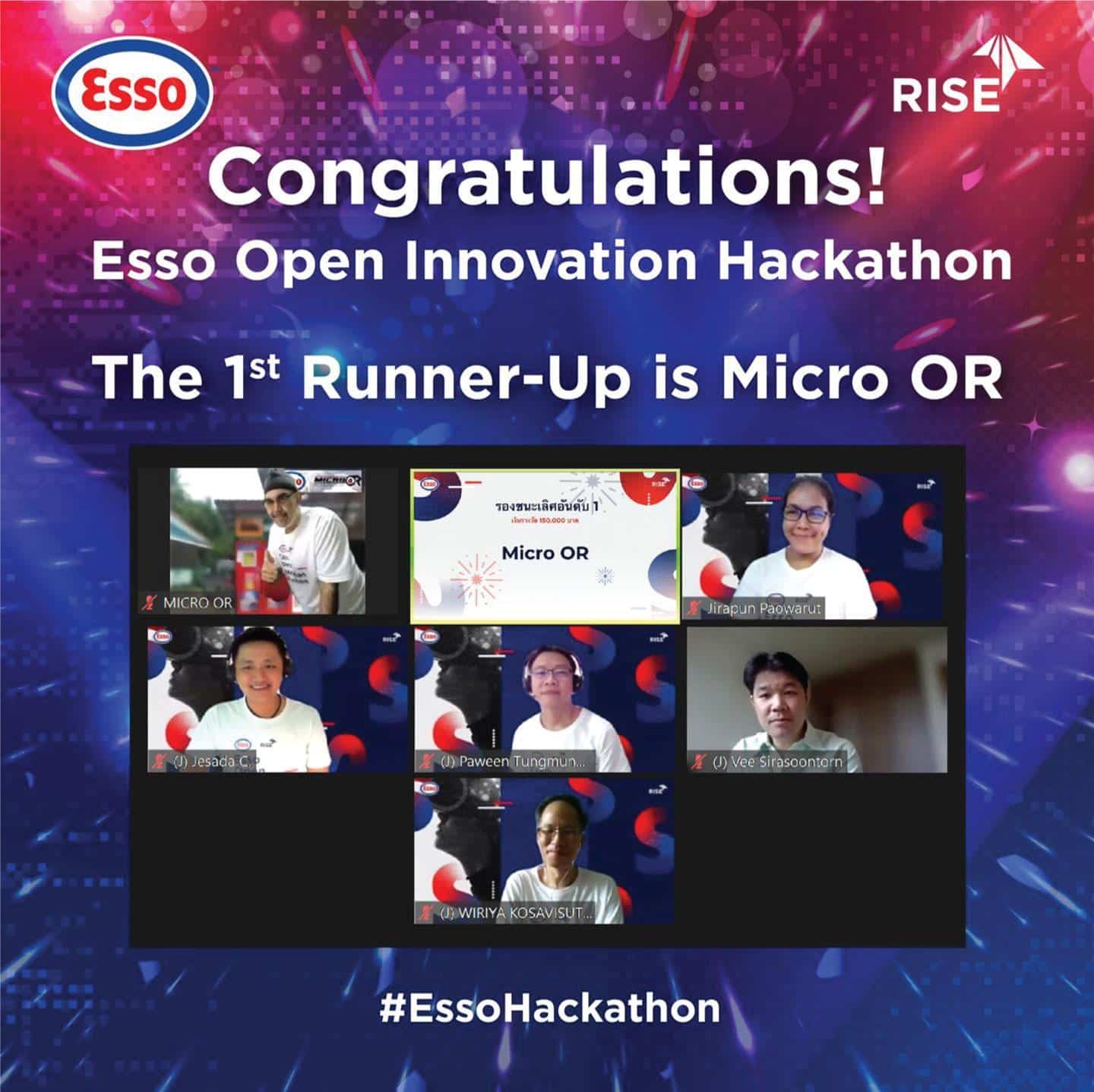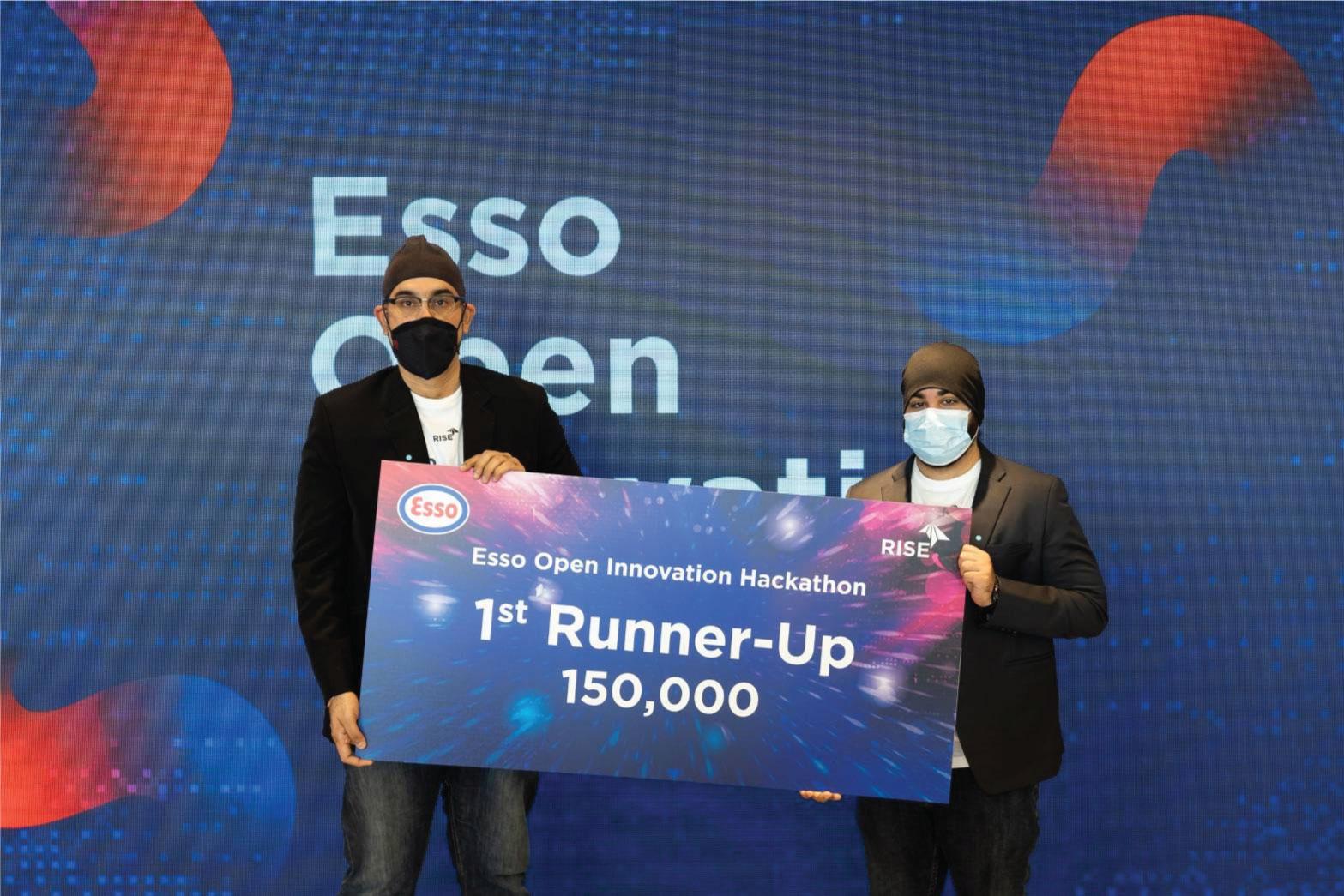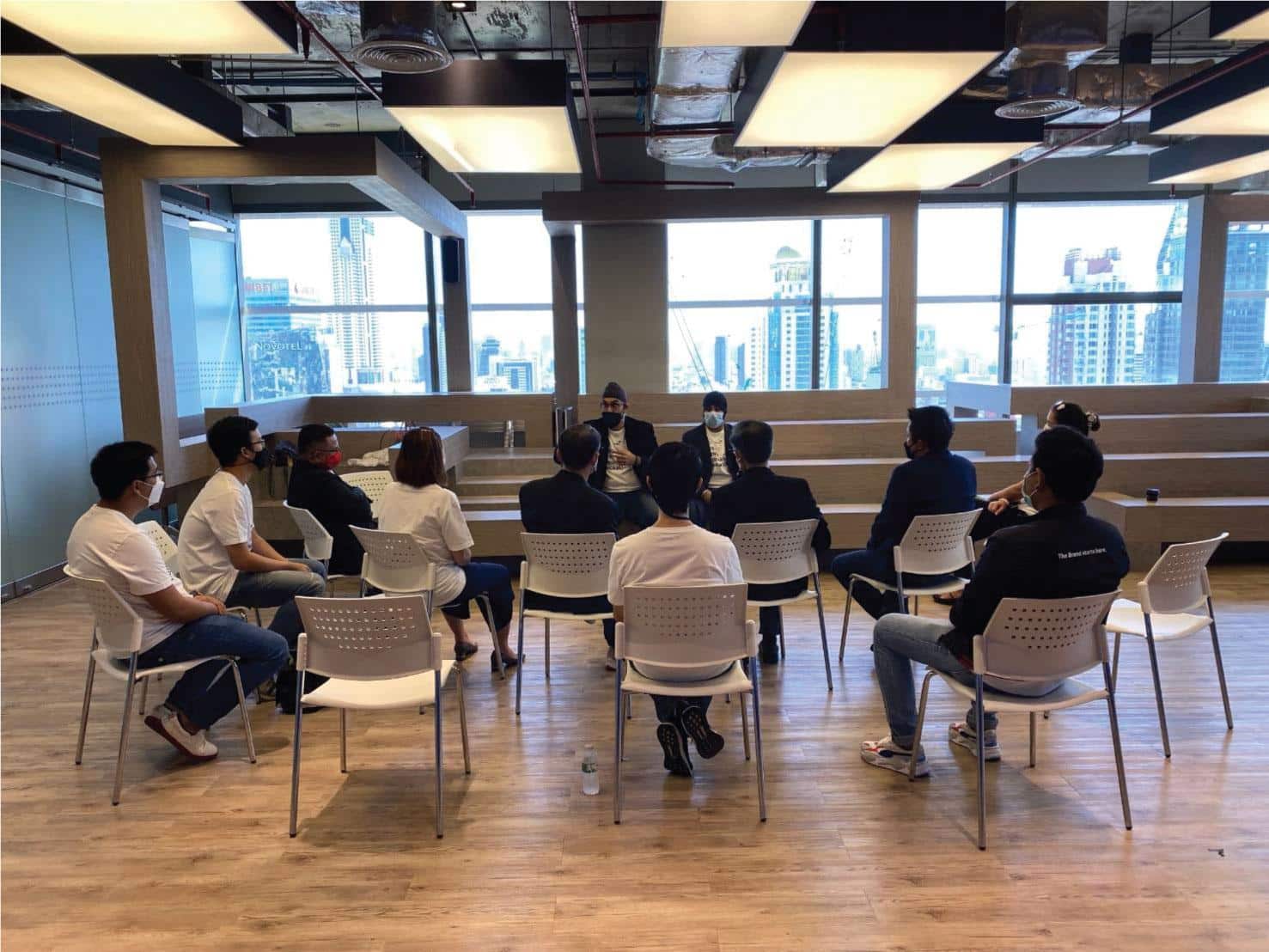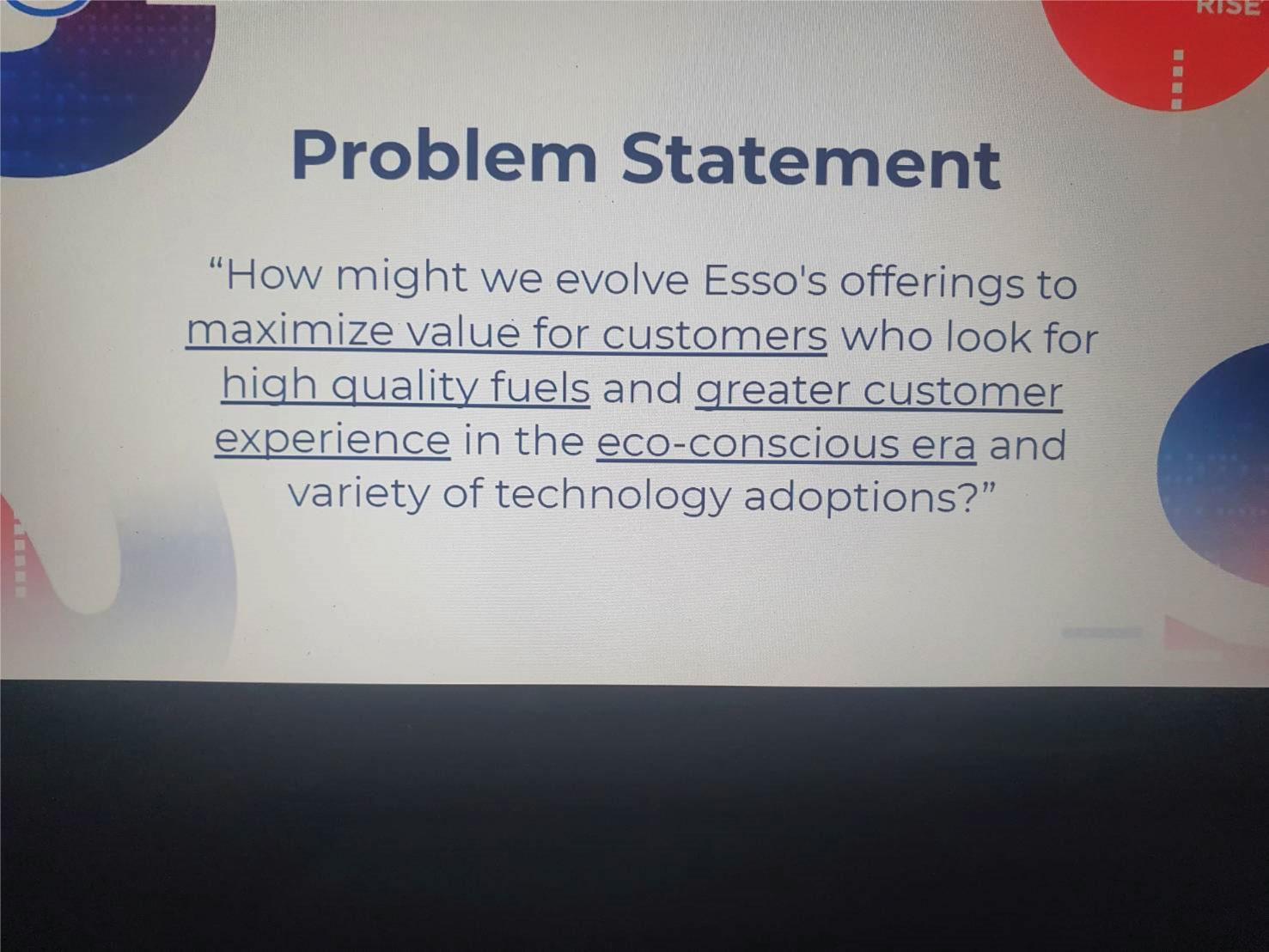 About Esso Open Innovation Hackathon 
The Esso Open Innovation Hackathon brings together talented professionals from a variety of fields, including college students and startup teams, to solve innovative business problems and present ideas to the Esso team and executives in return for prizes and collaboration opportunities, or to build a future business with Esso Thailand.