GAMING DEMAND
GROWING IN THAILAND
Recently in this month of July, the TESF has been recognized by the SAT and was approved by the Tourism and Sports Ministry, which confers the broad preception that e-sports is accepted as a sport in Thailand. Now, many e-sport players and gamers can more actively pursue their dreams of gaming as a professional career. However, the government is conflicted with trying to comprimise on a balance of protection from violent games and the growing demand of the e- sports business. Due to this issue, the TESF formulated a draft law, which requires children to seek written consent from their parents in order to join an e-sports competition. The draft also requires game ratings to ensure that children who play the games, play ones that are suitable for their age group. More public events held by TESF have been emerging to help educated the public more about e-sports.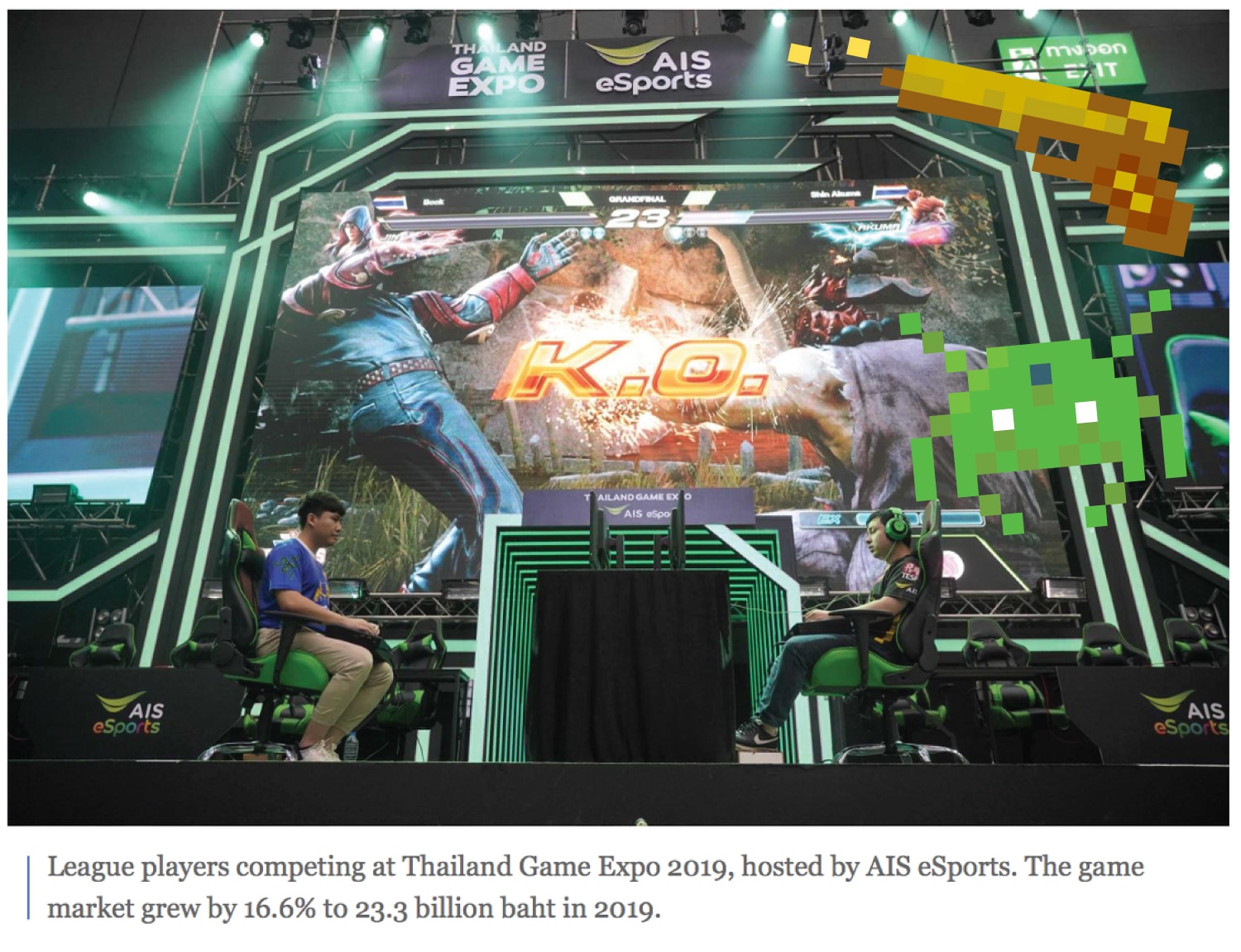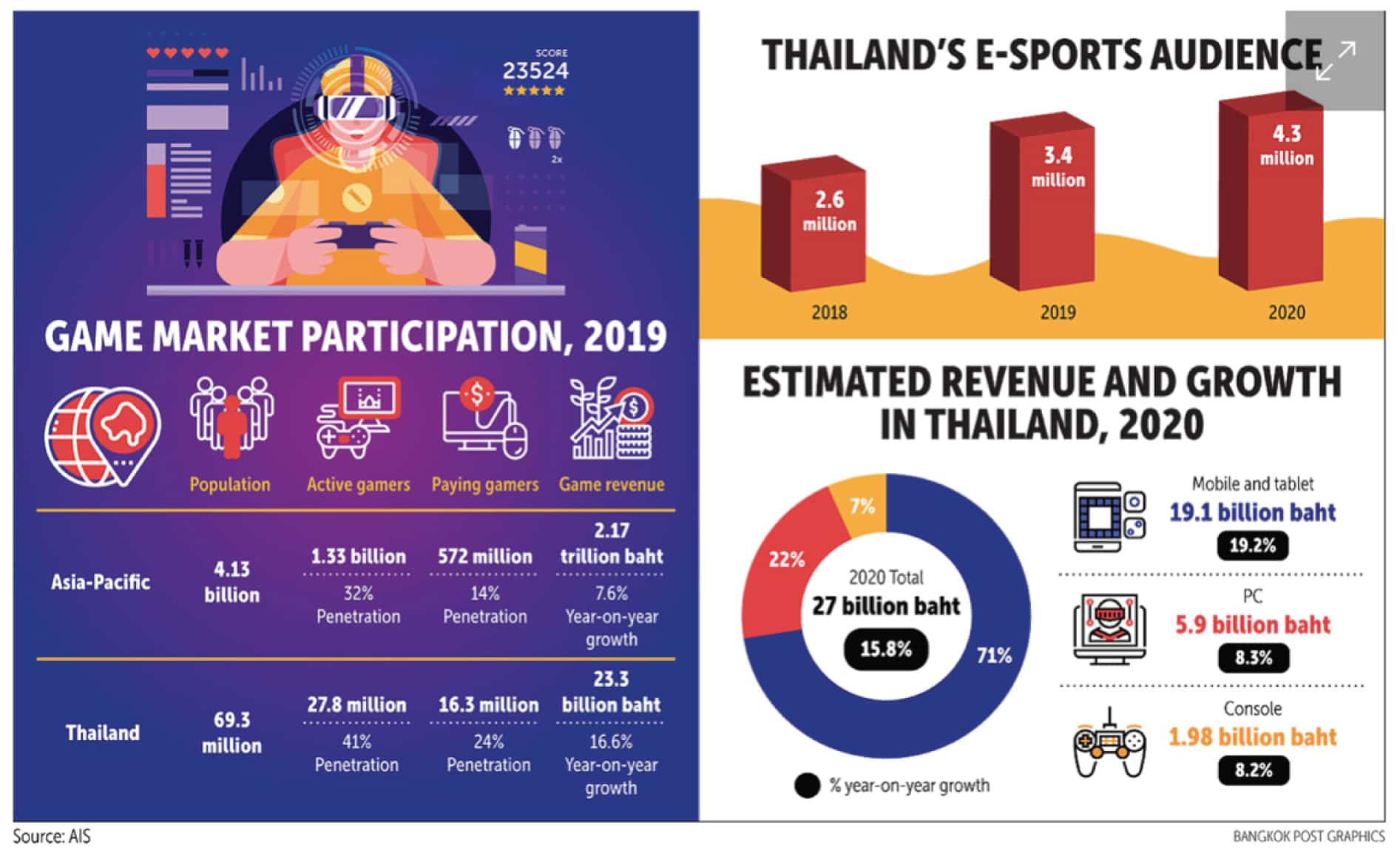 The trends have been positively growing in demand for professional gaming and e-sports particularly in Asia-Pacific especially in Thailand. According to the mobile operator AIS, Advanced Info Service, Thailand's game market grew from 16.6% to 23.3 billion baht in 2019 with 27.8 million active gamers. This industry's revenue is predicted to grow to 27 billion baht this year. In many other countries such as the United States of America, e- sports are not recognized and supported as a sport. As stated by Mr. Pramoth, "This is a time when Thai society should see e-sports as a real sports profession that need s practice for competition, not just to see gamers as game addicts."
There are many new jobs created from this sector such as sport scientists, game casters, diet therapists, coaches, e-sports event organizers, and game streamers. Not only new careers can be made, but existing ones such as computer and electrical engineers, network engineers, and programmers can grow in more demand. Ms. Naiyarat stated that FPS games have been accepted internationally with ratings, and this is a new opportunity for young people all around the globe to enter the game competition. She also said, "These jobs could make earnings for those involved and their families, and these are careers many people want to do."
-Source: The Bangkok Post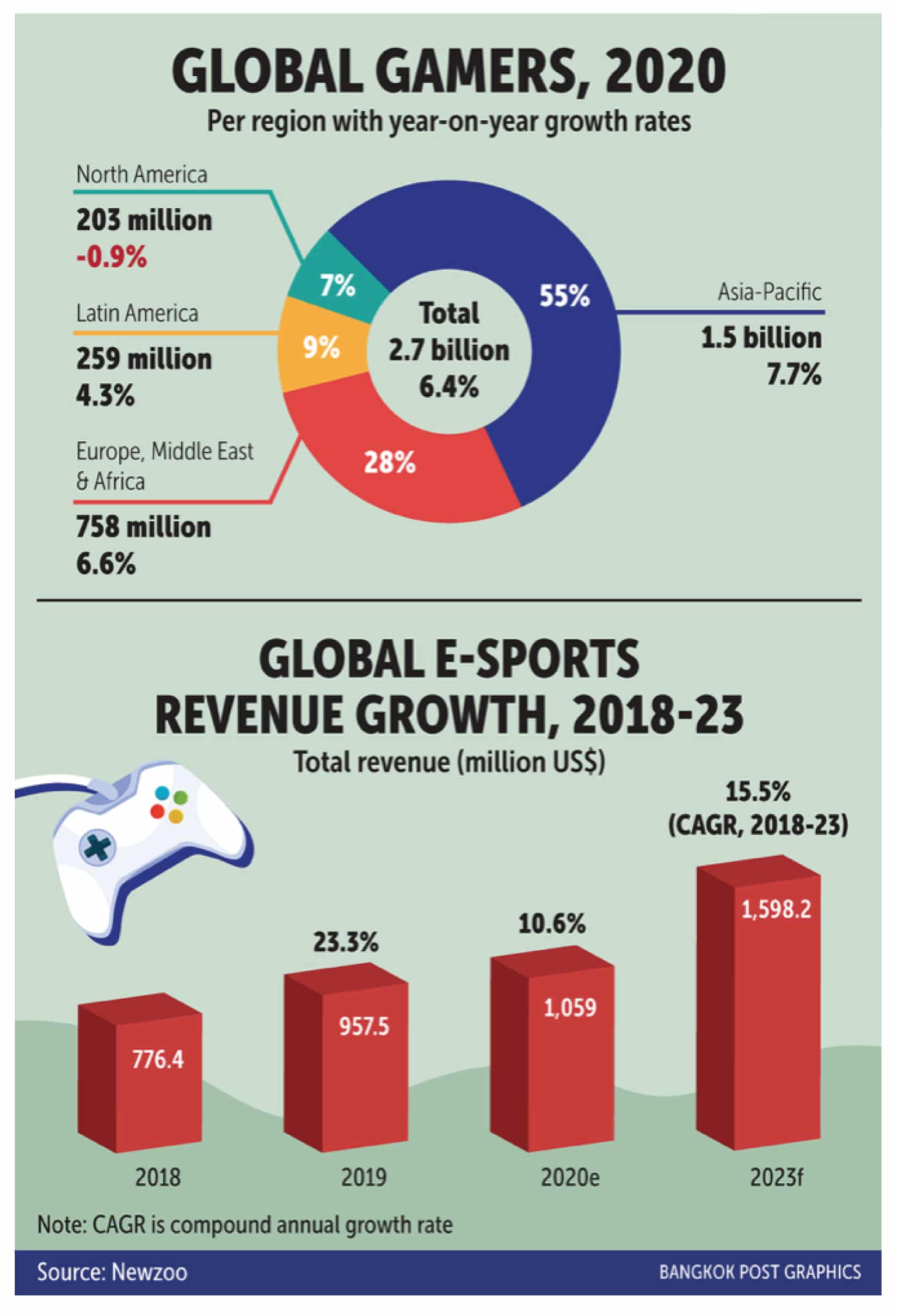 VACCINE POSSIBLY READY IN THAILAND BY 'NEXT YEAR'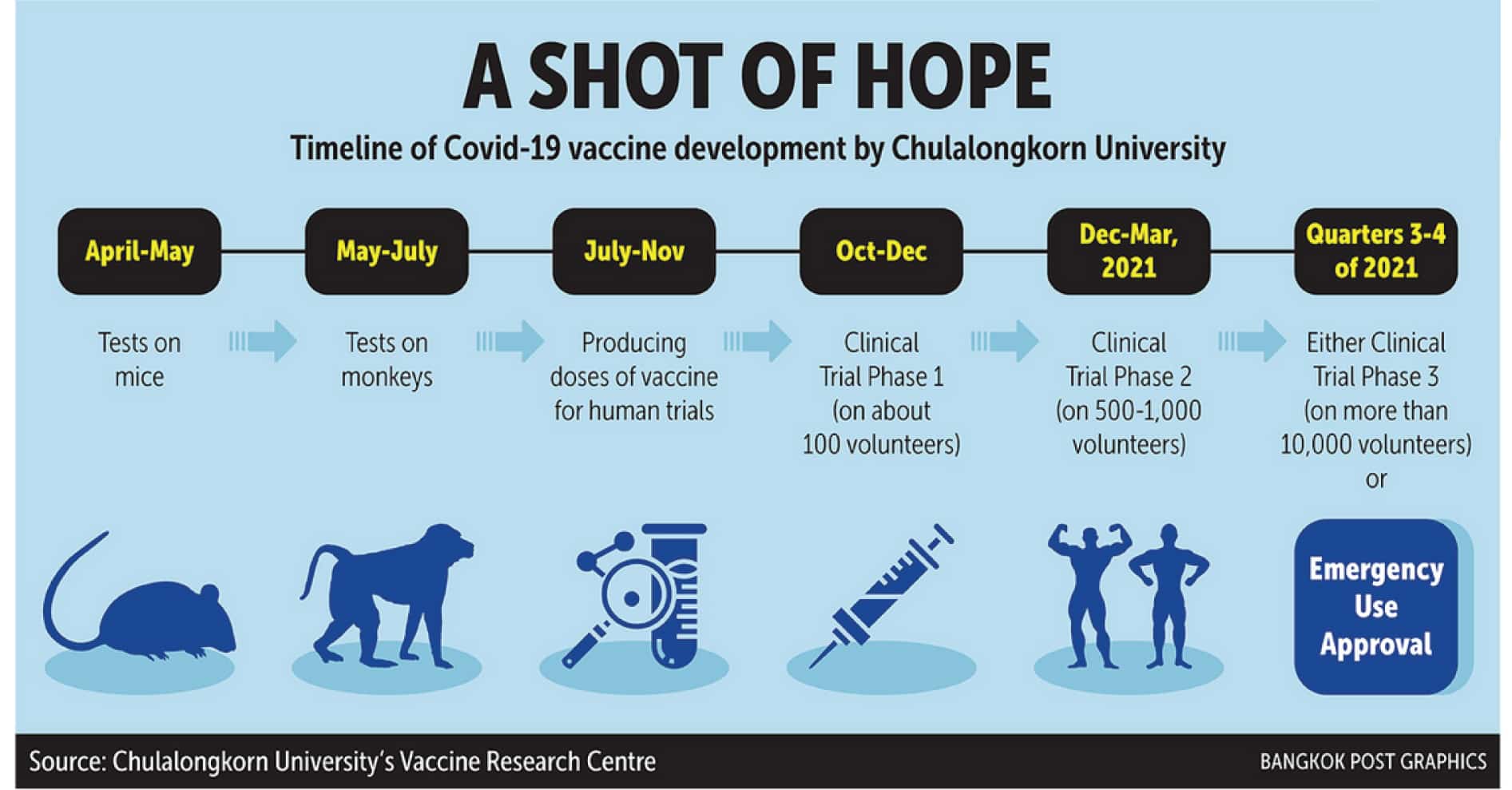 A Thai research team working in collaboration with the University of Pennsylvania, stated on Sunday that a vaccine for current virus is expected to start being massively produced by the end of the third quater of next year, 2021.
Human trials are scheduled in October in Thailand and recently the team has been testing Cu-Cov19, an mRNA vaccine, on 13 macaques at Chulalongkorn University's National Primate Research center in Saraburi.
The team has a high hopes for the expectation of Thailand producing its own vaccine by the third quarter of next year due to the positive results conducted from the research team. Dr. Kiat from BioNet Asia, the center's partner, stated that it is expected to produce "millions" of doses by the end of next year. He also stated that if the US FDA approves a vaccine before Thailand, Thai plants can produce vaccines on a massive scale by the third quarter of 2021.
-Source: The Bangkok Post
NEW MBA STUDENTS WELCOMED AT RAFFLES INTERNATIONAL COLLEGE BANGKOK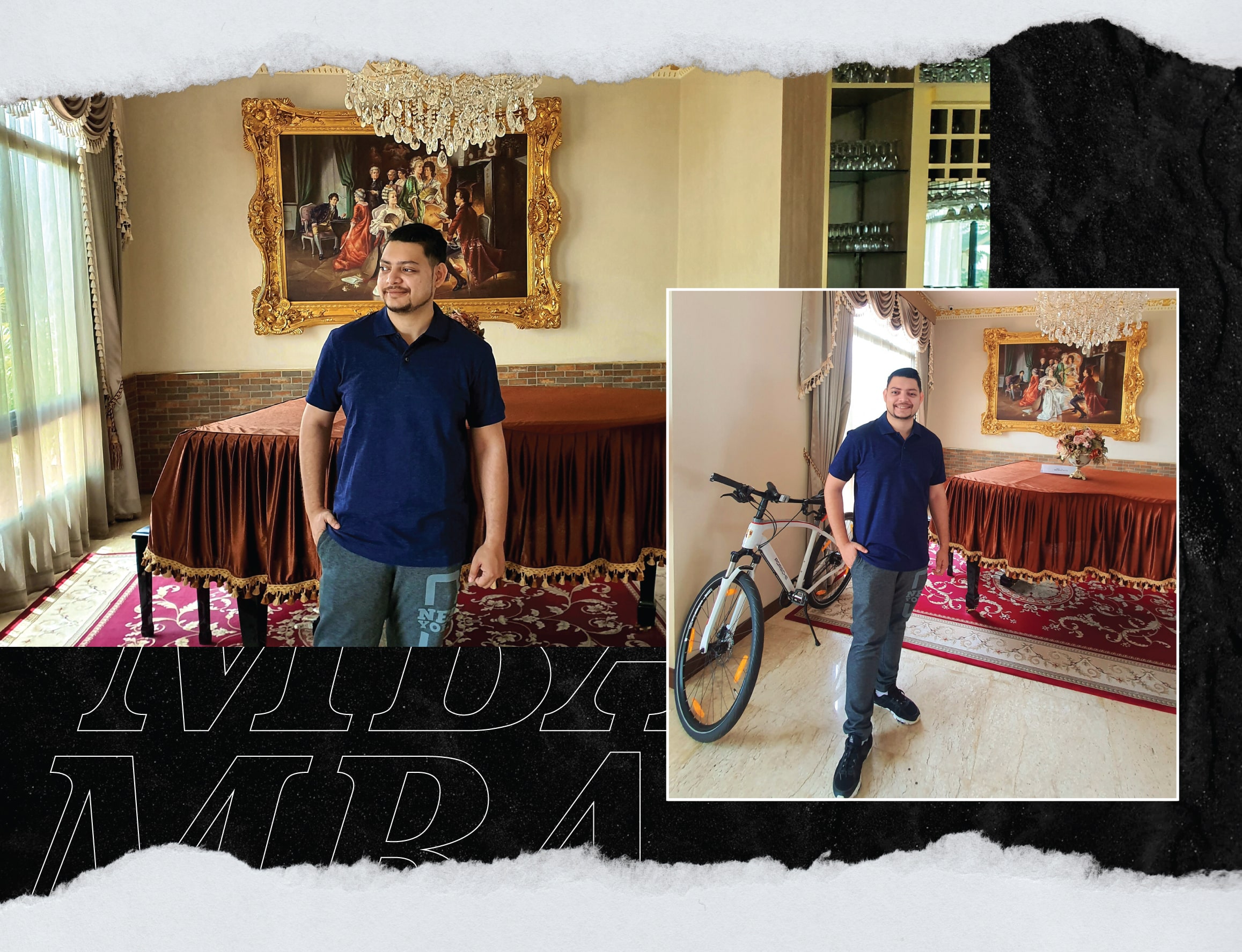 Here is a new MBA student, named Hasif, who recently enrolled into Raffles International College Bangkok. So far, there have been 4 new students that have enrolled into the Raffles MBA program. Each of them started on their program, mostly online, this month of July, 2020. The results and experience have been positive. The program is expected to grow with the current workforce seeking to improve and solidify their qualifications to advance in their careers as well as have a competitive advantage in the job market.
PROCEDURES FOR FOREIGNERS REENTERING THAILAND NOW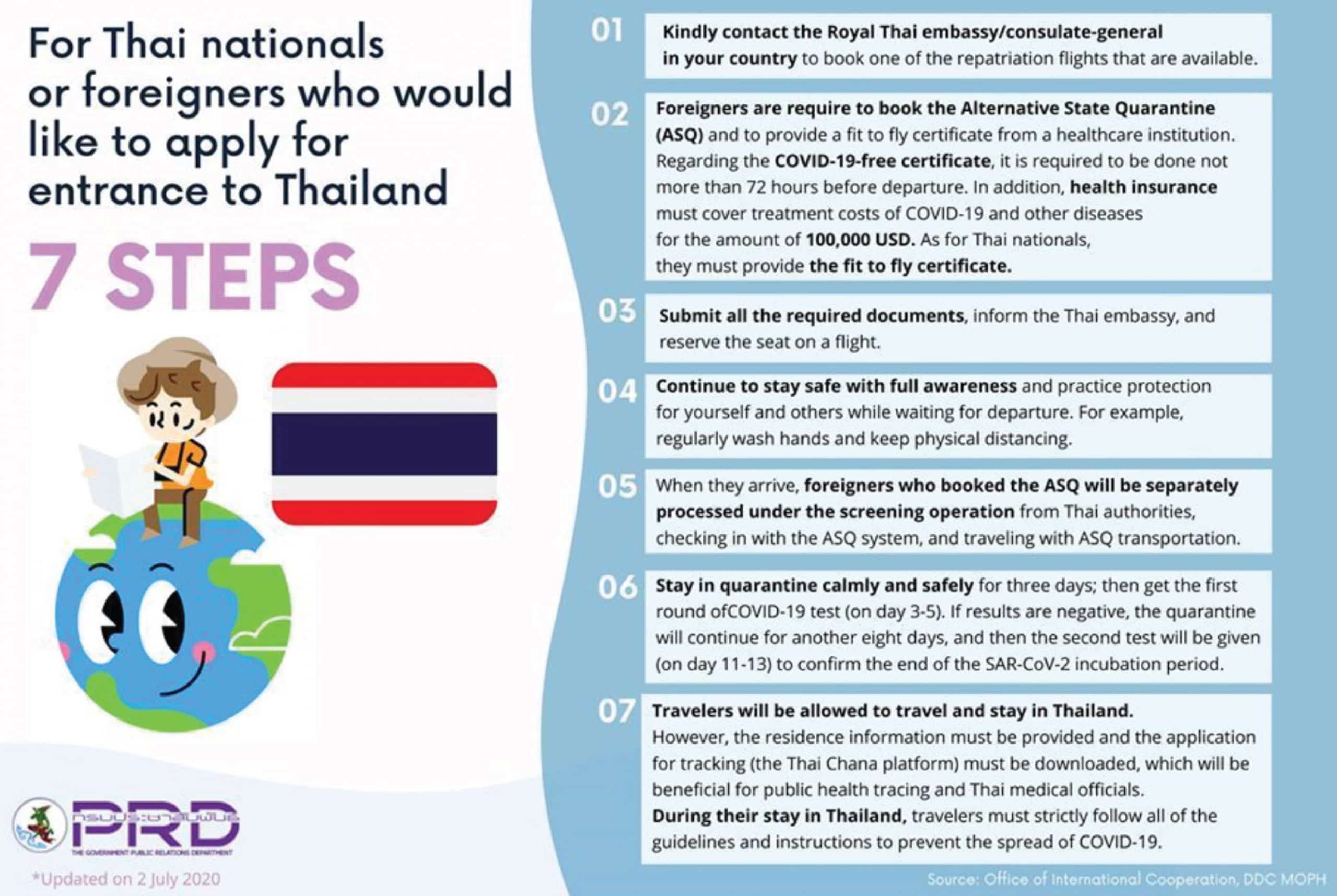 First thing to do is to contact your local Royal Thai Embassy or Consulate to book a repatriation flight that is available. Please note that they are very busy during this time; thus, do not spam them with emails or phone calls, etc. Calm, but persistent, requests to their emails or phone number or booking an in-person appointment should yield better results. Second thing to note is that foreigners are required to book an ASQ or in other words, Alternative State Quarantine, which is constantly being updated and changed. As for the rest of the steps, please refer to the infographic.
Here is a list of some ASQ that can possibly be chosen from:
1. Movenpick Wellness BDMS Resort Hotel (https://www.facebook.com/MovenpickBDMSBangkok/?ref=br_rs)
2. Qiu Hotel Sukhumvit (https://www.facebook.com/qiuhotel/posts/1349930638530747)
3. The Idle Residence (https://www.facebook.com/idleresidence/posts/2543982685863547) 4. Grand Richmond Hotel (https://www.facebook.com/watch/?v=198226081427010)
5. Royal Benja Hotel (https://www.facebook.com/royalbenjahotelbangkok/posts/3229897060386840)
6. Anantara Siam Bangkok Hotel
7. Grande Centerpoint Hotel Sukhumvit 55 (https://www.grandecentrepointsukhumvit55.com/bangkok/alternate-state-quarantine- package)
8. Amara hotel, Surawong (https://www.facebook.com/amarabangkok/posts/2741217512765183)
9. The Kinn Bangkok Hotel
10. Siam Mandarina, Samutprakarn (https://www.facebook.com/483727898455766/posts/1545131258982086/?d=n)
11. Two Three Hotel (https://www.facebook.com/twothreeahomelyhotel/posts/2648780118686869)12. Tango Vibrant Living Hotel (https://www.facebook.com/permalink.php? story_fbid=129858025413498&id=105755234490444)